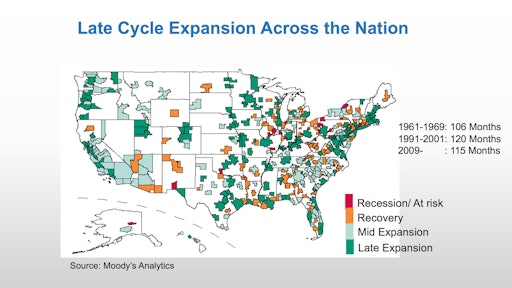 Moody's Analytical
Portland cement is considered to be a commodity so both the federal government and Wall Street incorporate portland cement consumption numbers in their economic forecasts. The amount of cement consumed correlates with the size of the construction industry. The Portland Cement Association (PCA) based in Skokie, Illinois, generates economic reports about cement consumption that the government and Wall Street use. Ed Sullivan, the PCA's senior vice president and chief economist is the person tasked with producing these reports and his predictions have been very accurate over the years.
Sullivan says there are three primary influences on our economy; the federal government, Wall Street, and "Main Street." He says there are too many uncertainties about what the direction the government might take to be able to predict the future right now. Wall Street has uncertainties too and predicting what they might do is also risky. It's Main Street that is in good shape with high consumer confidence and this is the basis for the PCA's most recent economic projection. Here is what's happening in this sector.
Current Conditions
On Main Street the economy is doing well and consumer confidence continues to rise.
Wages are rising as low unemployment, currently 4%, is expected to drop to 3.5% by 2020
New job creation averaged approximately 200,000 per month in 2018

Inflation is around 2% with rates slowly rising but they will remain below historical norms
The increase in home values is generating more wealth
Household debt burdens are low and credit quality is strong
The construction industry has enjoyed 10 straight years of growth, partly due to low interest rates
Regional risk varies. Some regions are still in recession and at risk, some are still in recovery mode, and some are experiencing expanding economies at varying levels
With the good news there are concerns about what lies ahead too. The national debt is currently increasing at the rate of $1 trillion per year. Labor shortages are increasing in the construction industry and elsewhere. Housing affordability is deteriorating due to rising interest rates and costs. At the state level entitlement spending continues to increase due to our aging population, resulting in less state spending for construction (tax revenues aren't covering state obligations). The international tariff war is taking a toll on U.S. business in the form of decreased sales and a growing uncertainty.
There is also a growing feeling that the country is overdue for another recession because the growth period has gone on much longer than expected. However Sullivan doesn't think we will see a recession in 2019 and probably not in 2020 either.
Here is what to expect in each of the primary construction markets: residential, non-residential, and public.
Residential Construction
Since 2006 the average price of a new single family home has increased by $90,000, an increase of 37%. During this time average monthly payments have only gone from $1,688 in 2006 to $1,701 in 2018, only a 0.77% rise. During this time incomes increased by 22% so affordability hasn't been an issue.
Until now low interest rates have stimulated the housing market by making houses affordable but that is beginning to change. Sullivan believes rates will eventually rise to about 6.5% and that will dampen the residential construction market. By 2021 mortgage monthly payments are expected to increase by 35% and the combination will result in fewer homes being built.
Non-residential Construction
The PCA report expects non-residential construction at the national level to grow at a modest rate and states with the strongest economies will benefit the most. The 2019 year will mark the lowest point for non-residential, rising steadily until 2021.
Public Construction
Construction in this sector is very dependent on the finances of each state. Revenue versus spending is the key but last year states collectively added $15 billion dollars to their debt. The biggest threat to construction growth is the growth in Medicare and Medicaid spending in each state due to our aging population.
Spending for transportation—roads and bridges—is a key construction market but it is expected to struggle to achieve growth through 2020.
Construction spending by the federal government is in trouble too. With the national debt at $25 trillion any infrastructure spending bill will have to be funded, it can't be added to the national debt.
Increasing fuel taxes could be a way to help fund infrastructure construction but congress has been unwilling to add any new taxes. The last federal tax on fuel was in 1993 while each state regulates its fuel tax rates differently.
Increasing fuel taxes would be a step towards funding infrastructure projects. Adding a 15 cent tax on gas and diesel fuel would generate $28.2 billion in revenue. A 25 cent increase would translate to $47.1 billion and if there was a 1 cent Vehicle Miles Traveled (VMT) tax $31 billion could be raised—as battery powered vehicles increasingly enter the market this would be a way to include them in infrastructure taxes.
Labor
Labor shortages first started to appear in 2010 and by 2018 an additional 7.2 million workers were needed. By 2022 another 8.5 million will be needed. The shortage is affecting company bottom lines and is beginning to impact U.S. construction revenues as a whole. The shortages are regional at this point and have more impact on larger population centers. The question is what to do?
For several years' immigrant labor, legal and illegal, has worked in the construction industry and helped to fill labor shortages, especially Mexican labor. They worked in all trades as both union and non-union workers. Union workers earned higher wages, the same as other union workers. Taken as a whole immigrant workers have been enthusiastic, had a strong desire to learn, and were hard workers and contractors appreciated them. But they were also resented because some believed they were taking jobs away from U.S. citizens, especially through the recession years starting around 2008. With fewer jobs available labor began to return to their countries of origin.
The U.S. construction industry is facing an unusual situation now. Unemployment is down to approximately 4%, government statistics month after month report increased numbers of jobs being created, and contractors are noting labor shortages in every trade. The consequences of this are being felt regionally to varying degrees depending on the region:
A contractor in Las Vegas reports that construction schedules are taking longer because one contractor who doesn't have enough labor can't meet their schedule, causing delays for the next contractor and the project. They added that starting dates for their work are being delayed by as much as two months
A Midwestern contractor says they don't bother to bid some projects they normally would because they know they won't be able to hire enough labor to complete the work.
Competition among contractors to hire labor (especially skilled) labor is increasing because there are fewer people in the labor pool. Wages are rising as a result.
A manufacturer of construction equipment and tools reports flat sales because their customers work has slowed down and they aren't using all the equipment they own.
The greatest labor shortages are currently in the residential construction market
There are many reasons for the labor scarcity:
The construction work force is aging. Workers are retiring and the next generation of workers isn't filling the gap. Children of construction workers don't want to see their bodies get worn-out the way their parents did. They also don't want to work outside in weather extremes
The pressure for labor increases as the unemployment numbers go down
Each trade grows its own leadership in the form of foreman and project managers, a process that takes many years. This level of help is the one contractors need most. New entrants are non-skilled.
Our borders are currently closed to most working class help, especially with Mexico.
The question of where to find good construction labor is difficult. Construction technology advances require a smarter work force. Some in the construction industry think workers in factory settings can be influenced to leave their jobs for better paid construction positions. It is also inevitable that contractors will try to hire workers away from other contractors at a higher rate of pay but that doesn't increase the labor pool. One contractor has been working to keep track of the available labor pool so they can reach out to them when they contract work in their area.
If the federal government passed a large infrastructure bill it could cause greater labor shortages.
Technology has eliminated many construction jobs and will continue to do so. Even so, there are more construction jobs than there are workers. It's possible this condition could exist for a long time and we will have to depend on help from outside our borders as many other countries do. In the long run Congress might have to develop a good worker visa program to enable the construction economy to continue to grow.
The Outlook
Here is the bottom line for Main Street:
At present the economy is strong
The performance of the job market and the GDP signal strong near term growth
Interest rates and inflation will increase moderately
The Federal Reserve is committed to a gradual raising of interest rates
Consumer household debts are at a near record low so consumer spending could rise
Home values are increasing at moderate rates, increasing homeowner wealth
Consumers have a positive attitude
The construction market along with cement consumption continues to grow at a moderate rate.
Growth is regional. There tends to be more growth in higher population areas and western and southern states will continue to do the most construction spending
Clouds on the horizon:
What the federal government and Wall Street will do in the next couple years
How to find enough labor to meet construction needs
What to do about infrastructure needs