American Concrete Institute (ACI)
While concrete remains a timeless building material, innovations in materials technology and equipment have improved concrete performance and placement techniques and expanded its range of applications. Shotcrete, in particular, has grown in importance over the past dozen years to become a more widely accepted concrete placement method, thanks in part to advancements in rheology modifying and hydration control admixtures.
As industry practices evolve, so do industry standards. For the first time, the use of shotcrete in structural applications has been addressed in the latest versions of ACI 318, "Building Code Requirements for Structural Concrete," and ACI 301, "Specifications for Concrete Construction." These changes came with a need to update the American Concrete Institute's popular "Shotcrete for the Craftsman." The educational document, one of five titles available in the ACI Concrete Craftsman series, has not been updated since 2008.
A lot can happen in 12 years.
What is Shotcrete?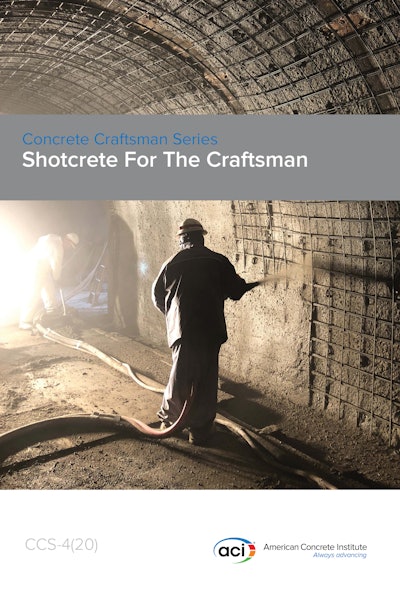 Shotcrete is a method of placing concrete by projecting it through a hose at high velocity. The nozzleman who physically directs the placement of the concrete needs to be skilled and knowledgeable in the equipment, materials, processes, and safety procedures. Sometimes referred to as CCS-4(20), Shotcrete for the Craftsman provides shotcrete nozzlemen with an understanding of basic concrete technology and describes and illustrates how to properly place quality shotcrete. It also serves as the source content for the ACI Shotcrete Nozzleman certification program and the more recently added Nozzleman-in-Training certification program, which—much like a learner's permit—allows the craftsman the opportunity to work alongside a certified nozzleman to obtain the required hours for full nozzleman certification.
A More User-Friendly Format
In October 2020, ACI released the updated version of Shotcrete for the Craftsman. Departing from its original black-and-white format, the booklet was redesigned to provide a fresh, modern feel. Wider text columns and larger font size make the content easier to read and simpler to navigate. Updated images and detailed, full-color drawings more clearly illustrate the subject matter at hand.
The opening chapters have been reorganized to better highlight the similarities and differences between shotcrete and form-and-pour concrete processes. Beginning with an explanation of what shotcrete is and a comparison of shotcrete processes (dry-mix and wet-mix), the document then discusses what shotcrete professionals need to know about concrete and how it behaves when fresh and after it is hardened.
Because shotcrete is concrete, or rather a placement method for concrete, this booklet takes the reader through the fundamentals of concrete and beyond—from hydration and curing to strength and density to supplementary cementitious materials (pozzolans) to types of cement, aggregates, and admixtures.
Additional chapters cover shotcrete equipment and materials, preparation before shooting, shotcrete placement principles and techniques, environmental conditions and precautions, finishing and tolerances, safety, testing, and quality control. Appendixes include useful definitions and an evaporation rate chart.
Requirements
Similar to the different requirements for concrete that is used in sidewalks versus concrete used in structural concrete buildings, there are additional requirements to follow when using the shotcrete placement method for structural applications versus nonstructural elements. For example, regardless of placement method, structural concrete has specific protection, monitoring requirements, and testing requirements.
Because shotcrete is now recognized in ACI 318 and ACI 301 as a method for placing structural concrete, ACI was able to address both the concrete design process and construction requirements for the use of shotcrete. Language was added to Shotcrete for the Craftsman to clarify the more rigorous requirements outlined in those building codes.
Revisions for Shotcrete for the Craftsman came from three ACI committees. First, ACI Committee C660, Shotcrete Nozzleman Certification, reviewed the 2008 version and proposed changes. Next, ACI Committee E703, Concrete Construction Practices, incorporated those changes and proposed additional changes. Finally, ACI's Educational Activities Committee (EAC) reviewed all content.
ACI encourages shotcrete professionals to use the updated workbook as a guide for good practice. When it is consulted in combination with ACI 506.2, "Specification for Shotcrete," and ACI 506R, "Guide to Shotcrete," shotcrete professionals have access to a comprehensive set of resources.
However, as with all publications in the ACI Concrete Craftsman series, Shotcrete for the Craftsman is not intended as a design aid. Shotcrete professionals must follow the plans and specifications for a specific construction project. If provisions in those plans and specifications vary from the guidance given in this manual, we recommend that you discuss the variances with the design professional.
For more information or to purchase Shotcrete for the Craftsman in print or digital PDF formats, visit concrete.org.
About the authors
Randle Emmrich is Chair, American Concrete Institute (ACI) Committee C660, Shotcrete Nozzleman Certification.
John Hausfeld, is Chair, ACI Committee E703, Concrete Construction Practices.