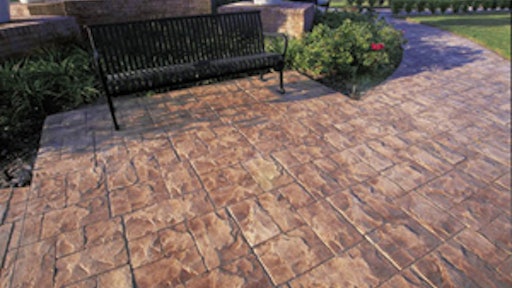 Adding color can be an easy way to upsell a client or improve a project.
Super Stone Color Hardener
Super Stone Color Hardener is a process for permanently coloring concrete flatwork including concrete countertops.
Two applications are required for uniform color
Should be broadcast at a rate of 60 pounds per 100 sq. ft., with 75 percent of the color on the first application
Solomon Colors Integral Colors
Solomon Colors Integral Colors for ready-mix concrete are pure mineral pigments designed for use in cementitious slump applications.
Available in numerous colors
Available in standard 25-lb. repulpable bags or custom bag sizes from 1 to 49 lbs.
Bag can be added to ready-mix truck after opening and readily disintegrates to become part of the mix
Davis Colors Additives
Davis Colors' mix-in color additives are designed for use in any concrete product.
Added to the mix with an automatic dosing system or with mix-ready disentegrating bags
All colors meet or exceed ASTM C-979 standards
Weather-resistant
Provide permanent color
Decorative Concrete Institute Dyes
The Decorative Concrete Institute has released a new series of dyes available in 11 colors.
Available in Caribbean Blue, Onyx, Royal Blue, Sunbaked Orange, Ruby Red, Forest Green, Sunrise Yellow, Wheat, Tree Bark, Mahogany and Graham Cracker
All colors are available in water- or solvent-based, except for Caribbean Blue, which is available in only a solvent-based formula
Miracote Chameleon
The Miracote Chameleon Pigments and Effects can be used to create color shifts, translucent images, sparking accents and more.
Designed to work with other Miracote products including CQ Clear Epoxy Resin, Gazetop XT Topcoats and Miracote sealers
Available in several colors, including Pearl Devil Red, Intoxicating Mystery, Metallic Gold Illusion and Electric Blue
Nawkaw Precast Colors
Nawkaw Corp. produces a line of colors for precast concrete.
Creates the look of brick, block or stone
Finishes are applied after the precast has been applied, eliminating the need to color pieces in the yard
Products have a 25-year guarantee
Scofield Chromix Admixtures
L.M. Scofield's Chromix Admixtures provide permanent, fade-resistant, uniform and streak-free integral color.
Help control set time for improved workability and finishing characteristics
Expanded color chart and 400 custom colors available
enCounter enColor
enColor colors are predispersed iron-oxide pigment solids in an aqueous base liquid for coloring countertops as part of the enCounter countertop system.
Available in nine colors with an easy-to-use measuring and dispensing system