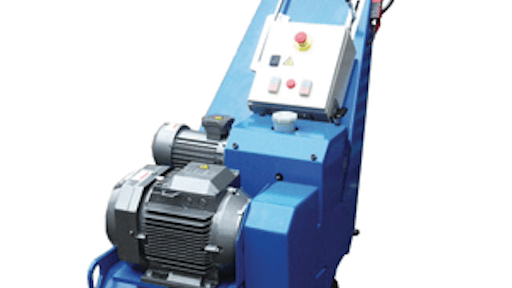 Tru Stamp
Tru Stamp
Stampable, carvable overlay that allows you to stamp early yet holds moisture content for longer workability
High content of multiple Portlands and polymers for defined lines and textures
Architectural Enhancements, Inc.
Architectural Enhancements
Cantera Vertical Wall Mix
Wall mix and companion stamping tools designed to replicate a natural stone wall
System is formulated for resurfacing concrete, drywall, cement board, masonry and stone
Light weight, non-sagging, weather- and freeze/thaw-resistant cementitious material
Prepackaged in 35-lb. bags
Mix on the jobsite with clean water
Butterfield Color
Micro Finish overlay
Applied directly to any concrete surface
Easy to use
Wide array of finishes, color and design capabilities
Commercial or residential use
Elite Crete Systems, Inc.
Super Sprayer
2-gallon-capacity compression sprayer
Ideal for spraying concrete stains, form release agents and degreasers
Metal-free
Features a comfort-grip shutoff, poly pump, lightweight translucent tank, chemical-resistant hose and angled wand
H.D. Hudson Manufacturing Company
HSG-125 High-Speed Angle Grinder
The new HSG-125 from Alpha Professional Tools is a 5-in. grinder with a 7.2 Amp motor. The HSG-125 can accommodate 4-, 4 1/2- and 5-in. diameter blades and can be used wet or dry.
Alpha Professional Tools
Squeegee Trowel
The new Kraft Tool Squeegee Trowel is used to smooth coating in new construction, drywall, overlays and concrete restoration. It can be used by hand or with a threaded broom style handle and comes with a protective blade cover.
Kraft Tool Co.
Application Squeegee Frame
Kraft Tool Co. introduces a 24-in. clamp style, solvent-resistant application squeegee frame with a threaded handle adaptor. Used for consistent depth when spreading self-leveling materials, thin materials or concrete restoration applications. EPDM reversible (notched on both sides) squeegee blades sold separately, available in Straight blade, 1/8" V-Notch blade or ¼" V-Notch blade.
Kraft Tool Co.
PC5000C
Makita's new PC5000C 5-in. concrete planer for smoothing concrete surfaces and leveling concrete seams features a 10 AMP motor with soft start technology. It also has electronic speed control and an electronic current limiter. The planer includes a vacuum port and a removable dust shroud cap for planing in corners and against walls.
Makita USA, Inc.
1-16DB Shot Blaster
The 1-16DB ride-on shot blaster uses a patented paddle-wheel technology in its blast head to produce a 16-in.-wide blast path. Airborne dust and debris are collected and contained in the on-board vacuum which features a new "twin-bag" dust collection system. The vacuum also features reverse-pulse cartridge cleaning. The 1-16DB is powered by a 49-hp Deutz diesel engine, meets Federal Tier-3 EPA regulations and features a 12V DC electrical system and hydrostatic transmission.
Blastrac
CAM Gauge Rake
The CAM Gauge Rake from Midwest Rake is a patented tool designed for the application of coating material.
Available in eight sizes ranging from 1/32 to 1 in.
Zinc-plated hardened steel cams for long-lasting use
Comprised of an aluminum frame with either a threaded handle adapter or a powder-coated aluminum handle
Midwest Rake Company
BMP-335EHY Scarifier
The new Blastrac BMP-335EHY Scarifier can be used for preparation of asphalt, concrete, and steel surfaces. Weighs 895 lbs., the scarifier features a scarifying motor and a separate hydraulic drive motor. Other features include hydraulic assist steering,a hex drive shaft and non-slip drum, and a connection for Blatrac vacuums for a dust-free work environment.
Blastrac
Elite Series Five Star Trowel
Designed and engineered for the professional finisher
State of the art machinery precisely finish grinds the working surface of each trowel
"Broken in" blade ready for immediate use
Available in three new handle styles: soft ProForm, Hardwood and Leather
Kraft Tool Co.
4GC Concrete Grinder
36-in. working width with 4 square feet of surface contact area
For production grinding, cleaning, leveling or smoothing of large surface areas
Available with electric, gasoline and/or propane power options
Standard with a 3-in. vacuum port for dry grinding and a garden hose hook-up for wet grinding
EDCO Equipment Development Co.