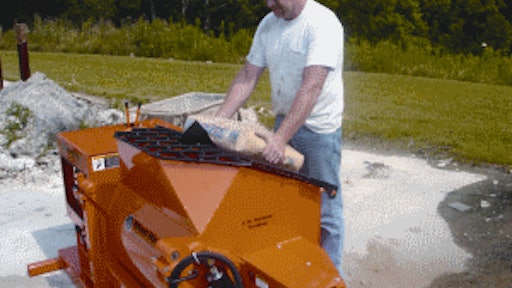 The economic slump has been disastrous for the construction industry. Projects have been placed on hold and in many cases, cancelled. The result is equipment that was once the "bread and butter" of equipment rental businesses has sat idle for so long that rental sales personnel might be rusty on application questions and guidelines for customers.
As the economy recovers, it's a good time for rental professionals to re-familiarize themselves with equipment that is beginning to leave the yard with greater frequency. Mixers are staples for most rental fleets and despite their simple designs, are often misunderstood. As business picks up, it's important to understand the options available for customers.
At first it might seem as though the most important question for the rental customer is what capacity mixer they require. This is not the case. Sales personnel should know the material being mixed to recommend the right mixer for the application. As a rule of thumb, plaster/mortar mixers should only be used for sand and cement mix designs that do not use large aggregate. Concrete mixers should be used exclusively for large-aggregate applications.
Mixer sizes are rated by bag and cubic-foot capacities, but the best method to size a mixer is by determining its true mixing capacity. The original one-bag or two-bag ratings were based on 94-pound bags of Portland cement, plus the desired amount of sand, water or aggregate. The term has become antiquated over the years due to the widespread use of pre-mixed (aggregate, sand and cement) bagged material.
Pre-mixed material is typically available in 40-, 60- and 90-pound bags. We suggest asking the contractor to check the volume of the bagged material. Material suppliers will print the cubic foot capacity on each bag. As an alternative, the contractor could also measure materials using a 5-gallon plastic bucket. The typical bucket holds 0.668 cubic foot of material or water.
Choose a design
Most mixing drums are fabricated from steel. Since the introduction of polyethylene mixers in the early 1990s, they have steadily gained popularity for rental applications. Polyethylene models are usually slightly more expensive, but make up for the price in reduced cleanup times if the material is left to dry in the drum.
Rental companies with fleets of poly mixers are able to maximize rental revenue by reducing downtime and eliminating ongoing arguments with contractors over who has to pay the bill for removing dried material from the barrel or tub.
When choosing a towable mixer it's a good idea to look at the overall design of the equipment. Having a sturdy engine cowling is essential, as most contractors will forget to secure the cowling when leaving the job. This can take a toll on the mixer as it is transported across the jobsite or the highway. Look for mixers that have solid frames and leaf springs to provide smooth towing.
Plaster/mortar mixers
Plaster and mortar mixers appeal to a wide range of contractors, making them easy to rent and sell. They're available in a variety of drum capacities ranging from 4 to 20 cubic feet. Larger capacity tubs are more desirable because they're utilized across a greater range of jobsites. The most popular tub sizes for rental tend to be 9 and 12 cubic feet capacities.
These mixers have stationary drums and rotating paddles which are ideal for sand and cement mixes. The rotating paddles cut through the material and deliver a consistent, thorough mix. Be aware mortar mixers are generally not suited for aggregate mixes, because it might cause the paddles to jam against the drum wrap.
Over the past decade, some manufacturers have developed high-production commercial mobile and stationary mixers. These units are typically used in conjunction with material storage silos for high-production applications. At first glance, these specialty mixers might seem outside the scope of what a typical rental yard might have in its fleet. There is an increasing demand for these mixers, however, because they allow the operator to load the mixer at waist level.
Concrete mixers
Concrete mixers tend to appeal to contractors located in the southwest and northeast. They're available in a variety of drum capacities ranging from 3 to 9 cubic feet. The most popular tub size for rental is typically the 9-cubic-foot capacity.
These mixers have rotating drums with stationary paddles making them better suited for rocks. It's critical to set the drum angle correctly, at approximately 32 degrees, or it will produce slow, unmixed material proportions. Be sure to advise your customer to never use concrete mixers to mix mortar.
Power sources
Power options vary from one manufacture to another. As a general rule, larger horsepower engines are favored over low horsepower because of the wide variety of mix designs.
There are three basic power transfers. The conventional V-belt/open gear drive is common on all concrete mixers and mortar mixers up to 9 cubic feet capacity. From a retail standpoint it's also attractive because this drive system provides a low price point for small and medium contractors. High-capacity mortar mixers, typically 12 cubic feet and larger, avoid this type of drive because stiff, dry loads of material can cause belts to slip.
Alternatives to the V-belt drive include the completely enclosed gear box, offered on the 12-cubic-feet mortar mixers. These are used on medium to large jobs. The machines have higher initial costs but offer much lower maintenance, particularly when mixing lower slump material batches. The gears are immersed in oil, offering greater durability. It will also require periodic clutch adjustment or replacements.
The hydraulic-drive mortar mixer is the most reliable mixer on the market. This power transfer offers reversible mixing paddles and typically includes a hydraulic dump option that reduces operator fatigue. Another benefit is greatly reduced maintenance by eliminating V-belts, mechanical gears and clutches.
Maintenance
Apart from the typical small engine service jobs, such as replacing air filters or checking oil levels, maintenance on mixers is kept to a minimum. The most important tip is to maintain safety devices, such as the drum (grate) guard and the emergency and stop switches. All hardware should be inspected for tightness. After each rental, the tow bar, hitch coupler and safety chains should be inspected for damage. The interior of the drum and overall machine should be free of materials.
The amount of maintenance on open gear drive systems is somewhat higher as V-belts can stretch and pulleys will wear over time. Also, if contractors do not close the engine shroud it will allow cement and dust to enter, thus accelerating the wear. Always make certain that the wheel bearings are greased for any towable mixer.
Concrete mixers have a number of grease fittings that require lubrication. Under no circumstance should grease ever be applied to the ring gear of the concrete mixer. It will attract dirt and grit and eventually shorten the life of the gear.
A key maintenance item on mortar mixers are paddle shaft seals. These items, depending on the manufacturer, may require daily greasing or none at all. Always follow the manufacturer's recommendations to maximize the service life of the seals.