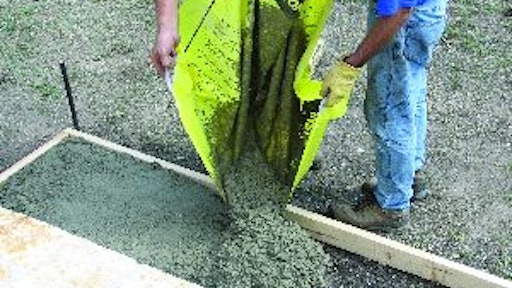 Pro Grade Power Mixers
For use in paint, coatings, tile, masonry, concrete and related applications
For batches up to 25 gal. and 400-plus lbs.
7 models, including heavy-duty single- and double-paddle mixers
Perles USA
CreteSheet
Inexpensive, reusable, UV inhibited polyethylene sheet for one- or two-person concrete mixing and pouring
Mixes an 80-lb. bag of concrete in 90 seconds
Designed for jobs with restricted access and those requiring 1 cu. yd. concrete or less
CreteSheet
Mixing Stand
Clamps hold a 5-gal. pail in place for easy mixing
Saves time by allowing the mixer to run independently while spraying or doing other work
Color Crown (Stardek)
Battery-powered Mixer
Designed for mixing materials such as tile cement, paints, coating compounds and liquid media up to 7 gal.
Weighs 6.5 lbs.
0 to 550 rpm variable-speed motor
4-in.-diameter RGA 100 mixing paddle
The 24-volt battery offers power for 30 minutes of operation
CS Unitec, Inc.
Collomix Systems
Six hand-held single- and dual-speed models in single- and dual-shaft configurations
Four hand-guided mixing stations include a roller-mounted stand with a five-point base for stability and 2- to 3-cu.-ft. bucket capacities
Uses forced-action mixing technology for effective mixing from bottom up, top down or parallel, depending on model
STOW/Multiquip Inc.
EDGE Cement Mixer
5-cu.-ft. mixing capacity
20-in. drum opening?
Welded steel drum with internal paddles
Standard universal skid steer mount and removable parking stands
CE Attachments Inc.
Hydraulic Mixer
High-torque output motor and manually operated valve block for controlling the motor and dumping cylinder
Features redesigned paddles set at 45°, rather than 55°, to reduce torque requirement of the main shaft while maintaining mixing performance
Similar performance to the MM120 Gearbox Mixer but with a powered dump system and a reversible motor
M-B-W, Inc.
Champion Silo Mixers
SM1200 has a 12-cu.-ft. capacity
SM2000 has a 20-cu.-ft. capacity
Powered by 13-hp Honda engines with cyclone air cleaners
Features include: quadruple seal and bearing system in a removable housing, adjustable legs in an A-frame design, Power Blend system and a removable 20-gal. baffled hydraulic tank
Stone Construction Equip. Inc.
Concrete Mixer Attachment
9-cu.-ft. drum capacity
Made of 3/16-in. steel, with mixing fins of 1/4-in. reinforced steel
Drum rotates in either direction
49 in. wide
With remote control kit, can mix concrete from outside the loader, eliminating the need for a second worker
Bobcat Co.
SS-585 Skid Steer Mixer
The SS-585 skid steer mixer features all welded drum construction with internal paddles
Equipped with a direct-mount, all-welded frame to fit skid steers with universal style attachment systems
Design minimizes moving parts
Hydraulic motor
Flow control valve allows mixer speed to be controlled while a simple lever engages and disengages the drums
50-roller change drives the mixing drum
Worksaver Inc.
Whiteman WM 120SM
12-cu.-ft. capacity plaster/mortar mixer
Mechancial drive
Manual dump
Available in either steel or poly
Easy Clean polyethylene drums
13-hp Honda gas engine
15/8 square axle, large B78x13' tires and suspension springs for easy towing
Multiquip Inc.
Companies in this article