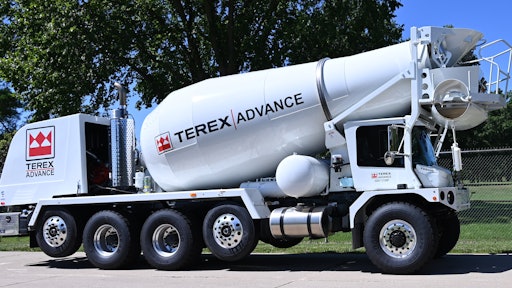 Terex Advance Mixer Inc.
The road to decarbonization of the cement and concrete industry includes a number of levers - each representing a massive amount of work. In a way, the Net-Zero goal is fundamentally changing construction as we know it. Every day, we take one more step closer to that deadline.
One important step towards this decarbonization is being done right now. A partnership between Cummins Inc., Terex Advance Mixer Inc., Edge Materials LLC, and PCC Hydrogen Inc. signed a Memorandum of Understanding to produce and trial concrete mixer trucks powered by Cummins' zero-carbon, hydrogen fueled internal combustion engines.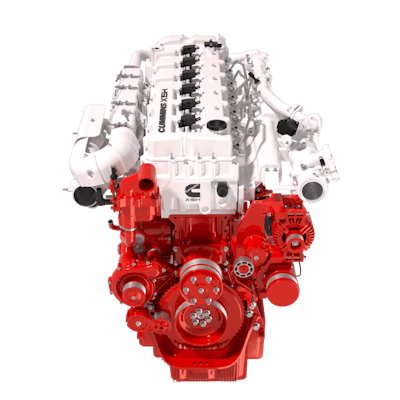 The project will integrate the Cummins X15H hydrogen internal combustion engine into the Terex Advance Commander Series of front-discharge concrete mixer trucks. Edge Materials and Terex Advance are to operate the trucks in construction sites and critical infrastructure projects. PCC Hydrogen (Louisville, Kentucky) will supply of the hydrogen fuel, stationary storage, and dispensing services. The aim will be to demonstrate how hydrogen internal combustion engine technology can support the decarbonization of tough, vocational applications – and how this works in real terms using an active vehicle manufacturer and concrete contractor. Not only will the project provide valuable feedback on how a hydrogen eco-system works in practice, but also indicates how this process can be scaled up for larger fleets.
According to the released statement, using proven internal combustion engine technology, Cummins' hydrogen engines use zero-carbon hydrogen fuel rather than traditional diesel. They are similar in architecture to today's diesel and natural gas-powered engines, offering heavier-duty, longer range applications a route to decarbonize without major changes to vehicle designs and at a lower upfront cost than current zero-carbon alternatives.
Based on familiar internal combustion engine technology, the Cummins' X15H hydrogen engines operates similar to current diesel or natural gas engines, without impact on performance or reliability, as reported by the manufacturer.
Initial work has already started and is expected to run for multiple years. The project will provide learnings for all of the partners in the eco-system around fuel production, distribution, filling, as well as equipment and powertrain performance, durability and efficiency.
The group anticipates no impact to the driver or concrete contractors' operations.
Supporting decarbonization, Cummins is investing in a range of power options. Jim Nebergall, General Manager - Hydrogen Engines at Cummins sees the company's hydrogen internal combustion engines as an "emerging key technology in the elimination of carbon emissions while retaining the power density and operational range typical of diesel engines."
He adds, "This collaboration represents an end-to-end demonstration of how hydrogen internal combustion engines work practically in tough applications using real trucks, real infrastructure and real end-users."
The project is part of Cummins' strategy, known as "Destination Zero" and spearheads a complete and viable approach to decarbonizing mixer trucks, without impacting vehicle performance. However, with the energy demands and long operational hours a truck must endure, decarbonizing the concrete mixer truck isn't a simple task.
"This project marks a significant milestone in our decarbonization journey, as Cummins' X15H engines introduce an alternative, zero-carbon emissions option for our customers, while providing the performance our trucks need to get the job done," says David Grabner, General Manager at Terex Advance Mixer.
Understandably, the team at Edge Materials is excited to be involved. "As industries are looking for ways to reduce carbon emissions, we will be aligning our pioneering efforts utilizing the X15H engine in front discharge concrete mixer trucks to show that hydrogen technology is a viable alternative fuel for demanding on- and off-highway environments," says Dana Boyd, President, Edge Materials LLC.
Specs
Cummins' X15 fuel agnostic range (which the X15H is part of) features a series of engine versions that are derived from a common base for a higher degree of parts commonality. Below the head gasket of each engine will be largely similar across diesel, natural gas and hydrogen variants, with components above the head gasket customizable for different fuel types.
According to Cummins, the 15-liter hydrogen engine will be available with ratings from 400 to 530 hp, and a peak torque of 2,600 Nm. For applications powered by renewable biogas, this engine will offer ratings from 400 to 510 hp, with a peak torque of 2,500 Nm available. The advanced diesel version features will offer a broad power range of 450 to 650 hp, with an impressive 3,200 Nm peak torque. Refueling can be done in around 15 minutes, comparable to both diesel and natural gas trucks.
For comparison, the diesel Terex Advance front discharge concrete mixer truck puts out 425 hp with 1,550 lb.ft. of torque.
Benefits of a Hydrogen Internal Combustion Engine
Zero carbon: They operate on zero-carbon hydrogen fuel
Sustainable: They can support sustainable business operations by reducing greenhouse gas emissions, providing a potential for long-term benefits for the environment.
Familiar technology - internal combustion engines are well-known to concrete contractors and hydrogen fueled variants could provide a more practical route to decarbonization than current zero-carbon alternatives.

Cummins'

says that the X15H engines should integrate into

Terex

Advance's current vehicle designs with no major changes to the drivetrain, transmission or chassis - making the switch easier and allowing both

Terex

Advance and Edge Materials to utilize existing parts, service and maintenance set-ups.
Low cost of ownership: Nebergall says that "hydrogen internal combustion engines provide zero-carbon operation at the lowest capital cost compared with current fuel cell or battery-electric technology. Total cost of ownership is also antici

pated to be lower than fuel cell for quite some time. The mixer truck will look, sound and operate like a diesel-powered vehicle, while supporting environmental goals in a way that makes sense for our customers' businesses."
With the broad range of vehicle types and operating requirements for commercial vehicles, Nebergall understands that there is no 'one-size-fits' all power option. As more environmentally friendly options come available, he says that they expect the power types for the on-highway industry will likely be more diverse: advanced diesel, natural gas, hydrogen (internal combustion and fuel cell), and battery-electric power.
"Vocational trucks, like concrete mixer trucks, are an ideal application for hydrogen internal combustion engines, where power and vehicle availability is key," adds Nebergall. "They provide the up-time that concrete contractors and their customers need, while operating on zero-carbon hydrogen fuel and enabling compliance with EPA's GHG Phase 3 proposal."
For any concrete supplier, fuel cost will also likely be on time of mind. While hydrogen fuel prices are currently higher than traditional diesel or natural gas, Tim Fogarty, CEO for PCC Hydrogen expects to see a price reduction with tax credits as a result of the fuel's low-carbon intensity.
Supply, demand, and availability can also be a factor in eventually lowering the price of the fuel. Fogarty explains, "further economies can be achieved by leveraging the low cost of ethanol transportation to produce hydrogen close to the point of use."
He continues, "With sufficient support on the demand side, we can expect to see lower costs through economies of scale and innovations in the production process. As a result, we expect hydrogen fuel costs to become comparable with diesel, while providing the additional benefit of zero-carbon tailpipe emissions."
The Project
The project is still at its early stages but should represent one part of the drive to decarbonize the cement and concrete sectors. More alternative fuel options will likely enable the industry to take further action to reduce GHG emissions in this decade. With that, Grabner says they are seeing more demand for sustainable power options.
"As an industry, we know that vocational trucks are considered hard to abate due to their tough duty cycle - they are relied upon to turn up, work hard and get the job done," he adds. "They are doing that day-in, day-out and diesel power has always been the most reliable power option to ensure that happens. With hydrogen internal combustion engines, we can have diesel-like reliability and performance and ultra-low emissions at the tailpipe.
We are excited to see how this project develops and we're looking forward to supporting our customers on-site using hydrogen-fueled mixer trucks."
Companies in this article