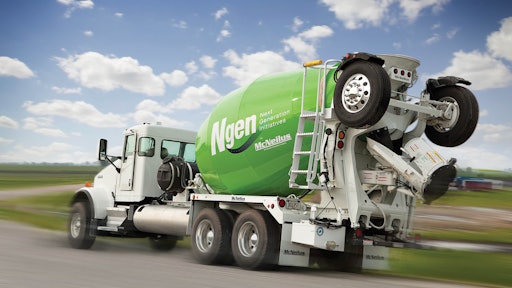 McNeilus Companies, Inc., an Oshkosh Corporation company, is displaying five mixer vehicles from the Oshkosh Commercial Group at its booth C6447 at the World of Concrete (WOC) in Las Vegas, Nevada, beginning today and running through January 24. Eight additional vehicles are showcased at the exposition, including a McNeilus Bridgemaster mixer – donated by McNeilus – on display at the Concrete Industry Management (CIM) auction stand (to support world-class academic programs and educational initiatives for the industry).
"We're excited to have one of our largest-ever displays at North America's premier concrete trade show. We've prepared a strong vehicle lineup to showcase our ability to meet the industry's growing needs," said Brad Nelson, Oshkosh Corporation senior vice president and president of the Commercial Group. "From the most advanced compressed natural gas (CNG) engine configurations, to a wide range of innovative front and rear discharge models, we meet the productivity, reliability, and bottom line requirements of ready-mix producers around the globe."
The vehicle lineup at the McNeilus booth includes a pair of McNeilus Bridgemaster rear discharge mixers, one of which is on display by permission of A&A Concrete. A second Bridgemaster mixer, powered by CNG, is shown courtesy of Cemstone Companies. A McNeilus Standard mixer, shown courtesy of Cemex, is also on display.  In addition, a CNG-powered Oshkosh S-Series front discharge mixer is featured courtesy of Silvi Companies. Finally, a tandem front axle London Standard mixer will be in the booth.
There are eight additional trucks showcased at the booths of key vendors and chassis manufacturers. These include a McNeilus Standard mixer located at the Kenworth booth C6203, a second Standard mixer on display at the Mack booth C5202, and a third at the Stertil Koni booth C5743. In addition, McNeilus Bridgemaster mixers are on display at both the Freightliner booth C5435, and at the Peterbilt booth C5172. Finally, a London Standard mixer is featured at the Mack booth C5202.