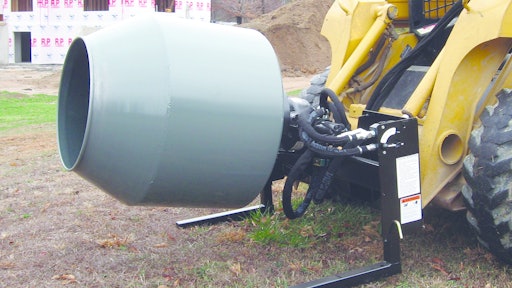 The patented SSGB-8B Grader is designed for concrete flatwork, asphalt and landscaping contractors. The unit features an 8 foot six-way hydraulically controlled moldboard with 25-degree rotation/tilt is controlled with an in-cab remote for precise control. The moldboard is shear pin protected to help prevent damage. With an optional laser system, the grader will maintain grade to tight tolerances.      
Worksaver also offers other products including the SS-590 Skid Steer Mixer which is ideal for all mixing jobs.
Features a large 11 cu./ft. drum to mix, transport and place 5 cu./ft. of concrete.
The direct hydraulic drive of the gearbox eliminates chain and sprocket maintenance, offering more up-time on the jobsite.  
Request More Information
Fill out the form below to request more information about
Worksaver, Inc. SSGB-8B Grader/SS-590 Skid Steer Mixer