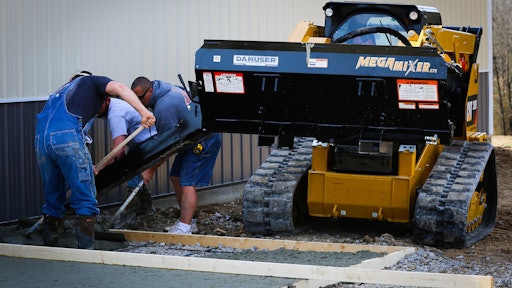 Danuser is introducing a newly enhanced model of its Mega Mixer material handling bucket designed to mix, scoop and dispense a wide variety of materials ranging from livestock feed to bag-mix concrete. New and improved features include:
Easy-to-operate discharge end
8 in. diameter with 8 in. pitch steel auger for faster mixing and dispensing
22.8 cu. in. motor for improved torque, capable of dispensing 3/4 yd. of material in 26 seconds (up to 1 in. diameter rock)
Mounts on both sides allow the operator to dispense on either the right or left side of the host vehicle to better meet each project's specific needs. The Mega Mixer includes pin holders, easy-to-read yardage markers and two 2-ft. multi-link chutes that store on the bucket. Additional accessories include 24 in. and 36 in. chutes, a toolless hopper extension and a funnel with 6 in. hose adapter. A closable discharge end limits spilling and allows for faster material mixing.
The unit ships complete, including hoses and flat face ISO couplers.         
Request More Information
Fill out the form below to request more information about
Danuser Introduces New and Improved Mega Mixer Material Handling Bucket