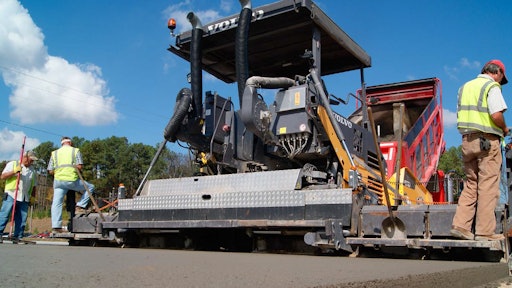 After four decades in the asphalt paving business, Robert Smith began dabbling in Roller-Compacted Concrete (RCC) – a heavy-duty cement mix that can be poured as quickly as asphalt. The company has now perfected the process of laying thousands of meters of RCC in just a few days for its industrial client base. Such has been its success that today more than 90% of its workload now consists of RCC work – jobs that the company completes with its Volvo Construction Equipment (Volvo CE) ABG7820 paver.
That's the spirit
Robert Smith Inc. was contracted to repave the Jack Daniels distillery site in Lynchburg, Tennessee, to deal with a major maintenance issue regarding its warehouse access roads. The asphalt roads were breaking down because of the weight of trucks carrying products to and from the warehouse. About 990 square feet of concrete was laid every hour by the Volvo ABG7820 paver, which covered over 527,000 square feet of new roads and stockyards. About 5 inches of compacted concrete was placed over 6 inches of compacted aggregate base.
Volvo tracked pavers are particularly suitable for paving a wide range of materials, from the wearing course down to the base courses, on diversified paving contracts. The Volvo ABG7820 paver features a smart power paving mode that gives high power when needed and reduces fuel consumption when less power is required. It also features an Electronic Paver Management EPM function that combines intuitive and simple operation with an extensive range of possibilities for storing and analyzing machine data.
RCC has been used for decades but it hasn't caught on in many parts of the US because the material has been competing with asphalt and the more traditional poured-in-place concrete. RCC is also less damaging to the environment, which was one aspect that was key to Jack Daniels selecting concrete instead of asphalt.
Rolling out the carpet
At another jobsite in Dalton, Tenn., Smith's crew paved the final sections of a 1,830 m3 industrial lot for a Shaw Carpet facility with dump trucks dropping nearly 8 cubic yards of concrete into the paver's hopper at a time. The machine's flexible screed was set to 22 feet wide and its dual-tampers compacted the concrete to 96% density. Workers could walk on the cement — poured 5.5 inches thick — immediately after it was laid.
A pair of Ingersoll Rand compactors (which have been manufactured by Volvo CE under the Volvo brand since 2007) brought the concrete to its final density and smoothed off the surface in two passes. Later, it was treated with a wax-based curing compound.
"I can push a truck straight up a mountain with the Volvo ABG7820 paver, it's just so powerful," says Robert Smith, the eponymous owner of the company. "I've seen people come and go in this industry but I couldn't have done it without our Volvo paver. It has changed our whole philosophy about the jobs we go after."
Robert Smith Inc., bought the paver through its local Volvo CE dealership, ASC Construction Equipment USA, which has an office located in Chattanooga. "What I like about the Volvo ABG7820 paver is that compared to a conventional paver, it's extremely solid," says Robert Jr., Smith's son and paver operator. "The machine never strains – ever – which is down to its unbeaten power."
Article provided by Volvo
Companies in this article