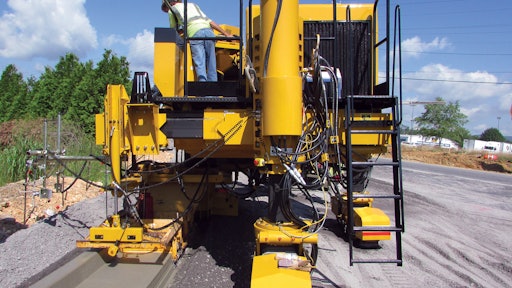 The three-track Commander III Xtreme (Commander IIIx) has the ability to slipform a 24-in. radius. The Extreme Package for multi-application pavers includes rotary-sensored slew drives for steering, sensored leg positioning, independent travel circuits to each track, radius software, three-sensor radius system and repeatable mold offset. The extreme radius software bundle for the G+ control system allows the operator to program the size of the radius into the controller. As the paver approaches the radius, with the values already dialed in, the operator activates the radius program, and the curb and gutter machine slipforms around the radius. G+ manages all aspects of traveling around the radius, including track angles and variable track speeds. The unit also incorporates intelligent All-Track Steering and All-Track Positioning.
All-Track Positioning includes a smart hydraulic cylinder on all three legs
Intelligent offset accomplished with a smart hydraulic cylinder for telescoping the mold mounting system
Independent vertical adjustments for raising and lowering of the trimmerhead and mold
Pivoting operator's console allows the operator to have hands-on control and clear view no matter what application is being slipformed or the direction of travel
Optimized cooling package with the hydraulic fan controlled by G+ to adapt cooling needs to conditions for both quiet and efficient operation
Improved fuel efficiency via a power-optimized engine and load-sensed hydraulic circuits
Optional onboard camera can be positioned anywhere around the paver and feeds live to the G+ display on the operator's console
G+ control system easily interfaces with stringline or a 3D guidance system, and is available with GOMACO Remote Diagnostics (GRD)
The Commander IIIx will be on display for the first time in 2017, including at World of Concrete, Central Hall, Booth C5126, or CONEXPO-CON/AGG, Central Hall, Booth C30380.
Request More Information
Fill out the form below to request more information about
GOMACO Commander III Xtreme Provides Extreme Radii Capability