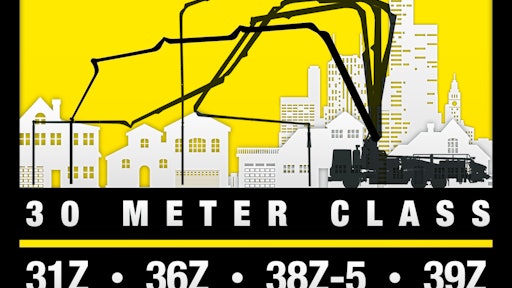 Putzmeister America, Inc. will introduce its redesigned, optimized line of 30-meter class Truck-Mounted Concrete Boom Pumps in 2018. Each model shares a calm, sturdy pedestal with increased strength and a more robust structure, as well as new options packages for customization compared to the line's previous iterations.
All units in the 30-meter class, which has been in development for three years, share a common pedestal. These units also feature the Ergonic 2.0 control system and the same 3rd generation exclusive Putzmeister Free Flow Hydraulics that are already standard on many of the company's boom pumps. However, a point of differentiation exists with the smaller boom sizes, which have a smaller overall outrigger span, which equates to smaller front and rear outriggers as well as a shorter deck. 
Every model in the 30-meter class features improvements based on customer feedback. For instance, the outrigger cylinder hydraulic line — which was previously welded — is now a bolted connection for easy maintenance and repair. Slewable rear deck steps increase access to the deck, and bottom steps fold up for travel to avoid damage. A decreased side profile, which reduces the overall height and makes for easier loading of pipe and hose on the side decks, is also standard. Additional features include a cleanout ball catcher added at the hopper outlet, and a standard auto lube to "A" hinge."
Model-specific advancements were also made as necessary to improve performance. The 31Z-Meter features the same boom with a first section that was modified and lengthened to account for its offset head. Its pedestal is also new and more robust than its previous version.
Reinforced pedestals are also featured on the 36Z-Meter and on the recently introduced, well-liked 5-section 38-Z Meter boom. The 36Z-Meter also includes a new boom design, which is a shortened version of the new 39Z boom.
The brand-new 39Z-Meter features an innovative boom design, robust pedestal design, and can be configured to meet virtually any pumping application. Though impressive durability was a priority, it has not come at the expense of excessive added weight — it remains lighter than Putzmeister's current, comparable 38Z-Meter.
Three models in Putzmeister's 30-meter class maintain weights that are comparable to current models — even with the more robust pedestal. The common pedestal, which was design-tested to an extended lifespan, has been strengthened to better withstand torsion from the pump. It also includes thicker rear outrigger legs than previous versions; the front outrigger legs have longer section overlap for increased strength.