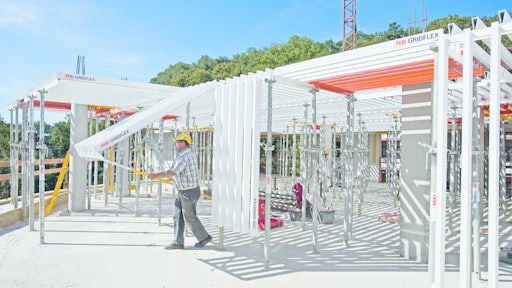 PERI has introduced a new slab formwork system to the US market. GRIDFLEX is a lightweight aluminum grid element system that saves time by eliminating the need to set up and position girders individually, by providing ready-made aluminum grid elements that are simply hooked into the prophead and erected from below.
Requires only four main components – prophead, one standard and two filler elements – making GRIDFLEX intuitive and straight forward.
After an area is enclosed, the grid just needs to be covered with any grade of plywood which is then nailed down to the aluminum struts.
The lightweight design, with a standard element only weighing around 40 lbs., allows a single person to easily handle the system.
GRIDFLEX is expected to be a major productivity upgrade in terms of time and labor savings for contractors who are still doing a lot of work with girder slab formwork or heavy panel slab formwork.