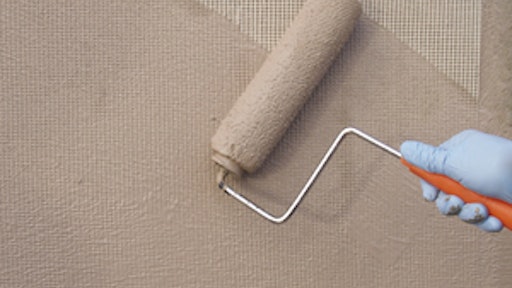 Mapei Mapelastic Smart
Mapei's Mapelastic Smart combines powerful waterproofing and concrete protection with ease of application.
Two-component, flexible cementitious membrane
Applied by roller or brush
Tremco Tuff-N-Dri
Tuff-N-Dri Basement Waterproofing from Tremco can be applied to block or poured foundations.
Includes a polymer-enhanced membrane, spray applied to span foundation settling cracks
System includes Warm-N-Dri Foundation Board, applied for insulating value and drainage assistance
Epro Ecobase
Ecobase membranes are high quality, water-based, polymer modified waterproofing membranes.
Highly flexible, seamless and fully bonded, environmentally friendly and ICC-approved
May be applied to green concrete
Mar-Flex Sunflex
The waterproofing membrane has permanent elasticity that allows it to move with the expansion and contraction of the wall surfaces.
100 percent virgin polymer
Will not evaporate or lose flexibility
Resists freeze-thaw cycles
Super-Krete Pene-Krete
Super-Krete Pene-Krete waterproofs any portland cement-based substrate and prepares surfaces for coating.
Pene-Krete reacts with alkali in portland cement to create a crystal-like shield
Reduces moisture vapor emissions
Protects surfaces from freeze/thaw damage
Increases coating life
Applied Tech. Hydra-Guard
The Hydra-Guard Waterproofing System provides basement protection against water penetration.
Hydra-Guard Membrane spans shrinkage cracks that develop in a wall
FibR-Dri Protection Panel protects membrane from backfill damage
FibR-Dri allows water to drain away from foundation to the drain tile