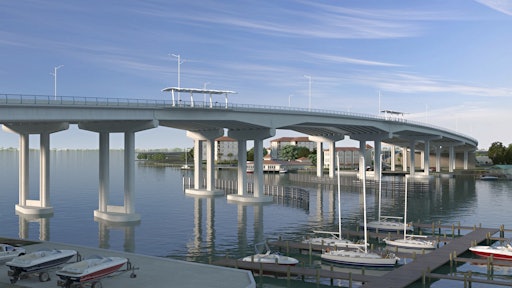 WSP
The family-owned infrastructure contractor, Superior Construction, along with WSP, an engineering, environment and professional services firm, have been hired by the Florida Department of Transportation (FDOT) to replace the John T. Brooks Bridge.
While construction is underway, the existing bridge will remain in place through the first two phases of construction to minimize traffic impacts. Superior and WSP expect to complete the project by August 2027.
Estimated to cost $171 million, the project's design introduces one of the nation's first unbonded flexible filler internal tendons spliced girder system. This requires the team to design and construct two new parallel shared-use bridges over the Santa Rosa Sound to increase capacity and improve traffic flow between Okaloosa Island and Fort Walton Beach.
According to the release, the State Road 30 (US 98) Brooks Bridge Project will provide a vital, multimodal transportation link and improve safety for this popular vacation destination. Protective barrier walls will separate new 12-foot-wide shared-use paths, featuring scenic overlooks and shade structures, from traffic.
Superior Construction and WSP have devised solutions to ensure work will be environmentally friendly based on the community's priorities. Pedestrians and cyclists are to benefit from additional parking and a new recreational area beneath the bridge.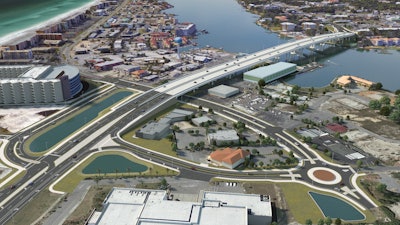 The New Brooks Bridge
Will measure 2,111 ft. (793 feet longer than the current one)
Will feature six travel lanes (three eastbound and three westbound) versus the current four-lane structure
Vertical clearance will increase to 65 ft. (from 50 ft.) in compliance with U.S. Coast Guard regulations.
Will allow better traffic flow by eliminating one existing traffic signal - extending past the U.S. 98/Santa Rosa Boulevard intersection
Additional drainage improvements
A new roundabout
Intersection improvements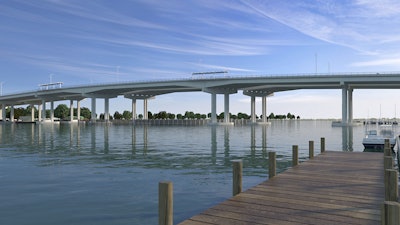 Safer boat access will also be prioritized. According to the announcement, there have been two incidents in which barges have struck the Brooks Bridge or bridge fenders since 2013. The new design will increase the structure's resilience which is crucial since it serves as a hurricane evacuation route.