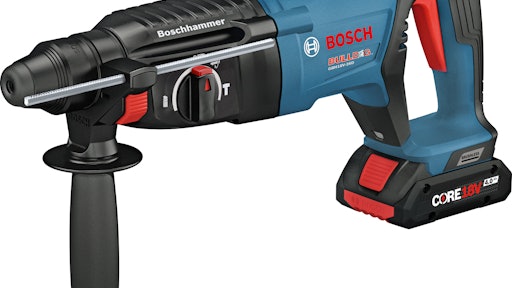 The GBH18V-26D 18V EC Brushless 1 In. SDS-plus Bulldog Rotary Hammer with CORE18V battery, combines corded-like performance with next-generation Lithium-ion 21700 cell technology.
The Bosch GBH18V-26D Bulldog Rotary Hammer features a D-handle hammer design that incorporates an efficient EC Brushless motor. The advanced Bosch motor drives 50 percent more impact energy and greater runtime than conventional cordless hammers. The hammer kit (GBH18V-26DK15) includes a CORE18V 4 Ah battery.

This GBH18V-26D cordless Bulldog is engineered with Bosch's KickBack Control technology, which reduces the risk of sudden tool reactions in bit bind-up situations. An integrated acceleration sensor automatically shuts the tool off to help prevent potential user injury.
The Bosch GBH18V-26D is a lightweight hammer at only 5.2 Lbs. (tool only), but provides an outstanding power-to-weight ratio because the efficient EC Brushless motor furnishes 1.9 Ft.-Lbs. of impact energy

In addition, the Bulldog cordless rotary hammer features a variable-speed reversing trigger for accurate bit starting, and a Bosch-exclusive rotating brush plate to ensure equal power in forward and reverse.




The GBH18V-26D Bulldog rotary hammer also features the option to use the GDE18V-26D Professional dust collector, which enables tradesmen to work in a dust-free, OSHA-compliant environment regardless of the location.

The dust extraction module can be used with both corded and cordless D-handle Bulldog hammers. It attaches underneath the rotary hammer, which allows direct line of sight to the bit so the user can ensure optimal dust extraction while drilling. The dust extraction module has an automatic power on/off. It automatically starts at the same time as the rotary hammer and continues to function for two seconds after the drilling operation is ended to ensure optimal dust extraction.




The Bosch cordless Bulldog rotary hammer is compatible with Bosch PRO+GUARD dust solutions, options that provide end-to-end dust collection that helps users move toward OSHA silica dust compliance.

The Bosch CORE18V battery that powers the hammer relies on 21700 cell technology for a lightweight, high-power battery with all-day performance. Bosch exclusive CoolPack 2.0 technology helps to draw heat away from battery, increasing runtime and lifetime. The result is a CORE18V battery with greater power. All Bosch batteries provide cold weather performance to -4°F. Each battery includes a fuel gauge.




Bosch Electronic Cell Protection safeguards the battery against overload, overheating and depth discharge for longer runtime. Likewise, Bosch Electronic Motor Protection shields the motor against overload with integrated temperature management.




The GBH18V-26DK15 rotary hammer comes with a CORE18V 4.0 Ah battery, an 18V charger, an auxiliary handle, a depth gauge and a carrying case.



Request More Information
Fill out the form below to request more information about
Bosch GBH18V-26D 18V EC Brushless 1 In. SDS-plus Bulldog Rotary Hammer