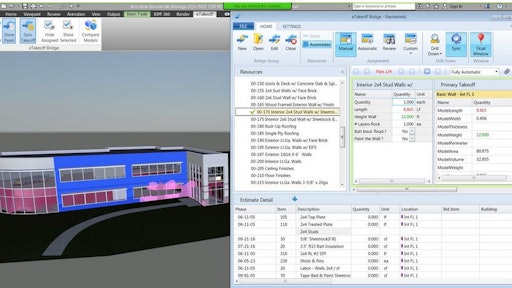 Sage
Excerpted from a BuiltWorlds Q&A with Walter Davis, estimating market manager at Sage
BIM is centered around three-dimensional (3D) design and modeling; 2D is the name given to a flat representation of a building project. Today, 2D drawings can be an output of a 3D model, which provides a digital version that can be measured using 2D software to take off the quantities and measurements from the drawings.
4D BIM adds time to the mix, showing the status of a project at different points in time.
5D BIM adds cost information to the 3D model. 5D BIM automation implies that an estimator's costing software can access the data contained in a 3D model for the takeoff process. Taking measurements off of a set of drawings has involved physical blueprints or digital versions of them.
"Being able to access [quantity] information in a 3D model, without manually measuring or counting everything in the project, well, you might imagine that it can multiply an estimator's productivity by an order of magnitude," says Walter Davis, estimating market manager at Sage.
3D solutions allow project owners to view and make changes to a project throughout the design phase, generating many changes along the way. A system's ability to compare changed models to each other and automatically flow the cost impacts into revised estimates is critical to the success of 5D BIM.
(more advantages and challenges to estimating with 5D BIM . . . )