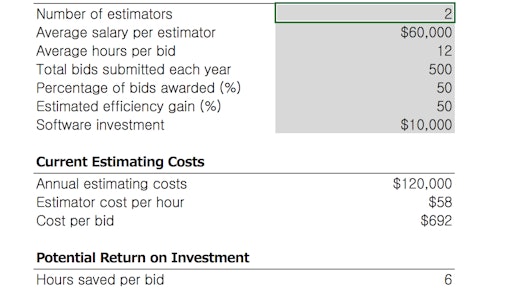 If your construction company is considering estimating and takeoff software but are unsure if the investment if worth it, there's a new, free tool to help you.
Software Advice has introduced a free calculator that will help contractors approximate the number of hours a business can save each year by using estimating and takeoff software and how long it will take to recoup the investment.
"We frequently speak to construction professionals who are used to doing estimating the old fashioned way — with pen and paper or clunky spreadsheets. These methods can be manageable at first, but can be time consuming and lead to disorganization. Especially if your business is growing and you're trying to send out more bids and estimates," said Forrest Burnson, researcher at Software Advice, a company that analyzes and reviews construction estimating software.
"With estimating software, you can streamline all of your estimating processes and ensure that your estimates are accurate. As we all know, inaccurate estimates can mean lost profits in the construction business. We built this calculator tool so you can get a better understanding of the return on investment a construction professional could see from switching to using proper estimating software. We think that when people see the cost and time savings for themselves, it makes modernizing with new software that much easier of a choice.  
(use Software Advice's free estimating software ROI calculator...)