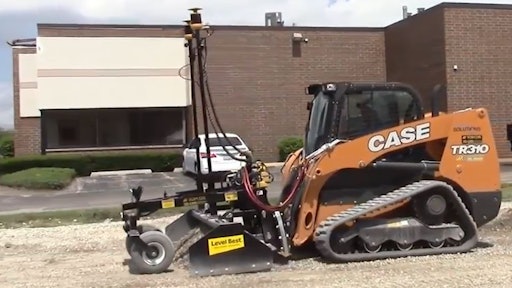 The United States may be leading the world in the number of infrastructure projects under construction or identified as target projects, but the quality of infrastructure work is far from leading edge compared to other projects being constructed around the world. And while the world population is projected to grow from 7 billion in 2012 to 9 billion in 2035, there remains a $36 trillion gap in global infrastructure funding. And unlike manufacturing and agriculture, infrastructure construction has not experienced a productivity gain. In fact, productivity levels have declined while costs have risen. 
If the construction industry invests more in technology, productivity levels would increase. Large equipment manufacturers have invested in automation, GPS and 3D technology, making productivity benefits available to the construction industry. Higher adoption of the technology continues to grow, allowing digital transformation throughout all phases and disciplines of the construction process and project progress. Technology, in fact, is reducing the funding gap by approximately 50 percent to $20 trillion today.
Anthony Cerisano, Gomaco Corporation, says Gomaco has been successful in integrating the technology into its equipment, which has allowed the company to help contractors achieve a defined flow of information throughout the construction project.
Dale Sensenig, ATI Corporation, adds that the technology has helped ATI to increase sales of the Level Best skid steer box attachment to 250 units annually.
What challenges do contractors face?
According to Jerry Bickner, president and general manager of Topcon Solutions Store, Carol Stream, IL, tighter specifications are requiring contractors to find ways to deliver a project that achieves a longer lifecycle. Studies have shown that a smoother road surface, for example, will last considerably longer and require fewer repairs than one with surface and rideability deviations.
"Contractors must achieve these specifications in order to achieve quality bonuses," Bickner says.
Over the past 8-10 years smooth ride specifications have become tighter and contractors must meet those demanding specs to achieve bonuses tied to them, and in many cases that's how contractors manage to achieve a profitable return on a project.
Cerisano says, "Some states have 'must-ride' specs that contractors have to meet in order to achieve bonuses, and the IRI (International Roughness Index) are the toughest specifications to meet."
Contractors now must work with a survey crew, engineers and machine operators to deliver what the project requires to meet the specifications the client (government road agency) requires, Cerisano adds. Gomaco has transferred all the technology into the machine, including all the data points created by the surveyors and engineers, into the concrete paving machine to produce exactly what's required for a specific project.
Cerisano points out that the concrete paving contractor must work with other contractors, like the earthmoving contractor, to coordinate the entire project to make sure the final concrete surface result meets the customer's expectations.
Sensenig adds that the tolerances in the industry are so tight that, as the saying goes – dirt is cheaper than stone and stone is cheaper than concrete – meeting the tolerances required to use only the minimum amount of concrete required to achieve the required outcome is crucial. Preparing a competitive bid requires exact tolerances and an exact quantity or volume of material required to deliver the project. That's how competitive the market has become, according to Sensenig.
What's your competitive contribution?
As the technology grows, it's the ease of use and yield delivery that will assist contractors in meeting the demands of delivering a competitive bid. Contractors can measure and control the dirt and rock base preparation to measure the exact amount of material needed. The ability to eliminate string lines, for example, helps open the sight line of the project.
Additionally, the technology available today allows contractors to plug and play the technology that is most appropriate for the individual project they're working on or for the level of delivery their customers require.
Andy Werdin, Ligchine International Corporation, says having a product that's easy to use and allows operators to immediately achieve results has been key to Ligchine's product development efforts.
Addressing the lack of tech-savvy operators
With the rapid development of advance technology design to improve overall productivity and quality of a construction project, how is the industry addressing the critical need of tech-savvy equipment operators required to maximize the full potential the equipment is now capable of delivering?
As far as Gomaco concrete paving operators, Cerisano says all customers have a huge demand for qualified equipment operators, but more importantly operators who understand how 3D technology works to better run the machines. Many Gomaco customers are limited by the number of 3D technology systems they could purchase to equip all their pavers simply because they don't have operators who fully understand the technology. There's a huge demand for operators with technical skills and Gomaco works with Topcon during its annual university training sessions to continue developing the skills of contractors' equipment operators.
Sensenig echoes those sentiments by saying there's no young talent being developed in the industry. Level Best grading boxes are really considered machining 101, according to Sensenig, with the simple technology taking the guesswork out of the grade leveling operation. Machine Control Technology needs to become more like a video game, allowing younger equipment operators to easily relate to how it functions.
Training is obviously the key to fully leverage the potential of current machine control technology now available in the construction industry. With the shortfall of a skilled labor force, equipment manufacturers and technology developers know they will have to lead the way in developing the talent pool required to fully integrate the technology advantage.
According to Bill Painter, Topcon senior manager of machine control paving products, Topcon is working with universities, colleges and tech schools to develop an interest and talent pool of future technology-savvy operators. It's important to develop operators who are familiar with technology, according to Painter. The construction industry is challenged by other industries for the talent we need, Painter points out. And while the technology is an obstacle for finding skilled labor, it's also an incentive for workers to pursue a career in the construction industry because it provides high-tech opportunities.
As Bickner adds, finding qualified people is the single biggest challenge in the construction industry, but technology will also be critical in helping to attract younger workers who want to pursue a technology career.
Companies in this article