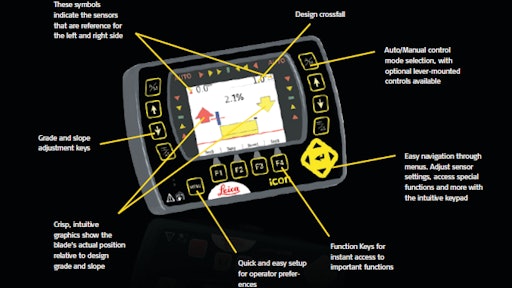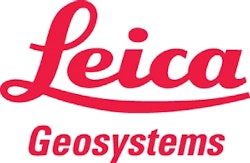 Leica says its SP Technology inertial guidance controller and hydraulic interface speeds grade control, allowing dozers to finish grade in third gear. The PowerSnap docking station allows easy and quick removal of control panels for overnight security, or to exchange/upgrade controllers.
iCON Grade 32 – Two- and three-dimensional control
The Leica iCON grade system is easily upgraded from basic 2D to full 3D capability. If there are no GNSS or GPS signals available you can work in 2D with lasers, slope or ultrasonic sensors.
iCON Grade 42 – Three-dimensional control
The 3D system brings design surfaces and alignments into the cab and provides automatic machine guidance. Work independently, and accurately, anywhere on the project design guided by GNSS and GPS satellite signals or iCON robot, Leica's robotic total station. iCON grade 42 supports Leica iCON telematics which enables you easy data transfer from office to machines, remote support and basic fleet management via the iCONnet website.
Leica PowerBlade laser system – Two-dimensional control
Request More Information
Fill out the form below to request more information about
Leica Dozer Grade Control