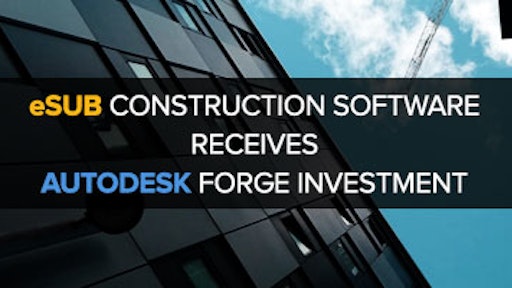 eSUB, a leading provider of subcontractor mobile and cloud-based project management and labor productivity solutions, is the latest recipient of an Autodesk Forge Fund investment. The investment will accelerate product development for a deeper product integration between the Autodesk BIM 360 construction management platform and eSUB to create a seamless user experience and develop a stronger alignment between the construction project owner, architect and subcontractors. The investment from Autodesk is part of Series A funding which includes participation from Revolution Ventures.
"Autodesk shares our vision of connecting all construction project stakeholders, and we are thrilled to partner with a worldwide leader in Construction management software to break down the silos within the industry," says Wendy Rogers, president and CEO of eSUB Construction Software. "eSUB has grown tremendously over the years by delivering a cloud-based field data collection and project management platform for subcontractors, a critical stakeholder in the construction project lifecycle responsible for much of the trades work on projects. With the Autodesk investment, we are actively developing a seamless workflow to connect all project stakeholders to reduce errors from critical information loss, information timing, and information accuracy."
eSUB Construction Software's cloud-based mobile platform delivers an integrated suite of point solutions designed for subcontractors including time tracking, daily reports, issues, submittals, change orders, purchase orders, job costs, emails, and more. Additionally, eSUB leverages Autodesk BIM 360 design management and collaboration capabilities to deliver plans and drawings directly to the field user. Learn more about how the current integration between Autodesk BIM 360 and eSUB works.
Benny Baltrotsky, chief strategy officer for eSUB adds, "For more than 50 years, the construction industry has experienced declining levels of productivity. Now is an exciting time as construction companies are beginning to realize the benefits of productivity technology improvements. Our goal at eSUB is to enable subcontractors to leverage technologies—from field data collection tools to Building Information Modeling (BIM)—into one seamless user experience."
Autodesk is a leading provider of 3D design, engineering, and construction software. This is Autodesk's fifth Forge investment in a construction technology company  over the past year. Autodesk Forge is a connected developer cloud platform which enables customers to create customized, scalable solutions for engineering, construction and manufacturing challenges. As a continuation of their development efforts and a member of the Forge community, eSUB leverages cloud technologies to push tighter integration between their own internally developed web tools and core Autodesk applications.
"The complexity of construction projects is largely underappreciated by those not earning a living in the building industry," said Jim Lynch, vice president, Construction Product Line, Autodesk. "At any given time, hundreds of subcontractors are hard at work on a project, which requires substantial oversight to avoid logistical nightmares.  This investment represents Autodesk's and eSUB's ongoing efforts to reduce risk to people and the project, increase transparency, and improve jobsite accountability."
"Within our company, we utilize many different technologies throughout our operations—from preconstruction, construction, and facility maintenance," says Clint Elliott, owner at Action, Inc. "When we can create levels of integration between different phases of construction, such as with Autodesk and eSUB, the levels of efficiency and collaboration benefits all project stakeholders."