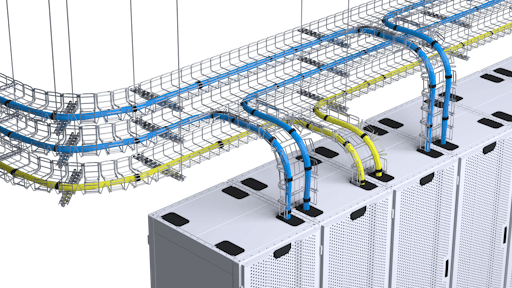 Legrand
Legrand, which produces electrical and network infrastructure solutions, launched its Cablobend Systems, a flexible wire mesh fitting that saves labor time typically spent by contractors to create vertical drops for data centers. 
See how it works:
The Cablobend Systems provides an entirely new way for contractors to work on data center projects. Every data center requires numerous cable tray bends and drops, sometimes thousands in just one installation. With traditional cutting and bending, each drop can take over four hours to complete. The Cablobend Systems provide the freedom to flexibly create the bends and drops needed with no cutting required. 
"In response to the cable tray market demand for faster installation of horizontal and vertical bends, we're thrilled to provide the Cablobend System, which not only provides labor and time savings but also offers a much easier installation than competitive products," says Chris Cooper, national account manager at Legrand.
"For example, vertical bends with horizontal adjustments typically take contractors four hours for one bend. Cablobend gives them the ability to do this in 15 minutes; thus drastically reducing installation time." 
Cablobend Systems encompass wire mesh grid assemblies that easily bend and flex, giving contractors seamless cable runs at the most difficult installation points. With a wide variety of widths and combinations, it's easy to create nearly every bend needed with one product.
Contractors can simply stretch and bend the flex wires a maximum of 4 in. at any location to fit configurations up to 90° horizontally or vertically, or join sections together for increased rigidity and strength. With a variety of widths and combinations available, the system offers the freedom to create exactly what is needed.
Available in three heights (2 in., 4 in., and 6 in.), seven widths (6 in., 8 in., 12 in., 18 in., and 24 in.), and two finishes (silver and black), each segment can lock easily in the field for rigidity. The complete system arrives at the job site already welded together and pre-assembled.
Request More Information
Fill out the form below to request more information about
Legrand Introduces Cablobend Systems for Data Center Projects