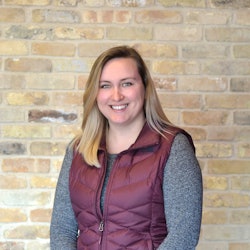 201 N Main Street
Fort Atkinson, WI 53538
United States
Associate Editor, Pavement Maintenance & Reconstruction
Dormie Roberts has joined the content team as the associate editor of Pavement Maintenance & Reconstruction. Prior to this role, Dormie has been the marketing specialist for AC Business Media since February 2019.
Dormie is a graduate of the University of Wisconsin-Platteville where she obtained a B.S. in Agriculture Education. Throughout her college career, Roberts found her passion for creating brand loyalty through public relations, communications and content writing.
"I am excited to take on this next adventure and deliver content that is relevant, informational, and beneficial," she said. "I can't wait to get out to jobsites, learn more about the industry and get my hands dirty with all of you." 
Beyond the Office
Dormie is born and raised a true Wisconsinite. In the summer, she enjoys spending the weekends on the water, listening to Bob Uecker commentate a Brewers game and appreciates a good county fair corn dog. When the weather gets cooler and the leaves begin to change, so does Dormie's weekends. You can catch her in her garage or tailgating, enjoying a local IPA in hand while cheering on the Badger or Packers. She also enjoys time with family and friends and loves a fun fact, joke or a unique National Day.
Start a conversation with her on Facebook, Instagram and Twitter to help her better understand the needs of the industry. She can be reached directly at droberts@acbusinessmedia.com.