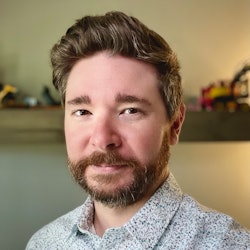 201 N. Main Street
Fort Atkinson, WI 53538
Editor – IRONPROS Video Content
Wayne Grayson is Editor – IRONPROS Video Content at AC Business Media, serving as the content strategy lead for digital products including videos and podcasts. Wayne has 15+ years of editorial experience, 10 of which have been spent covering the construction industry.
He graduated form the University of Alabama with a bachelor's degree in communications before starting his career as a reporter and columnist at The Tuscaloosa News, where he was part of a team that won the 2012 Pulitzer Prize for Breaking News. He specializes in feature writing, photography, and video/audio production.
Wayne is based out of his hometown of Dothan, Alabama, where he and his wife Brianna are raising their daughter, Sadie, and their pup, Remington.
You can reach Wayne by email or by sending him a message on Twitter, @waynegrayson.