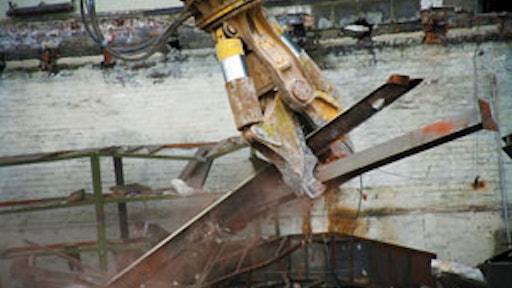 A wrecking ball and dynamite can certainly raze a building. But for many contractors performing demolition work, a more precise tear down with excavator-mounted demolition attachments can be a more cost-effective and lucrative proposition.
"With a wrecking ball you end up with a mixed pile of rubble," says Jeff Malarik, Atlas Copco. "Mixed rubble needs to be taken to a landfill or separated off site. This requires hauling fees, tipping fees, etc., all of which add to the cost of the project."
Specialized excavator attachments, on the other hand, can serve as primary demolition tools to tear down structures, then operate as secondary tools to process and/or sort debris into piles that can be sold at a profit, hauled to a recycler or used on site. "The ultimate goal is to use everything on site, because you can save on the cost of transportation and labor," notes Jim Lafon, Geith. "And it's better for the environment."
Malarik sees such "selective disassembly" as an emerging trend. "It's sort of reverse construction," he states. "It's just more economical for contractors to take structures apart selectively - to put various materials in their particular place, rather than having them mixed together in a big pile, move that pile, then sort the pile. It's more economical to move any one thing once."
"To be able to process debris on the jobsite and leave most of the material behind can be a substantial advantage to the contractor," agrees Curt Helmen, Genesis. For example, a structure that's made mainly of reinforced concrete can be separated into two piles, one with concrete, the other with rebar. "The contractor saves in the cost of not having to move trucks in and out," he says. "He also ends up with rebar that can be sold as scrap steel. In this scenario, he could own the attachment several times over on the very first job."
On-site processing options
Last year's high value of scrap steel and record fuel prices created an environment ideally suited to demolition attachment use. While the recent drop in prices may change some aspects of on-site steel processing, recycling will continue to be a driver in the growing popularity of these attachments.
"I see more and more activity with tools that can process demolition debris on site so it can be recycled," says Rob Murray, LaBounty. "A lot of jobs are being bid around it because of the cost of fuel and transportation. If you can process debris on site instead of hauling it off and hauling crushed material back in, you're saving a lot of money."
There are several options to assist in this process, ranging from shears and pulverizers to multi-processors and grapples. Shears are a good choice for cutting through heavy steel or structures made with reinforced concrete, whereas pulverizers are a good choice for munching away at predominately concrete structures, including those with rebar or steel mesh. Many of the models in these categories can be used for both primary and secondary demolition.
"Before these attachments, the only other option contractors had for processing concrete was a concrete crusher," says Helmen. "This is still an option for some jobs because of the output advantage a crusher provides. But it's also a more expensive option because of the investment in the equipment and the expense of moving it in and out of the jobsite."
Size for size, shears and pulverizers are typically more powerful, but multi-processors have the advantage of greater versatility thanks to multiple jaw sets. "These units can be set up for broad or specialized applications," says Lafon. "We have a concrete jaw that does nothing but initial concrete breaking. If you want to take that same debris and reduce it to a manageable size, you can install the pulverizing jaw."
Murray considers multi-processors to be the "Swiss army knife" of demolition tools. For example, LaBounty's Universal Processor comes with four different jaw sets, including a concrete cracking jaw with a large jaw opening to take bigger bites out of concrete; a concrete pulverizer jaw to pulverize concrete and separate it from reinforced steel; a shear jaw for cutting reinforced concrete structures and steel; and a plate shear jaw for processing above-ground tanks. This variety enables you to quickly jump from one application to the next.
Built-in versatility
Grant Mackay Demolition, based in Salt Lake City, UT, specializes in performing demolition in Idaho, Wyoming and Utah, as well as other states that can be serviced by its Houston, TX, branch. The company added an Atlas Copco CC 3300 Combi Cutter to its fleet last fall. This multi-processor attachment is mounted on a Link-Belt excavator with a reach of up to 110 ft.
Grant Mackay Demolition uses the attachment to handle specialized demolition in high-reach situations, such as a paper mill project in Houston. The project encompasses 986 acres, and includes demolition of the power and utilities facility, including multiple boilers, power generation facilities, cooling towers, a lime kiln, a processing plant for craft paper, a grinding mill and processing facilities to take pulp to paper.
"The Combi Cutter is being used to facilitate the more substantial demolition of the taller structures, so we can get them down to more manageable heights," explains Grant Mackay. "It's cracking concrete in some areas and cutting steel in others. Fortunately, we're able to transition between cutting jaws very quickly when necessary.
"It's extremely versatile," he continues. "In addition to cutting the actual structural steel [at the mill], we used the attachment to separate some tanks that were connected by a series of pipes running across them. The Combi Cutter just sliced through the pipes and really made quick work of getting those tanks freed up."
So far, Mackay has relegated the multi-processor to high-reach jobs, but he envisions using it for other tasks once the economy picks up enough to justify an additional mounting head. This will enable the attachment to be used on excavators with more traditional reach to assist on secondary reduction tasks.
"We do a fair amount of sorting, and we've always been focused on recycling, especially now that dump fees are higher," Mackay says. "The country as a whole has also become more recycling conscious. Some jobs actually mandate that a certain percentage of the debris be recycled.
"But at this point, economics dictate that we use different attachments - such as a bucket and thumb to rake through debris - to be more cost effective. The workload just hasn't been sufficient to justify getting a different head to attach it to another machine," he states. "I have also thought of buying a second one to put on a smaller machine, but economics haven't added enough volume yet."
The green factor
Grapples are additional tools that can be good choices for primary demolition and secondary sorting. Many grapples rotate 360°, providing the ability to position them both vertically and horizontally. Multi-grapples are also available for added flexibility.
"Multi-grapples are commonly used in Europe for primary demolition of wood or masonry buildings," notes Malarik. "With them, you can tear down a building, plus sort the demolition waste. For example, wood roof rafters can be stacked in one area, while brick walls are moved to a different pile.
"These attachments are popular in Europe because they don't have acres and acres of land to dump refuse," he continues. "It needs to be recycled because there is no place to put it. But awareness is starting to build here [in regards to] the green side of demolition in terms of money, as well as the environment. It's more lucrative to sell the demolition debris rather than pay someone to haul it away."
Second vs. Third Member
Both second- and third-member mounting of attachments can offer advantages. Second-member attachments mount in place of the bucket and stick, while third-member attachments mount in place of the bucket only.
Second-member attachments offer less reach, but enable greater capacity. "If reach isn't important, but power and appetite are, you can use a second-member attachment, which gives you the ability to use a bigger attachment," says Rob Murray, LaBounty. When an attachment is used second member, he adds, the law of averages typically dictates moving up one size.
At the other end of the spectrum, third-member attachments offer greater reach, but at the expense of capacity. They are well suited for high-reach applications (90 ft. plus), which are becoming increasingly popular.
"High-reach capability gives contractors the ability to eliminate a crane and any human element needed to work at heights," Murray comments. The downside? "With high reach, you will need even smaller attachments because of the lift capabilities of the excavator and its center of gravity."
Companies in this article