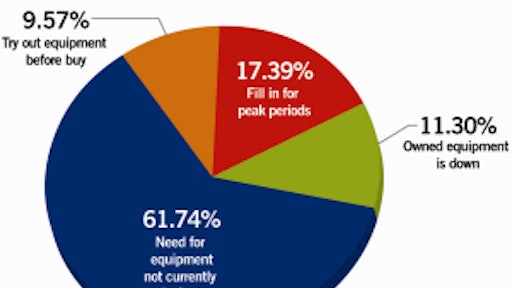 There's no doubt about it — contractors are renting this year and attachments are on the list of equipment they need, according to a recent Rental survey of general, landscape and concrete contractors.
When asked if they plan to rent equipment in 2011, 95% of contractors answered yes (see Figure 1), overwhelmingly supporting industry predictions that as the economy recovers, construction professionals will turn to rental to meet their equipment needs. Contractors know, as you do, that renting equipment makes sense from a practical and financial perspective. Credit remains tight, so purchasing equipment outright can be difficult until cash flow improves. Rental frees up a contractor's balance sheet, and minimizes service and maintenance costs as well.
Attachments unlock fleet potential
Interestingly, of those who responded to the survey, 82 percent indicated they will be renting attachments this year (see Figure 2). While not a capital piece of equipment, attachments are ideal rental items because they can drastically increase the versatility of the tool carriers contractors already have in fleet. They offer the ability to take on niche jobs, which is very important under current market conditions. This potential for differentiation can be key in keeping some construction professionals viable in an atmosphere of intense competition.
There are dozens of attachment varieties available, but our survey shows that contractors are currently most interested in renting landscape and site preparation tools. According to our results, 18 percent of respondents typically rent this type of attachment, followed by 13 percent who most often rent compaction attachments (see Figure 3). Trenchers are the third most popular attachment variety, with 9 percent responding they rent them most often. Rounding out the remaining top five attachment varieties are auger and backhoe attachments and hammers (both preferred by 8 percent of respondents).
Reasons for renting
According to our research, the majority of attachment rentals are due to a contractor's need for equipment he doesn't currently have in fleet. Our suvey shows that 62 percent of respondents rent attachments for this reason (see Figure 4). Following that, a total of 17 percent said they rent attachments to fill in for peak periods. In other words, when a job requires more pieces of equipment than they have on hand, they rent to fill that need. Contractors also rent when the equipment they own is down (11 percent) and because they wish to try out a particular model or brand before buying (9.5 percent). Whatever the specific reason for renting, the bottom line is that construction professionals rely on their rental source to meet their equipment needs. As such, it's important to offer them the latest models available and to keep your fleet in top condition. Rental professionals know that customers prefer to rent newer equipment, but the economic downturn of the past three years has necessitated an unprecedented aging of rental fleets. In fact, according to Rouse Asset Services, equipment age is now up to an average of 53 months for the major equipment categories.
So as you begin to replace your fleet, keep in mind the need to offer your customers a wide array of attachments. They require a lower commitment of capital to acquire, but can significantly increase the utility of your existing fleet.