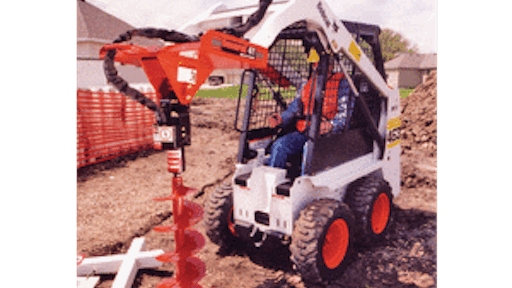 471 Dig-R-Tach
The 471 Dig-R-Tach is designed for compact utility loaders, compact TLBs and mini-excavators.
Hydraulically powered earth drilling attachment system
One-person mounting
Augers available from 2 to 24 in. in diameter
Industry standard 2-in. hexagon auger drive connection
General Equipment
AB Angle Broom
The AB angle broom features hydraulic angle adjustment that allows "on the go" angle changes for efficient cleaning and windrowing of material.
Float action allows for smoother operation and a decrease in broom wear over uneven surfaces
Tube-style brush delivers quick and simple brush replacement and longer service life
Tilt function allows +/- 4° of tilt to better follow the ground surface
Coneqtec
Clamp-on bucket forks
Clamp-on bucket forks come in five weight capacity categories from 1,000 to 6,000 lbs. and fit various machine and bucket sizes.
Easy to install and remove with no bucket alterations required
Main upright capped to keep out rain water
Extra-wide handle for easy carrying
Durable powder coating for longer life
Manufacturer's Diversified Services (MDS)
Cyclone Drop Hammer
The Stanley Works Hydraulic Tools Product Group announces the acquisition of Universal Technologies' line of Cyclone Drop Hammers.
Attachment can be used in a multitude of flatwork demolition projects
Three model sizes (DH1500, DH3500 and DH9000) available
Designed to fit walk-behind tool carriers, skid steers, mini loaders and compact excavators
Stanley Hydraulic Tools
General Purpose Dirt Buckets
Can be used for digging, carrying and loading dirt and other materials
Connect quickly and easily to loader's quick-attach interface
Constructed to handle multiple applications,
Reinforced at all cutting edges
Front cutting edge features a reversible bolt-on hardened steel edge, and can also accommodate a bolt-on tooth bar
Terex ASV
Rock and Tree Handler
The Rock and Tree Handler landscaping attachment can be used to handle trees, boulders or decorative rocks.
Hydraulic rotator
Powerful, precise hydraulic clamp
Operates on one set of hydraulics
Lined with heavy-duty rubber bumper to prevent scratches
Interchange steel or rubber tips
Custom made for easy mounting on any carrier
Ez Spot Ur Inc.
Skid Steer Forks
CTI skid-steer forks feature heavy-duty tines for durability.
Frames and tines factory tested to ensure a 3-to-1 safety factor
Heavy-duty tines latch on rail forks and set screws on rod forks
Reinforced bottom rails and forged bottom hooks on both styles
Rail- and rod-style frames available
Construction Technology Inc.
Skid-Pac Model 1000
The Skid-Pac Model 1000 utilizes the Ho-Pac vibratory compactor technology and mounts it onto a skid steer.
Larger eccentric with mass further from shaft centerline to increase impulse and compaction force
9-ft. square baseplate compacts soil in flatwork while the loader moves in forward or reverse
Four-function valve
Fits skid steers in the 4,000- to 14,000-lb. weight range using universal quick-change couplers
Allied Construction Products, LLC
Tree Spade
Available in 3-, 40-, 42-, 44-, and 48-in. ball sizes
Maintains excellent visibility
Quickly removes old stumps, transports and places new trees and shrubbery with minimal labor
Places large stones easily
Conctructed of 3/8-in. plate with sharp tapered edge
FFC Attachments, Inc.
Trencher
For a variety of jobs ranging from light to high production trenching
Desgined and built specifically for Bobcat loaders and excavators
Features digging depths from 24 to 50 in.
Hydraulic side shift capability can trench close to buildings, fences or other objects
Seven models are available for Bobcat mini track loaders, skid-steer loaders, compact track loaders, all-wheel steer loaders, utility work machines, telescopic tool carriers and compact excavators
Bobcat Co. - Doosan Infracore
Trenchers
Trencher attachments include a 50,000-lb. digging chain available in depths from 24 to 60 in. and widths from 6 to 12 in.
Removable, double-flighted spoil auger
Optional hydrauic side shift
Self-aligning boom
Sealed tapered roller bearings
Options include various digging chains for trenching in loose soil to hard, rocky conditions
CEAttachments Inc.