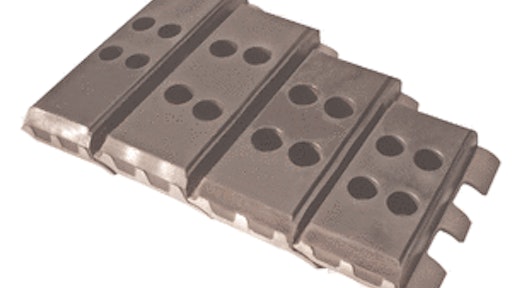 Dura-Trax
The Dura-Trax polyurethane track pads and grouser shoes fit most OEM asphalt and concrete paving and milling equipment.
Enable equipment to travel over existing pavement without damaging it
Molded using premium, liquid-cast, thermoset polyurethane
Engineered for ease of installation
Designed to deliver greater traction and maneuverability and longer service life
C.U.E. Inc.
Extendavator
The Extendavator is available in lengths from 4 to 50 ft. in six weight classes.
Possible to achieve over 100 ft. of ground reach on a 250,000-lb. machine
Allows use of buckets, hammers, grapples and universal processors without additional counterweight
Two-hour installation with no additional hydraulic valves required
Transportable with excavator
Custom-designed sticks available
Paul Wever Construction Equipment Co., Inc.
F Series Over-the-tire Bar Track
The F Series Over-the-tire Bar Track uses heavy-duty, contractor-grade components such as 1 1/4-in. hardened, field-replaceable bushings and 80,000 psi links to ensure durability.
Open side plates promote cleanout in the pivot area
Open cross bar design provides cleaning and exposes the tire to provide maximum traction, flotation and cleaning
2-in. wide bars
Improved sidewall design for heavy-duty tires
Available for 10.00, 12.00, 14.00 and 15.5 size skid steer tires
Grouser Products
Indy Cab
Indy Cab is a new style of cab that features front A-posts made of rigid sheet metal components and an upper curved section to accept curved, tip-out windshields. The sides, roof and rear cab sections are all bolted together. The hard sides have sliding windows. The cab can be configured with a choice of standard steel roof or extended steel roof for use on backhoe equipped models.
The Indy Cab features front A-posts made of rigid sheet metal components and an upper curved section to accept curved, tip-out windshields.
Sides, roof and rear cab sections are all bolted together
Hard sides have sliding windows
Cab can be configured with astandard steel roof or extended steel roof for use on backhoe equipped models
Sims Cab Depot
LiteFoot ATV Track Conversions
LiteFoot ATV track conversions provide mobility advantages of traction and flotation.
Fits on most any four-wheel-drive ATV or side-by-side utility
Easy installation
Allows flexibility to switch between tires and tracks as needed
Designed for rugged use in extreme environments
Mattracks
MOAR Heavy-duty Rippers
The MOAR (Mother Of All Rippers) is designed for use on excavators in the 15- to 100-ton range for heavy-duty ripping applications.
Effective in rock, shale, sandstone, coral, asphalt and frozen ground
Extra steel plates provide added weight to increase the carrier's downward force
Provides greater penetration and performance
Quick coupler and pin-grabber models available
Nye Manufacturing Ltd.
NOX Tilt-Rotator
Because it has no tilt cylinders, the NOX tilt rotator system is suitable for standard excavation work, as well as use in narrow working areas.
Less height and higher breakout force achieved due to the use of an elliptic rotary actuator for the tilting action
ADI (Austempered Ductile Iron) increases main body strength
Integral braking system and interior gear/worm gear run in a constant oil bath
Models offered in four sizes for excavators from 3 to 32 tonnes
Kinshofer North America
Poly Bolt-On TUFPADS HIGHTOP Track Pads
The Poly Bolt-On TUFPADS HIGHTOP track pads are now available in 10-, 12-, 14- and 16-inch versions for different brands and models of asphalt milling machines.
Designed to last 25% to 50% longer than the standard poly bolt-on track pads
Bolt onto a steel triple grouser shoe for easy installation and removal and reduced replacement part and labor costs
Available as a TUFPADS BLUES track pad with extreme blue polyurethane, which lasts 15% to 30% longer than the original black polyurethane
BLS Enterprises, Inc.
QUIKXCHANGE Hydraulic Quick Connect System
The QUIKXCHANGE quick-connect hydraulic coupling system mounts easily and enables one person to change excavator work tool hydraulic lines in five minutes or less with minimal effort.
Designed to withstand the demands of medium and large excavator work tools such as breakers, shears and crushers
Able to cleanly connect and disconnect under pressure
Available in 1- and 1 1/4-in. sizes and working pressures to 6,000 psi
Snap-Tite - Quick Disconnect & Valve Division
Rubber Track
Rubber tracks are available for all makes and models of compact equipment.
High-performance design delivers maximum durability
Aggressive tread pattern
Smooth ride and comfort
Non-metal core and jointless tracks available
DRB America
VTS Versatile Track System
The VTS Versatile Track System is a complete rubber track undercarriage that bolts directly to a skid steer's standard hubs in under an hour.
Provides bi-directional suspension that adjusts independently from one side of the machine to the other
Suspension automatically applies the track undercarriages back to the ground to maximize track footprint, evenly distribute horsepower and improve machine stability on uneven terrain
Provides stability for digging and backing out of trenches as well as hauling and dumping heavy loads
Loegering Mfg. Co.