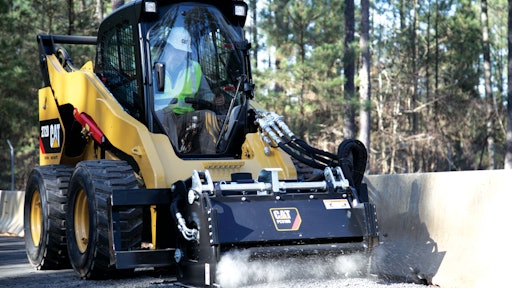 Before any work begins on the jobsite, the contractor needs to prepare the site. Choosing the right loader with the proper attachment can make your job easier and efficient, leading to greater profits to your bottom line.
To get outfitted with the right loader and attachment, you'll need to analyze the specifications of the project. What type of material will you be moving? What is the density of that material? How much material needs to be moved? Are there any space restrictions on the jobsite? The answers to these questions will help you determine the loader and attachment you need.
"Selecting the right combination is based on the amount of material (measured in cubic yards) that needs to be moved per hour, the weight of the material and the area that the loader will operate in," says Jamie Wright, Product Manager at Terex Construction Americas. "It is important that you know how the loader will get the material, how quickly the material needs to be moved and where the material needs to go."
Understanding your loader
Differences in hydraulic flow among compact loaders (compact loaders, skid steers or compact track loaders), make it imperative you understand how your loader's driving, braking, steering and lifting functions may influence the performance of an attachment, particularly ones that require continuous hydraulic flow.
"Pay particular attention to the attachment's flow requirements," Wright says. "Attachments that require continuous hydraulic flow, such as augers and brooms, do not work as efficiently if the compact loader's hydraulic specifications do not meet the attachment's needs."
The demands of the compact loader's systems can produce sluggish attachment operation or may cut hydraulic flow to the attachment altogether, adding an element of frustration for owners and operators.
Dedicated equipment vs. attachments
If your main business requires the use of a specific piece of equipment the majority of the time, having a dedicated piece of equipment in your fleet is a good idea. But if you are engaged in more general construction type work, keeping your machine versatile is the name of the game and utilizing a variety of attachments to complete the work makes sense.
Savvy business owners can better manage their fleet inventories versus the cost of equipment acquisition by thinking outside of the box when it comes to equipment offerings and utilization. "Equipment utilization is the key to a profitable bottom line," Wright says. "What if contractors could instead invest in a multipurpose tool, such as a compact track loader with a dozer blade attachment, to handle dozing applications and other tasks as well? How much more utilization could be achieved per unit? How would that increase profitability?"
Kevin Gilmour, senior work tool consultant at Caterpillar Inc., says, "The dedicated machines can be expensive and not versatile. On the other hand, the attachments for your piece of equipment can be quickly interchanged with machines that have multi-functions."
Many contractors have already added a tool carrier to their fleet, which could include anything from a skid steer loader to a compact track loader to a telehandler. These machines were designed for versatility and ease of use. With the recent tightening of budgets, contractors are relying more heavily than ever on these machines, and more specifically, on the attachments that make them so versatile.
"Attachments are cheaper than buying a new machine, and they allow you to be more job specific, while at the same time giving you more options with your current equipment," notes Wright.
While versatility is clearly a key advantage to utilizing attachments for your equipment, Katie Althoff, Bobcat Attachment Product Specialist says there are other advantages to purchasing attachments including visibility, serviceability and mobility.
"Utilizing attachments within your fleet help you maintain all around visibility for contractors that operate in tight conditions or in close proximity to other laborers. Using a piece of equipment which provides easy access to all maintenance points as well as moving quickly and efficiently on the jobsite is another advantage," she says.
Increase your efficiency
Versatility and job diversification has become the main goal of many contractors looking to keep their businesses afloat. New attachments are coming along every day, and contractors should be on the watch for those which make their job more efficient. 
"We know that customers today are making equipment decisions differently because of the economy," Wright says. "Because attachments can make one machine into a multipurpose tool, attachments are the best way to keep overhead in line for contractors."
Two things contractors should consider when choosing to use attachments vs. dedicated equipment.
Proper maintenance will significantly extend the life of your equipment, but every contractor knows no machine/attachment can run forever. This is especially true nowadays as contractors are opting to run their current equipment fleet longer. Performing routine maintenance can save a contractor a lot of money.
 
Contractors are always looking for tools to help do their jobs more efficiently, because speed and ease can translate into greater profitability. Using a compact loader with different attachments can totally revolutionize a construction professional's business, enabling them to bid on larger projects and to work in all weather and ground conditions.
By carefully selecting the right attachments, customers can maximize their profits — the attachments pay for themselves.
Attachments for consideration
 Adding attachments to your fleet is always a good financial decision, simply because attachments cost very little compared to the revenue stream you will see as a result of performing more jobs on the jobsite.
"Attachments can offer construction professionals the ability to grapple, shear, hammer, break, crush, cut, compact and scoop up debris on a variety of jobsites," Wright says.
Want to make jobsite clean-up easier? Consider purchasing pick-up brooms, angle brooms and grapple buckets. "We've realized that grapple buckets are in demand right now," Wright says. "Whether its land clearing, construction site clean-up or recycling, this attachment offers the versatility contractors are looking for in an attachment investment."
Other attachments such as cold planers, wheel saws, breakers, augers, a grader, a trencher and a box blade are useful attachments for any jobsite.
"Before choosing the attachment that would work best for your business, the contractor should ask: Can the job be done quicker, safer and cheaper with this attachment," says Gilmour.
The contractor's perspective
Bob Namchek, owner of Pioneer Electric in Grand Rapids, Minn. says the key to staying busy during this economic slump is to reduce the amount of work you subcontract and keep as much business as you can for yourself. One way to do this is by investing in attachments, giving your current equipment the ability to do more.
"Attachments will basically pay for themselves in one summer with the number of jobs they bring in," says Namchek. "Then I'll have that piece of equipment forever, and will continue to profit from it with the additional jobs. If you can stay busy working, and don't over-invest in a bunch of new machinery at once, you'll be surprised how quickly you'll start to see a profit."
While Namchek says he has been using this business model even before the downturn in the economy, other contractors are beginning to follow suit. The economic stimulus package has provided a significant tax deduction for equipment purchases as well as accelerated depreciation rates. These incentives, along with low interest rates, versatility and job diversification has become the main goal of many contractors looking to keep their small businesses afloat.
Over the years, Namchek has managed to grow his business by investing in a Terex PT-30 compact track loader along with a series of attachments, including a trencher and a backhoe attachment. He has also added a harley rake, forks and a bucket to his line-up. Most recently, he purchased a vibratory plow for burying cable, a job he used to have to subcontract. Not only will the plow help keep more work in-house for Namchek, but he also hopes it will expand his customer base. "Hopefully, other contractors will start subcontracting to me," says Namchek. "This will generate work from a broader customer base, and will help me recoup the cost of the plow that much faster."
Although many contractors are hesitant to purchase new equipment in this unstable economy, Namchek shows no reservations. "My theory has always been that tools and equipment make you money," said Namchek. "You have to consider how much it would cost to subcontract a job and how much it would cost to just do it yourself. However, I don't finance any of my equipment purchases. If I don't have the money to buy it, I don't buy it. I think that's how a lot of small businesses get into trouble."
While diversifying your fleet may mean spending a little more money up front on new equipment, Namchek says that a simple cost per job analysis will help you determine your return on investment and how quickly you will start to see a profit. Proper maintenance will help increase the life expectancy of the attachment and ensure you get the most work out of your equipment.
When the time comes for Namchek to invest in some new equipment, he will simply do what makes the most sense for him and his business, whether that is buying new or repairing the old. "The way I see it, when the time comes to replace a piece of equipment, you can spend half as much and still have an old machine, or you can spend twice as much and have a brand new one. If you've gotten just about as much as you can out of your old machine, you might as well invest in something newer and better that will pay off in the long run."
Despite what some say is a questionably stable economy, it's clear that Namchek's simple, logical approach to work and finance is what has kept him in business for more than 30 years, and is what will continue to keep him in business well into the future. He is more than willing to offer some advice to other small business owners looking to employ his business model.
"No job is too small," he says. "A small job may lead to a referral for a bigger job. Just keep yourself busy. Do the small jobs and do the big jobs. They all pay the same."