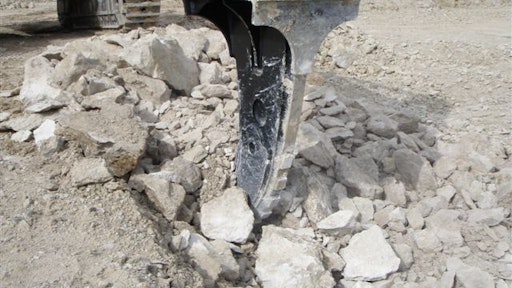 General-purpose buckets are indispensable for digging through low-abrasion soil conditions such as dirt, loam and fine gravel. Upgrading to a heavy- or severe-duty bucket can help get through tougher ground such as clay, shotrock and stone. At the extreme end of the spectrum, hydraulic breakers and even blasting can break up the hardest terrain, including granite and solid bedrock.
But for difficult soil conditions in between these extremes, specialized attachments can be cost-efficient and productive options when compared to alternatives such as trying to get by with traditional buckets that can crack or fail, investing in hydraulic attachments that can be a more costly expenditure than needed and blasting, which is being prohibited in more and more places.
Cost-effective, Low-maintenance Ripper
Geith, for example, offers its Ripper for excavators ranging in size from 4 to 80 tons. A cost-effective, low-maintenance alternative to hydraulic breakers, its single heavy-duty, solid steel shank is designed to penetrate and score rock, as well as tough, hard soil such as caliche, frozen ground and permafrost. Aside from difficult soil conditions, it can also be used in demolition to break up pavement and concrete, pull out rebar or even remove stumps, roots, etc.
"It's a pretty simple attachment," says Paul Shevlin, southeast sales manager, Geith. "There are no moving parts so there is less chance for something to go wrong. It doesn't require much maintenance and it can easily be attached, making it possible to quickly change between the Ripper and a bucket. Used with a Geith pin grabber quick coupler, an operator can safely go from tearing through the ground with the Ripper to loading with a bucket in about 30 seconds, all without leaving the cab."
Special features of the design make it highly effective in the toughest soils. "We designed it to put all the power of the machine into one specific point," says Shevlin, referring to its single shank. He compares this to a bucket, where the machine force is spread out across the full width of the bucket edge.
The Ripper's mounting system is also designed to each carrier's OEM specs, which maximizes the carrier's power while reducing stress and wear to the machine. Its overall shape and angle increase penetration while minimizing drag to increase cycle times and production.
"It is designed so there is less drag as you rip through the ground," Shevlin explains. "If the back of the Ripper drags, you will use more fuel and energy."
Replaceable teeth and wear shrouds plus side protection plates, all constructed from 450 Brinell Hardness steel, extend the attachment's life, and extra gussets and supports provide added strength where it's needed.
Peel Back Layers
Werk-Brau Co. manufactures the V-Line Strata rock bucket and Rock Ripper as options for getting through tough conditions such as frozen ground, layered rock and coral rock.
"These attachments allow our customers to peel back difficult soil layers and excavate rock without worrying about damaging a bucket," says Alex Gundy, sales and marketing representative, Werk-Brau. "They are an improvement over a heavy-duty bucket, which may not be able to get through these tough ground conditions."
The V-Line Strata rock excavator/backhoe bucket, available in sizes from 1/4 to 3 cu. yds., features five twin-pointed teeth (with other tooth options available) set in a configuration that provides maximum penetration. "The twin teeth allow for more breakout force and moderate prying, which buckets are not designed for," says Gundy.
Its V-shaped design enables the machine to exert all of its force at a single point, maximizing penetration. T-1 steel throughout the bucket and in critical and high-wear components, along with heavily reinforced wear straps, reinforced gussets and oversized leading edges, ensure long life in difficult digging conditions. Tapered side plates reduce wear on the sides of the bucket and allow for easier dumping.
The Rock Ripper, designed for compact/full-size excavators and backhoes, can pre-rip frozen ground and other tough soils as well as pavement thanks to its single-point tooth style. Constructed from T-1 steel, the attachment's long life is ensured by rigid gussets that support the Ripper body and upper gussets and shank that are designed to handle heavy-duty applications.
Both the V-Line Strata bucket and the Rock Ripper can be ordered in custom sizes. "We specialize in custom attachments for difficult jobs," says Gundy. "For example, we can make the bucket any width, from real narrow, even 18 in., for more breakout force and penetration, or wider for increased capacity. We can also make the Ripper with dual shanks."
Shanks Rip Through Ground
Leading Edge Attachments offers several specialized attachment options for excavators, backhoe-loaders and even skid steers in some cases. All are based on its SHARC (SHanks on an ARC) technology for ripping through frozen ground, coral, sandstone, limestone, shale, decomposed granite and caliche.
The Multi-Ripper, the company's foundation product, features three staggered shanks placed on an arc, explains Lee Horton, president. Because no two ripper teeth align, they rip through the ground one at a time, allowing for maximum breakout force at each shank as it hits the ground sequentially. The distance from the stick pivot to the tooth tips is also shorter than a standard bucket, which multiplies the tooth tip force.
"The extra breakout force gives the effect of increasing the size of a machine by two sizes," Horton says. "Being able to use a smaller machine and accomplish the same task can save on transportation costs, fuel costs, permits and even insurance.
"It's wider than the stick, so you can rip down the side of the [trench] wall without any depth limitations, so you get a relatively flat bottom and flat sides," he explains. This is an advantage in many jobsite situations such as digging basements and trenches. "Plus, you can push aside what you've ripped, then come back with a bucket to remove it."
The Multi-Ripper bucket combines the three-shank ripping design with a bucket to enable it to rip and dig simultaneously. "This is a popular attachment for municipalities for water main breaks in the winter," notes Horton. "It's also a great option for contractors who may not have a coupler, because they get the benefit of ripping and scooping at the same time."
The Multi-Ripper bucket comes in variations, including a high-capacity (Hi-Cap) version that can handle twice the volume. The Multi-Ripper Talon bucket is popular with utility pipeline contractors since its width is the same as the stick, or a little wider. Its leading edge is designed so the center rib can be eliminated to improve capacity fill and dumping.
The V-Raptor bucket is essentially a single-pointed ripper/bucket that digs narrow V-shaped trenches with flat bottoms in tough soil, and can be used for prying. "It's a great choice for digging trenches with minimal backfill needed," says Horton.
The Multi DigNRip bucket, introduced last year, features six ripping shanks, each designed to engage individually. The three ripper teeth on the leading edge are designed like the Multi-Ripper, while the remaining three are staggered up the back. The sixth shank serves as a single center pick for maximizing the ripping/digging concept. "The three shanks on the back are also far enough apart to prevent material from building up," says Horton. "It's a great choice for contractors who need to clear out a ton of tough material."
The STAG high-penetration rock bucket features staggered teeth that are positioned on the same plane, rather than on an arc. "Since the teeth are on the same plane, it allows for a flatter bottom, but you still get high penetration in tough conditions since the teeth hit at different times," says Horton.
Most of the buckets can be equipped with the Multi-Ripper tooth, which features two staggered tips on an arc that allow maximum breakout force to be applied to each tip. "One of the points of our tooth is lower and angled back," says Horton, "giving it the penetration of a single tooth combined with the ripping ability of a twin tooth."
Companies in this article