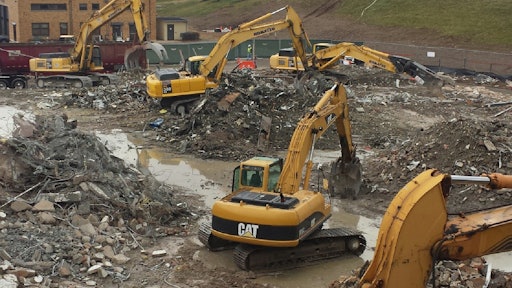 Perusing websites of demolition contractors reveals many photos, and oftentimes videos, highlighting what they do best — taking down structures. If you look closely, many of them show the deconstruction process being performed with excavator attachments that precisely bring down buildings. Having a more controlled demolition — as opposed to something more chaotic, albeit quicker, like explosives — offers several benefits, including those related to worker safety.
"By using attachments in demolition projects, contractors save time and can do take-down and cleanup work much safer, keeping site workers out of danger," says Adam Daher, Okada America.
Performing demolition services in an injury-free environment is important to contractors such as R. Baker & Sons. The New Jersey-based business specializes in building demolition, dismantling and rigging contractor services throughout the U.S., Puerto Rico and Canada. "Utilizing the proper attachment provides safe, quality and cost-effective project results, as well as maximizes production," says Art Sferlazzo, director of business development.
Sizing and Sorting
Carefully deconstructing a building with attachments makes it easier to sort and process the resulting debris. "With explosives, you are left with a pile of rubble. There is a lot of work to separating materials," says Bill Pankracij, marketing communications, Indeco North America. "When you use demolition attachments, you have the ability to break down large structures into smaller materials. [You can] then further process them for recycling and scrap, which when sorted and/or sized, will draw a higher price at the scrapyard compared to unsorted and/or unsized scrap."
Many of the same attachments that are used to take down a building can also be used to size and sort that debris on the jobsite, which results in materials that have more value as separate entities than together.
"One of the most frequent tasks contractors look to do is separate concrete from rebar," says Justin Palvere, national account manager, Genesis Attachments. "No one wants concrete with rebar, or rebar with concrete. However, as two separate materials, each has value. The objective is to get two clean products that can be recycled."
For Carl Bolander & Sons, a St. Paul, MN-based contractor, sorting demolition debris on site has become standard practice. "We try to process and recycle as much material as we can," says Timothy Zastrow, demolition site superintendent. "It's more beneficial for the environment and it's more cost effective for us because the disposal fees for concrete with rebar in it are very high. If we separate the materials on site, we can recycle the steel, then crush the concrete — which is now clean — and reuse it on our own projects."
Choosing the Right Attachment
These days, contractors have a wide assortment of attachments from which to choose. "There are a lot of options available for contractors today, including mechanical and hydraulic attachments geared toward specific materials such as metal, concrete and wood," says Tracy Black, operations manager, Kenco Corporation. "The amount of any particular material and the frequency of dealing with it should be taken into consideration when researching these attachments for purchase.
"Using the correct attachment during a demolition project will make it easier on the equipment running it, and it will get the job completed more quickly," he continues. "It's similar to getting the right tool out of your toolbox to make a repair on your car or home. Sure, you can drive a nail with a pipe wrench, but it will take you twice as long, and more than likely damage the wall, nail, or worse, you. The same commonsense approach should be used with attachments."
The most commonly used attachments include shears, pulverizers and universal processors. Shears feature cutting blades that can readily cut through steel. Pulverizers have powerful toothed jaws that can crush concrete, breaking it down into smaller pieces and separating it from other building materials such as rebar. Universal processors can be fit with different jaw sets, combining the functionality of a shear and pulverizer into one attachment.
"Multi-functional pulverizers [universal processors] are extremely versatile and are utilized by demolition companies that need to handle a broad range of demolition tasks at various jobsite locations utilizing the same piece of equipment," says Pankracij. "However, while it is the most common attachment, it is also the least effective in any one material. A 'multi' with a concrete jaw will under perform a pulverizer, and a multi with a shear jaw will under perform a shear. But many small- to mid-size demolition companies select it due to versatility and possible lack of excavators equipped for complex attachments."
Attachments such as the Genesis LXP offer interchangeable jaws that enable you to choose between a shear jaw for cutting steel, a concrete cracker jaw to take down a building and a pulverizer jaw to clean up debris. "With this attachment, you only need one machine," Palvere states. "Some larger contractors will have a dedicated machine for every tool, and sometimes multiples of them. But for a contractor who may only have one machine, this attachment can be a good option. However, while it does all tasks, you may sacrifice a little bit of performance and longevity over an attachment that is designed to do just one thing."
For Okada America, its most popular attachment for on-site processing is its OSC line of crushers/pulverizers. "They are made to break down concrete so the material is more manageable for processing," says Daher. "This saves contractors time and money because, with smaller debris, they can be more efficient moving the material."
Fixed or Rotating?
Some manufacturers offer attachments as fixed or rotating units. Fixed attachments, such as a fixed pulverizer, will generally be less expensive than one that rotates. "Fixed pulverizers are very efficient at separating rebar from concrete and are primarily used in secondary demolition applications for materials that are already on the ground and loose," Pankracij notes.
Fixed pulverizers can also be used in primary demolition where there is sufficient room around the structure to allow the operator to properly position the attachment. "For example, if a building is being demolished by a hydraulic breaker or a wrecking ball, fixed pulverizers can be used to further process the material on the ground so it can be processed into properly sized material that can be used as fill right on the construction site," says Pankracij. "This saves hauling costs."
"Rotating hydraulic attachments, such as [the Genesis] GDR and LXP tools, can be used for primary demolition," says Palvere. "For secondary processing once everything is on the ground, linkage, or mechanical, attachments such as our GMP tools can process debris quickly. They are simpler and pin on the end of an excavator stick. No hydraulics are needed. They work quickly and relatively inexpensively.
"However, hydraulic attachments are a great choice when you need to make the right cut in the right place," he continues. "It's like being a surgeon. It isn't as much about production as it is precision. These tools provide a lot of power and precision, whereas linkage attachments give you more production."
Additional Options
Other attachments used in sorting and sizing include hydraulic hammers, grapples and bucket thumbs. "[Okada America's] TOP Series hammers are perfect for breaking down foundations and making large debris smaller and easier to transport," says Daher.
Grapples and bucket thumbs are very cost effective, since they are less expensive to purchase compared to other attachments, especially those that require hydraulics, says Pankracij. "They offer the contractor a lower barrier to entry," he adds, "but the lack of sophistication and demolition power limit their usage to material handling and sorting."
Okada America also offers a trommel bucket. "Our TMB Series is made like a bucket," says Daher. "Once material is inside, you can sift through the rotating screens. This allows you to keep fill dirt on the site while removing unwanted debris."
Black also notes that skeleton buckets and rakes, which can be used on excavators and wheel loaders, are common ways to sift through material. "A customer might request a 5-in. clear tine spacing, which allows the larger pieces of concrete, brick or stone to be collected while the smaller items fall through," he points out.
Specialized Attachments Add Versatility
R. Baker & Sons uses an array of attachments on its demolition projects, including shears, universal processors, grapples, hammers and buckets.
"We use hydraulic grapple and universal processor attachments on our excavators to perform mechanical demolition and for sorting demolition debris," says Sferlazzo. "These attachments offer the operator more visibility, flexibility and a range of motion that allow the operator access to the material at virtually any angle, allowing for maximum safety during demolition activities."
Yannuzzi Group, based in New Jersey, also uses a wide variety of attachments in its demolition projects. "We use grapples for tearing and separating, shears for cutting metal, pulverizers for sizing masonry materials and universal processors for performing all three functions with the same machine… without stopping to change out attachments," says John Mucha, senior estimator/project manager. "Thumb buckets lend themselves to picking up larger pieces of debris, while grapples allow us to pick up the smaller pieces without changing attachments. They can also be productive during the initial demolition."
Hammers are used to break larger pieces of masonry, and are then followed by a pulverizer to create sizes that fit easily into a crusher. "Shears and universal processors are used to size metal scrap for higher scrap value and more efficient trucking," says Mucha. "The most efficient and useful attachment is the universal processor. We utilized this attachment to its highest capacity during demolition projects at Princeton University Medical Center and Capital Logistics Center in Harrisburg, PA.
"Overall, we gain a tremendous advantage by utilizing specialized attachments designed for the demolition industry," he comments. "The time savings from using grapples or thumb buckets while sorting and loading can cut labor in half. Sizing debris using pulverizers and shears saves even more in trucking and disposal."
Capitalizing on Attachment Advancements
Texas-based Lloyd D. Nabors specializes in all types of complete structural demolition as well as selective demolition throughout Texas, Louisiana, Arkansas and Oklahoma. Having grown up in the industry, Lloyd Nabors, owner/principle, has seen a number of advancements made in the demolition industry.
Nabors' first demolition attachment purchase was a grapple. He still uses grapples for sorting through materials where wood may be mixed with steel. "With a grapple, you can reach in and do demolition, but also grab and sort out any metal, copper, iron, etc.," he says. "When demolition is complete, we have separate piles for the different materials, which makes jobs more profitable. Grapples are our most useful attachment and we take them to every job."
Since that first purchase, Nabors has added hydraulic hammers, crushers and shears, including a rotating hydraulic shear that he uses on a Volvo 460 excavator with a long-reach boom that extends 85 ft. into the air. "If we have a tall building, we can set the excavator a safe distance away from the building and cut the steel," he says. "It works just like a pair of scissors and can offer controlled demolition. If needed, the boom can also be replaced with a short boom in about an hour."
Nabors recently used this specialized setup, along with grapples, shears and crushers, to take down a four-story structure in Carrolton, TX. "We've been there for about eight months and we're about 80% done," he says. "It's a 55-acre site with about 800,000 sq. ft. of building that came down. We are sorting through copper and aluminum and also separating rebar from concrete. We will recycle about 90% of everything on the jobsite, and we have already crushed over 100,000 tons of concrete that will be reused on the site."
Being able to sort debris on the jobsite eliminates double handling of materials. "We are handling materials only once, then taking them straight to the scrapyard," says Nabors. "Every time we double handle materials it costs us more money. With the attachments available today, we can eliminate that and sort everything before it leaves the jobsite so it can efficiently be taken to the appropriate recycler or landfill."
Carl Bolander & Sons uses shears, pulverizers and universal processors as second- and third-member attachments. "The concrete processing tools are especially useful to us because they allow us to segregate the rebar and steel from the concrete, leaving a clean product to recycle," says Zastrow. "We also like the general demolition recycler from Genesis because it can demolish a building that is made of concrete and steel without having to swap out a head."
Zastrow acknowledges it takes time and equipment to size and sort material. "But a lot of the times, the difference between the disposal fee and the expenses we have invested makes it worthwhile," he states. "The technology available to us today also helps us be more efficient and perform tasks more quickly. [Attachments] provided by manufacturers are so much more advanced than a bucket with a mechanically driven device. Now we have hydraulically driven tools that rotate 360° and can process steel and concrete so much more efficiently."
Companies in this article