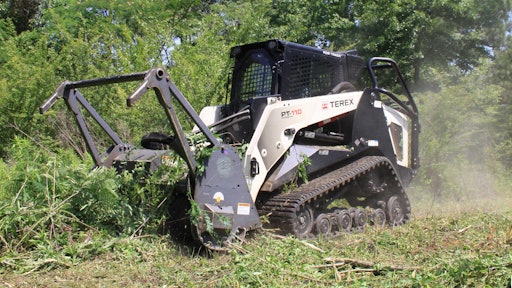 Whether it's a right-of-way, small housing plot or large development, there are a number of factors that go into determining if a skid steer or compact track loader and mulching head attachment can effectively clear the site, or if a dedicated mobile mulching machine will be the most productive and cost-effective choice.
Selection starts with a site assessment to determine the scope of work and the conditions the equipment will encounter. Considerations include:
How large is the project? How many acres need to be cleared?
What size and type of material is to be cleared and is any special equipment or techniques required to remove it?
Is the terrain flat or with easily traversed slopes, or is it rough with hills and steep slopes or creeks, streams or other water bodies on the site?
What types of ground conditions are present, and how do you need to leave the ground once the job is finished?
What is the most productive way to complete the job in the safest manner?
Sized for the Site
Skid steers and compact track loaders typically have the upper hand on selective clearing jobs (e.g., dead tree removal), particularly when working in denser foliage.
"When your [equipment] is a little smaller, you don't spend as much time getting in and getting situated for the optimal usage of the forestry cutter (mulching attachment)," says Katie Althoff, product specialist, Bobcat Company. "When you're taking down trees in [more dense conditions], it gets to be tight areas. You're going to be backing into trees sometimes and it's going to be hard to keep an eye out for everything when you're in a bigger unit."
A compact machine also tends to be better suited for tighter conditions on residential sites. "When you're around houses and other buildings, you're not going to be able to get a dedicated machine in there," Althoff asserts.
"Close-in residential areas can be excellent jobsites to use the skid-steer machines and/or mid-sized excavators with mulchers attached," Tom Hover, Fecon, acknowledges. "Skid steer-mounted forestry mulching heads are particularly effective on perimeter work and tight-in detailing of the work site and can work well in sensitive areas."
Gregg Warfel, district sales manager - compact, Terex Construction Americas, agrees, noting, "Smaller projects, such as clearing a lot to build a new home, clearing the brush from the sides of bike trails or clearing brush underneath power lines, are all perfect applications to use a compact loader with mulching head attachment."
Compact Equipment and Forestry Attachments Get Equipped to Mulch
As jobs go up in size and scope, the larger dedicated machine starts to gain the advantage. "If you are not being very selective with trees — you want to just take everything down — then a larger mulcher is definitely going to be more performance-geared toward that," says Althoff. Material size can also be a factor. "When it's larger trees, it gets to be slower [with the attachment-equipped loader]."
"Production is certainly a big consideration," says Hover. "Purpose-built machines stand out when production is a constraint or material size is a challenge." Dedicated mulching machines tend to have higher horsepower and hydraulic power to tackle larger material. "The extra power allows for faster work on large vegetation, thereby yielding more work accomplished per hour per day than some of the utility machines with attachments."
When looking at large projects, also consider how far into the woods the machine will need to be and what it will take to get support equipment to it. "If you're going to be way out in the timber where it's very hard for a fuel truck or support equipment to get to you, that's one advantage to having a dedicated forestry machine," says Brad Van Rheenen, application specialist, recycling & forestry, Vermeer Corp. "With a dedicated forestry machine, the chances of it breaking down are less, and the fuel tanks should be sized so you can at least go a full 10-hour day without having a fuel truck come out."
Of course, a higher horsepower machine will typically consume more fuel per hour, but such costs are relative. "It is a matter of scope of work," Hober states. "The size of the machine and how it is equipped will drive the operating costs appropriately. Larger engines in many cases will consume more fuel per hour. The important consideration is how much work is being done in an hour of operation. A small machine may burn less fuel and have a low operating cost. But it is limited by its size as to how much production it can yield in a day."
Underfoot Conditions
Underfoot conditions heavily influence the type of machine that can be used on the site. "If the job is on hilly, rocky, muddy or swampy ground conditions, or if the contractor is operating in the winter when the ground is frozen, it will factor into the machine decision," says Warfel. "Also, if the machine is doing right-of-way work alongside a highway, in a forest preserve doing selective clearing or a total knock-down or on steep slopes — all dictate the best type of machine to use.
"For example, if the contractor is operating in an area with lots of rocks, shale or other ground cover that would destroy a rubber track quickly, the best option would be a mulching machine on steel tracks," he says.
On the other hand, wet or soft conditions favor a machine with a lighter touch. "An attachment-equipped loader is often a more practical and/or cost-effective solution over a dedicated machine when ground pressure is a concern," says Warfel.
He cites certain government projects that require minimal disruption to topsoil in order to protect native plants when removing invasive species. "Most dedicated mulching machines are heavy and have steel tracks, which can do a lot of damage to the topsoil," he comments. "Typically, rubber track loaders offer the lowest ground pressure and are the best choice for use in sensitive ground conditions."
A Clear Case of Economics?
It's well known that a primary benefit of skid steers and compact track loaders is attachment versatility.
"With a dedicated machine, you have a mulcher and you don't have anything else. When you are operating a skid steer, obviously, your biggest advantage is your ability to take off that mulching head," says Althoff. "You can... put on a grapple, chipper, stump grinder, bucket — whatever you need to finish out the job completely. That's where you get the most bang for your buck... You don't need to buy a different machine or have two machines out there doing the work."
You're also not paying for idle equipment. "If you're going to buy a dedicated forestry [machine] and only use it part of the year, you have all that cost sitting in the shed the rest of the year [because] you can't use it for anything else," says Van Rheenen. "Whereas, if you spend the same money on a machine with a removable attachment and you're still only going to use it that same amount [of time for land clearing], at least you can pull the attachment off and run it in some other application."
There is also the potential to reduce labor and transport costs. "You're able to put one machine out there and a couple of attachments and you can do the entire job without a lot of transportation to move machines on and off the site," Althoff points out. "[The operator] is going to be more effective with something that's more versatile, and he can pick up and deliver it to the site himself instead of having a semi-truck and driver drop it off."
As you go up in machine size, more power typically means added cost to acquire, and run, the machine. "Because the dedicated mulching machines are typically higher horsepower machines, the acquisition and operating costs are going to be higher compared to an attachment-equipped loader," says Warfel. "That said, a land clearing machine needs to be adequate for 85% to 90% of a contractors' jobsite needs."
A dedicated machine is purpose-built to handle the extreme hydraulic demands placed on it during mulching and grinding operations. This can result in longer component life compared to its compact counterparts. "We run high-flow pumps at a lower pressure to allow the hydraulic system to live longer," says Van Rheenen. "On the smaller machine, depending on the company that builds it, [component wear and tear] could be worse."
A dedicated machine is also built to hold up under the rigorous environmental conditions encountered. "Our larger machine is designed specifically to handle the applications that come along with being in the forest all the time," says Van Rheenen. This includes protective shields and guarding to prevent damage to critical components such as the engine and radiator. "Your cost of operations theoretically ought to be better from a service standpoint."
Part of it comes down to duty cycle. If an operator periodically uses a compact loader with a mulching head attachment, it may occasionally see damage due to a falling branch or a limb poking through the structure. "But if he is running it 10 hours a day all year long, those issues would be much greater just because of the duty cycle and how often he's running it," says Van Rheenen. "If he had a machine that was dedicated for the purpose, those issues would probably be much less... It causes no damage because that structure is built in."
To address this, many skid steer and compact track loaders are available with forestry packages. While they add cost to the base machine (one estimate was about $10,000), they include a heavier duty FOPS, cab and windows, debris shields and guarding that protect both the operator and equipment. This can shrink the gap in costs between machines.
A few manufacturers, like Fecon, are bridging the gap further by offering compact, purpose-built forestry tractors that offer attachment capability, and are sized to accommodate smaller urban jobsites.
When all is said and done, the choice between a larger dedicated mulcher and an attachment-equipped loader comes down to how you plan to use the machine. "I would say choose a dedicated forestry mower (mulcher)... if that's the only thing you plan to do with this machine and you have pretty much full-time work for it," Van Rheenen advises. "If you think you're going to mulch two months out of the year and your jobs aren't extremely large, maybe you want to get a more mobile machine that you can load trucks with the other part of the year with a bucket."