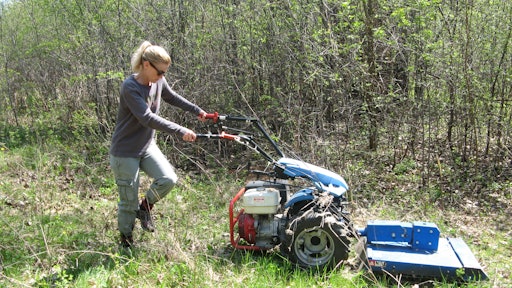 Springtime means many things to me, not the least of which is that it's time for Renters' Review, our annual feature where we rent equipment and report on the experience. After five years of DIY projects, it's getting harder for me to come up with home improvement projects that require the use of rented equipment and still fit within my skill set. With that in mind, I knew that this year, I would have to dig a bit deeper for an idea.
I asked around to my neighbors to see if anyone had any projects they needed to complete. I was offering a pretty sweet deal: you come up with the work and I'll cover the cost of the rental. My only stipulation was that they be okay with me doing at least part of the work. 
I was surprised when I received a prompt response from a neighbor who said they'd love to get a hold of a brush cutter to clear the trails on their hunting grounds. Perfect, I thought. Muscling a walk-behind brush cutter around in the woods ought to make for a good story. And it turns out, it did.
Finding a rental source
My neighbor Ben and I set a date for our project. The hunting grounds are a little way out of town for us, in the country about halfway between two small cities. I considered the local rental sources - which aren't many - and ultimately chose a hardware store with a rental department. In our area, there are no large-chain rental operations, and the independent rental houses cater mostly to contractors with a mix of earthmoving equipment. I'd never rented from this particular business before, so I had no idea what the scope of their inventory was like. 
When I called to ask about the brush cutter, I spoke to a very nice young woman who said they did, in fact, have a walk-behind brush cutter and it was available that coming Saturday. I asked if I could have it delivered and even though she said the business needed all hands on deck to provide equipment for a local celebration that day, she said they would find a way to get us the brush cutter when we needed it. I received a followup call a few days later to confirm the rental and go over directions to our somewhat remote location.
On the day of the project, the equipment was delivered right on time by a young man who was courteous enough. He very briefly went over the operation of the machine, pointing out the on/off switch, pull cord, gear shift, etc. It didn't sound very complicated, and I've been mowing lawns since I was 12, so I wasn't concerned. How difficult could it be?
Start me up
The moment to get the machine started had arrived. I turned the machine on, squeezed the clutch and pulled the cord. Nothing. I pulled again, and this time, it pulled back violently, ripping the handle out of my hand, which hurt! I tried a couple more times, not getting anything but more pull back. Ben suggested that maybe I was pulling the cord at the wrong angle, so I tried all different ways of yanking that cord. Still nothing, although my hand was throbbing. I finally relented to allow Ben to start the machine, which he did with no trouble, naturally. He handed the reigns over to me, so to speak, and I proceeded to push. The machine went nowhere. Ben reminded me that I needed to put it in gear. The gear shifting mechanism is a poor design, if you ask me. It amounts to a long rod that runs along the side of the machine. To shift gears, you need to pull the rod sort of back and out and then in and up (or something like that). It's a clumsy job.
After finally getting the machine in gear, it took off pretty easily at a pretty good clip. Upon attempting to steer it in a new direction, however, I realized I didn't have quite the control I needed and wound up steering straight into a sizable bush before finally stopping. It was at this point that Ben informed I hadn't been cutting anything in my path because I never engaged the PTO. Apparently, the PTO is operated by another long rod that runs along the opposite side of the machine as the gear shift. I felt pretty silly, but Ben said the rental employee never pointed this out and it wasn't immediately obvious from looking at the PTO rod how it was to be engaged. Nevertheless, now I knew.
Now having a cursory understanding of the machine's operation, I was able to get some work done. About an hour or two into our project, however, Ben noticed gas leaking from the gas cap and running down the side of the gas tank. Upon inspection, we discovered the gas cap was missing its gasket so it wouldn't seal properly. It wasn't leaking profusely, so we decided to press on, despite our concern. Fast forward a while later and the leak became more pronounced. It was then that we decided it might not be safe to continue. Safe or not, gas leaking onto the trails was undesirable.
Incomplete project
When we decided to call the rental center about the gas leak, we had already cleared a pretty good portion of the trails, but we would have done more if the machine hadn't been faulty. When I explained to the rental company what was going on, they were apologetic and said they would come right out to pick it up. They asked if we wanted to reserve the machine for another day once the leak was repaired. We declined, since the majority of the work was done. They then waived the rental charge, which was a pleasant surprise. 
Every interaction I had with this company was positive. They were courteous, cooperative and accommodating. The equipment, however, was difficult for me to use and the operating instructions provided were not detailed. It's been pointed out to me that most equipment operators know intuitively that the PTO needs to be engaged, but I'll argue that a rental company shouldn't make assumptions about the know-how of its customers. Once I got it figured out, there was nothing about the machine I couldn't handle (well, maybe except for that cranky pull cord), but if I'd had better instruction, the rental might have gone more smoothly. All that aside, the machine malfunctioned, which resulted in unanticipated and unwanted downtime for our project. 
The lesson
No matter who the customer is, be sure to go over each and every element of the equipment's operation. Even seasoned equipment operators might not be familiar with the particular model they've rented. Besides making the customer's job easier and more productive, it can save your company the time it takes to go over things again when the customer inevitably calls back to say they can't get the machine to work. I've noticed that younger employees are less inclined to take the initiative to instruct the customer fully. It might be because they don't want to come off as though they believe they're customer doesn't know anything, or it could be simple laziness. Either way, a short, concise yet detailed explanation of the machine's operation is imperative to a successful rental.
The other take-home from my latest rental experience is the need to do a thorough machine inspection before it goes back out on rent. I have no idea what happened to the gasket in the gas cap here, but a thorough inspection of the machine might have revealed it. In any case, it's the little glitches that are the most frustrating, since the machine was technically in good working order. It was just missing a small part, probably due to an accident during service, but it cut our rental short nonetheless, and wound up costing the rental center money.
Overall, if I had to rate this rental on a scale of one to 10, I'd give it a five. Yes, we got some work done, but not as much as we planned to. True, customer service was good, but at the end of the day, if you can't get all your work done, you can't call it a successful rental. Here's to better luck next time.