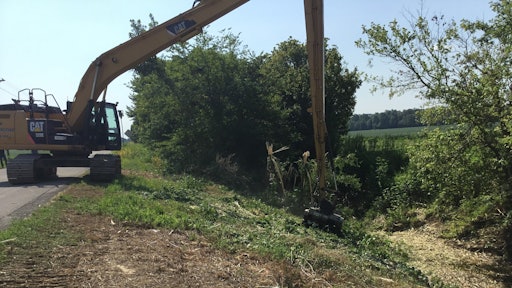 Association of Equipment Manufacturers
ER Trucking Co. of Hartford, KY, has been maintaining the roadsides of Kentucky for decades. A family-owned and operated company established in 1980, it takes earthmoving and land clearing very seriously. Due to its efficiency and quality of work, it has become one of the largest forestry mulching contractors in the state.
Recently, ER Trucking completed a roadside and riverbank maintenance project, helping to even out the flow in the channel. When creeks and rivers are overgrown, the flow may be stronger on one side and start uneven erosion of the banks. This particular creek was highly overgrown due to years of neglect.
Cutting away brush and trees up to 8 in. in diameter, the contractor managed to clear about a mile a day using FAE's forestry mulcher UML/HY-100 VT mounted on a Caterpillar 329 with a long reach.
ER Trucking has over 20 pieces of equipment, including excavators that run the FAE excavator forestry mulchers. The contractor has been using the attachments in its road maintenance projects for over 10 years, and they have proven reliable and easy to maintain. 
"The design and premium quality of these mulchers make them robust and worry-free," says Jimmy Beddow, president of ER Trucking. "We purchased the very first FAE UML/HY 100 for our CAT long-reach excavator in 2008. We were so impressed by its efficiency and low maintenance that we continued adding more and more FAE mulchers to our fleet."
The attachments allow the company to complete the most challenging jobs faster. "FAE's equipment allows us to achieve higher profits and take on highly demanding jobs," says Jimmy. "The carbide teeth last a long time and produce an excellent final result and that is extremely important for our customers."
"Customers like Jimmy Beddow understand our equipment and its applications very well. This allows ER Trucking to use our mulchers to their full capacity and drive higher profits," saysGiorgio Carera, CEO, FAE USA. 
Attendees to ICUEE 2019 will be able to see several of FAE's products up close, including several forestry mulching attachments. 
"It is also an excellent opportunity to talk to our existing customers and prospects, get their feedback, answer their questions, and help them find the most optimized solution for their specific application," says Giorgio. "And, of course, what a great way to see the latest trends and products in the construction industry."
ICUEE, The Demo Expo for the Construction and Utility Industries, will take place Oct. 1 to 3, 2019 in Louisville, KY.