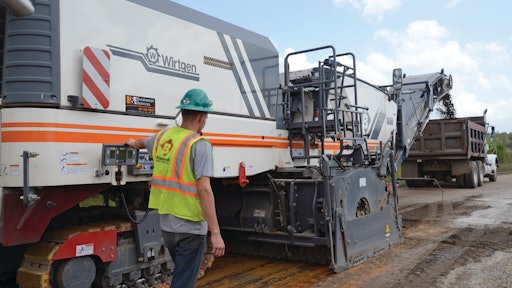 A shift to technologically advanced road construction machines is underway for a major Louisiana contractor, who sees major advantages to the updated technology in coming years.
That's significant in the Deep South, where traditions are not easily discarded.
"We are a little over 60 years old, and we were started by my grandfather, L.H. Bossier," says Phillip Bossier, chief operations officer, Diamond B Construction, LLC, Alexandria, La. "Diamond B in its present form was founded in 1978, but we've been in asphalt paving for over 50 years."
Today, Diamond B has five asphalt plants spread across the state, and is entering a new market, New Orleans, with one of them. Most of these expansions took place under the tenure of Phillip's father, Bryan Leonard Bossier Sr., who remains as president.
Diamond B is one of the major players in bituminous paving in Louisiana. "We are producers, and a construction company also," Bossier says. "That goes with the territory. When you are in a rural area you have to lay your own asphalt to be competitive. We also do other asphalt-related construction, and will do whatever it takes to put the icing on the cake."
That means cutting soil-cement, which is universally essential due to Louisiana's expansive road bases. For this Diamond B uses its Wirtgen WR 2400 stabilizer/reclaimer, but has just acquired a WR 240i, the new high-tech, Tier 4 interim emissions-compliant stabilizer/reclaimer from Wirtgen.
"We'll do base work, subgrade work and cold mill as well," he says. "The alluvial soils of south Louisiana need a lot of work, and we even build the occasional project below sea level. While the bases are somewhat better in central and north Louisiana, we always have a long way to go regarding highway bases, and we stabilize them everywhere."
Getting onboard with new technology
Diamond B's interest in technologically-advanced road building products comes as it evaluates the future of road construction and its position among roadbuilders in the Pelican State.
"We'd been running much of the same equipment for a very long time," Bossier says. "Our employees were familiar with it, but it got to a point where we could see new technology coming our way, and we wanted to try something different. There are better ways to be more efficient and explore new boundaries."
With long traditions of equipment operation being handed from father to son at Diamond B, Bossier made changes slowly. But now he's committed to bringing new equipment on board and employees are adapting quickly.
"We are very pleased with the new options and efficiencies these Wirtgen products provide," Bossier says. "At first, our operators did not know how to handle the new technology. Now they don't want to go back. They like the electronics, they like to be engaged, and they like to learn more. With 'Brand X' they went as far as they could in terms of getting better with their machines. But now, when you see what the Wirtgen technologies offer, and how they can make our built product better on the roadway, their possibilities are wide open."
One example of this involved the Vögele Niveltronic system of paving control. At first, crews experienced a 'learning curve' when faced with the new technology. "Our superintendent and screed man picked it up really well," says Greg K. Cox, area manager for Diamond B's Monroe, LA, district. "We continue to cross-train others in the technology."
And once you get used to the advanced Niveltronic system, it gets much easier, he says. "Once you figure it out, everything gets a lot simpler," Cox says. "You can control everything on either side from one location; the guy on the right can tell what the other's doing on the left. It's very user friendly once you learn it."
Wirtgen observed issues with competing makes that Bossier already had noted, and improved on them, making it hard for Diamond B to walk away from Wirtgen products.
"Little things that should have been changed on existing equipment were changed by Wirtgen to help us get the common-sense efficiencies that help you operate, get the grade you want, move a machine or tweak it so it's doing exactly what you want," Bossier says. "Now we are figuring out how to best use these innovative operating technologies."
Diamond B's fleet now includes a Wirtgen W 210 mill with 7-ft., 3-in. drum, W 250i mill with 12-ft., 6-in. full-lane drum, WR 2400 and WR 240i stabilizer/recyclers, a Vögele Vision 5200-2 paver with HR 500 E screed, two Hamm HD+ 120 VV HF rollers, five HD+ 140 VV HF rollers, and two Hamm 3410 P padfoot single drum rollers, all from local distributor H&E Equipment Services.
In May Diamond B was demo'ing a new Vision 5200-2i paver with VR 600 screed, with Tier 4 interim-emissions technology.
"Like with many companies, our operators are a big part of the success," Bossier says. "Most of our area managers have an operator background and have a feel for the technological aspects of the equipment. They're the ones who make the decisions. We are searching for quality and we won't yank operators out of equipment with which they are comfortable, and give them something they don't want to be in. But we are gradually getting into the new equipment, with some people continuing with existing equipment, and others who like to try new products, and they are seeing the differences and realizing they have more control with the new products."
Doing more with less
Three years ago, the WR 2400 was the first Wirtgen product acquired by Diamond B, and it's illustrative of how attractive new technology can be.
"We had an area superintendent who had been cutting soil-cement for a very long time, and he really appreciated the new aspects the WR 2400 introduced," Bossier says. "I spent a lot of time with him and the new equipment. In studying the new equipment it caused us to discuss where construction equipment technology is going, and where we wanted to be as a company with a modern fleet that's ahead of its competitors, and whose quality also is ahead of the competitors, because that's how we earn incentives and bonuses in low-bid situations."
And Diamond B's fleet of milling machines, stabilizers, rollers and pavers is enabling that success, Bossier says. For example, on Diamond B's new mills, equipment operators can now use the machine's electronics and computers to troubleshoot problems, which they've never been able to do through electronics, he says, which in the past required a very high level of familiarity with the electronics.
Now, he says, an experienced milling superintendent can tweak what he's doing to make the machine perform better, but also become more intimately involved with the insides of the machine without having to call someone for advice. "This leads to less downtime," Bossier says.
Simple things like marks showing the center of the drum that are visible to the operator are examples of how the little features of Wirtgen roadbuilding equipment makes paving simpler and of better quality, he added.
"With this updated fleet, we can take it to the next level of high-tech electronic and computer systems that let us do more with less," Bossier says. "Is that what we are looking for? Yes."