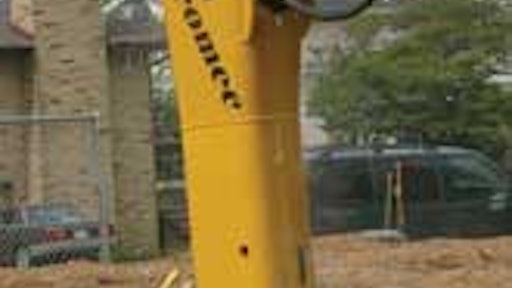 Enterprising Europa Inc. is the importer and general distributor of Socomec products in North America and is marketing the products under the EEI-Socomec brand name. Socomec is Italy's oldest manufacturer of hydraulic breakers. They have developed their technology for over 30 years and today are one of the world's leading producers of high-quality breakers and are also the highest-selling brand in Italy.
According to Roland Jarl, vice president of Enterprising Europa Inc., other breaker manufacturers have tried unsuccessfully to copy the Socomec design. "They lack the experience that comes with over 30 years of research and development — and the need to avoid patent infringements — and have not produced any comparable products."
Jarl claims Socomec breakers offer the lowest operating costs over five years. "Our five-year warranty guarantees no additional costs for the first five years (except wear parts)," he says. "We have 10 years of data for 3,000 hammers sold and there have been virtually no parts sold."
Jarl says the hammers are extremely durable due to the solid monoblock design made out of hardened steel. "It's a simple design, durable, with only two moving parts," he says. "It's easy to repair, the cylinders are sleeved for easy assembly and economical repairs."
Socomec breakers are quieter and create less vibration due to the patented polyurethane insulation, Jarl adds.
"[The breakers] are less costly to repair — about one fifth the cost of repairing conventional designs. The cost for parts in a total rebuild is approximately 10 to 15 percent of the published price list for the breaker," he says. "Labor is one to two hours, depending on the breaker's size and can be performed without any special tools."
Jarl adds that the Socomec factory is located close to Parma, Italy in a region known for its dedication to quality manufacturing. Italian automobile manufacturer Lambourghini, for example, is located nearby.
"At Socomec, every part is hand inspected before assembly," says Jarl. "Every hammer is tested for quality control before shipping."
There are 15 models in the Socomec line of hammers. They range from 200 to 10,000 foot-pounds. Enterprising Europa Inc. offers a guaranteed buyback program for up to five years. Parts and service are available in North America.