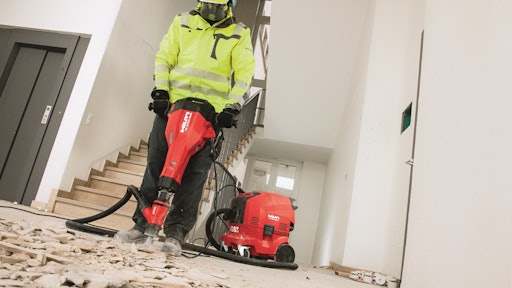 The Hilti demolition hammer TE 2000-AVR is the newest addition to Hilti's breaker portfolio. Designed with maneuverability in mind, the TE 2000-AVR is versatile, lightweight for easy handling, and covers a wide range of applications. 
The TE 2000-AVR blends both power, ergonomics, and weight. At 26 ft-lbs of impact energy and 1,800 impacts per minute, the TE 2000-AVR boasts double the performance compared to tools in the same weight class (27-42 lbs.), according to the manufacturer, and similar performance to competitor tools in the 65-lb. weight class.
Weighing in at 33 lbs., the tool is easy to maneuver and transport throughout the jobsite, and is ready for use in minutes. And with a T-handle design and low vibration from Hilti's sub-chassis AVR (Active Vibration Reduction) system, it allows for efficient performance and maximum working comfort.
The TE 2000-AVR can handle floor demolition applications for base materials up to 8-in. thickness. It can also perform tile removal and ground rod driving applications. 
The TE 2000-AVR utilizes a brushless SR motor which eliminates the need for regular replacement of carbon brushes. And the detachable power cord allows for quick replacement of broken or damaged cords right on the jobsite. Tool electronics help ensure consistent performance in multiple power scenarios for the TE 2000-AVR. Whether you are running the tool from a wall outlet or a 100-ft., 12-gage extension cord, the performance will remain consistent.
When used with the TE DRS-B and a Hilti vacuum, the TE 2000-AVR is Table 1 compliant with OSHA 1926.1153. 
Video: Overview of Hilti's TE 2000-AVR demolition hammer
Introducing the new pointed chisel TE-SPX SM
Specifically designed for use with the TE 2000-AVR, the new pointed chisel TE-SPX SM is designed for breaking concrete daily. With more breaking power, higher bending strength, and better dust control, the TE SPX pointed, self-sharpening, polygon chisel provides the highest reliability and a longer lifetime.
The X-polygon wave design and tube effect maximizes your Hilti demolition hammer performance, reduces downtime due to sticking or jammed chisels, and provides optimized dust removal. With TE SPX pointed chisels there is no more re-sharpening, jamming or sticking like conventional chisels. The TE SPX is made from high-alloy steel and a unique induction hardening process for the highest reliability and reduced risk of chisel breakage.  
*Some limitations apply. Contact Hilti for details.
Request More Information
Fill out the form below to request more information about
Hilti Debuts TE 2000-AVR Demolition Hammer