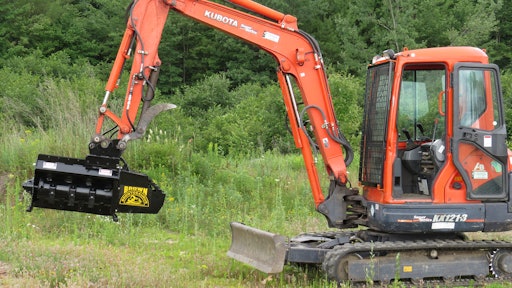 Brown Brontosaurus, a leading manufacturer of excavator mulchers, skid steer mowers, mulchers for mini-excavators and stump grinders, announced a partnership with Integrity Truck & Equipment for the sales of its patented Brontosaurus land clearing product line.
Michigan-based Integrity Truck & Equipment is the first company to partner with New Hampshire-based Brown Brontosaurus for sales and will be the premier dealership throughout the United States.
"We are pleased to partner with Integrity Truck & Equipment for the sales of our Brontosaurus product line," said Carter Brown, owner of Brown Brontosaurus. "We have been in business for nearly 50 years and there's nobody we trust more than Integrity Truck & Equipment."
The Brontosaurus land product line includes a fixed-tooth mower, mulching head for mini excavators, forestry mulching attachment and excavator mounted stump grinder attachment. Brown Brontosaurus products can be attached to most carriers and are made int he U.S.A.
"We are thrilled to have an opportunity to leverage our network throughout the United States and provide sales support for Brown Brontosaurus," said Tim Broene, owner of Integrity Truck &Equipment. "I've used Brown Brontosaurus products for 10 years so I have a first-hand appreciation of how effective and low-maintenance the products are."
Brontosaurus products feature height-adjustable cutting options and have only two grease fittings, making them easy to maintain. Brown Brontosaurus equipment is used for commercial and residential clearing, right-of-way maintenance, government and municipal vegetation management, forestry and landscape management, railroads, as well as wildlife habitat diversification.