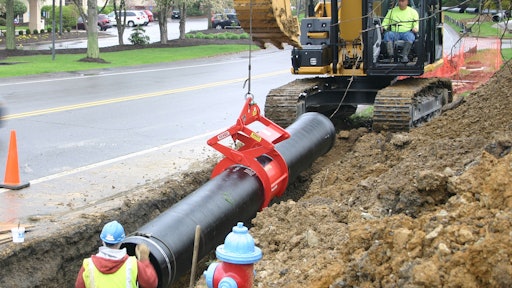 It used to be that moving and positioning concrete barriers, pipes and oddly shaped materials could be cumbersome, time consuming and, at times, unsafe. Often, the process involved slings, straps and chains secured manually under and/or around an object, requiring direct human interaction that put workers at risk.
"Back in the day, contractors struggled to move these items, and a lot of the choices were not very safe," says Tracy Black, operations manager, Kenco Corp. "One popular way to move something like a large pipe was to use a sling. It would wrap around continuously, so when you put the pipe in the ditch, the sling was down in the bedding material at the bottom of the ditch, stuck between the pipe and ditch. Pulling on the strap to remove it would move the pipe and unhook it from the joint, shifting the placement, and potentially damaging the strap as it was pulled through rock and gravel. Anything nylon or sling related can be torn or grayed, requiring it to be removed from service."
Dan Mongan, new product engineer, The Caldwell Group, agrees, noting that construction crews often used what they had on hand, not necessarily what was best suited for the lift. "There are many challenges to lifting odd-shaped items with slings or homemade lifters, the main one being safety," he says. "It is extremely dangerous to lift an item improperly. Another challenge is efficiency. For example, to lift a barrier using rigging would take a lot of time."
"Making do" sometimes still happens, acknowledges Dawn Levis, president at Accent Barriers, Inc., which sells and rents concrete barriers. "Due to the relatively high cost of machinery and attachments, contractors will make do with the equipment they have on hand, even if their method is not the most efficient way to move the materials," she comments. "But this is usually only true for small- to modest-sized jobs, and as long as safety will not be compromised. Contractors will gravitate toward the best methods on larger jobs due to financial incentives."
Handling Odd Shapes
Many of those "best methods" include lifting attachments specifically designed to move and position everything from concrete barriers and pipes (PVC, ductile iron, gas, etc.) to odd-shaped materials that are often difficult to handle safely.
"Attachments offer advantages when compared to something like a chain," says Mongan, "especially for odd-shaped objects that may not fit correctly, thereby making safety an issue."
The Caldwell Group offers several attachments for handling odd-shaped objects, including beam grabs, lifting tongs, wall picks, manhole housing lifters and an adjustable lifting grab. The latter is suited for moving and placing blocks of concrete, stone, rough marble, granite or any other solid material ranging from as narrow as 3 in. to as wide as 60 in., with custom configurations also offered.
"It's one of the most versatile lifters available," says Mongan. "It can also be configured to lift round objects or rectangular boxes from the inside."
Kenco offers a similar attachment option with its Multilift, which allows contractors to maneuver heavy block objects that range from 12 to 68 in. wide and weigh up to 8,000 lbs. "It is fully automatic and you can adjust the legs in or out to accommodate blocks or slabs relatively quickly," says Black. "We also make special feet that can grab round or cylindrical shapes, so it can pick up just about anything. It's very versatile. You can even turn the pads around and it will push inside out. So if you have an open concrete box with tight restraints on the side, you can turn the pads around and lift it."
The Kenco Superlift is targeted to contractors who move objects in a lot of different shapes and sizes. The main body of the attachment can be fit with an assortment of tines that can be changed based on the object being moved, eliminating the need to purchase individual lifters for different job applications. "It's a great option for someone who moves a lot of different things, rather than a lot of one thing," says Black.
Vacuworx also offers several specialized attachments for odd-shaped items, including a vacuum slab lifter for concrete slab removal and runway rehabilitations, and the Octapad, which is an eight-pad system designed for concrete slab removal during road and bridge construction projects.
"Contractors can cut a whole section of highway, then lift it out," says Randy Hayes, corporate sales director, Vacuworx. "Typically, they would have had to use a hydraulic hammer to break it up first, then haul it away. But these attachments save a lot of time. Contractors can just pick up a slab and set it out of the way."
Moving Concrete Barriers
When it comes to moving specific objects like concrete barriers or heavy block or wall, contractors have the option of attachments such as grabs, tongs and barrier lifts — some of which utilize hydraulics.
"With the introduction of [the Vacuworx] hydraulic barrier lift, we have moved more into road construction," says Hayes. "The new lift can turn 360° and move a barrier directly into place."
The beauty of many barrier lifts is that they are automatic, eliminating the need for anyone other than the machine operator to be involved in the lift.
For example, Kenco's barrier lift is activated by setting it down onto the object. The tongs clamp onto it without the need for hydraulics. Once the barrier has been set down and positioned, the lift releases automatically.
"An operator can quickly and safely pick, move, then set concrete barrier wall," explains Black. "Once it's placed, he can release it in the desired location without assistance. It's completely hands-free, so not only is it quicker, it's safer because it keeps workers out of harm's way."
Levis appreciates the safety of an automatic system. "Barrier clamps use friction and the weight of the barrier to 'pinch' the sides of the material and lift it," she says. "This tool is very safe as long as it is maintained and used properly as recommended."
Accent Barrier uses Kenco barrier clamps, which incorporate an automatic open and close feature that eliminates the need to have a second individual working the clamp as the operator lowers it on top of the material to be moved. "This is safer since there is no one on the ground or near the heavy piece of concrete that is going to be lifted off the ground," says Levis.
In addition to an auto latching feature that ensures proper alignment, The Caldwell Group's barrier lift features adjustable ergonomic handles that keep operators away from the load. "It allows the operator to guide the load while staying safely away from it," says Mongan.
The barrier lift also has a centering guide to properly center the tong over the barrier for a level lift. "When an operator is lowering the load, the guide assembly helps center the load, reducing the amount of intervention needed by someone on the ground," Mongan explains.
Safer Pipe Placement
Moving and placing pipes can be accomplished with a variety of attachments, including pipe lifts and pipe hooks. Such attachments are designed to move all sizes and types of pipes, including PVC, ductile iron, steel and reinforced concrete pipe.
"These work on the same principal as [Kenco] barrier lifts, with each model accommodating several pipe diameters," says Black. "For the pipe lift, its tines do not contact the bedding material to prevent the pipe from moving once it has been placed… Our lifter is also designed to push the pipe joints together.
"It is safer for workers because they don't need to be down in the ditch unhooking any straps," he continues. "With our pipe hook, the operator simply inserts the hook into the pipe, then picks, moves, installs and retracts. Each model of this particular lifting design can handle a wide range of pipe diameters, as well. And because it is a mechanical lifter, it won't release the pipe until the load is placed and the weight is removed."
The Caldwell Group also offers pipe lifting solutions as crane attachments. The line includes a pipe pick and the c-hook pipe lifter, which allows for safe, efficient installation of the lifter and virtually hands-free release of loads. The c-hook pipe lifter also enables a pipe (or empty hook) to always be lifted level with multiple bail adjustments. Other solutions such as pipe hooks and tongs are offered for cast, steel or PVC pipe, or can be designed as needed.
Vacuworx offers a unique pipe handling system that utilizes vacuum for loading, unloading and placing virtually all sizes of concrete, steel, plastic, fiberglass and cast iron pipe. "Our attachments are used with a lot of gas pipes," says Hayes. "The coating can easily be damaged, which then needs to be repaired. With a vacuum lifting system, a pad comes in contact with the pipe to create a seal so it doesn't cause any damage."
The self-contained lifters feature a hydraulic rotator that allows for 360° rotation. "It can also be controlled by wireless remote," says Hayes, "so the operator can load and unload by himself from the safety of the cab. This keeps guys out of the trucks and off of the roads, taking them out of harm's way."