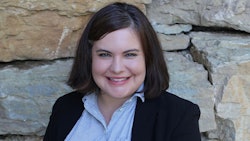 Editor-in-Chief, Equipment Today
Erica Floyd is Editor-in-Chief of Equipment Today, spearheading editorial efforts for all facets of the brand, including print, digital, social, webinars, podcasts and more. Erica also contributes to the Construction Network's Digging Deeper podcast channel, writes features for ForConstructionPros.com, and executes Equipment Today's Contractors' Top New Products award.
She brings 15+ years of experience to her role. After graduating from the University of Wisconsin-Madison with a bachelor's degree in journalism, Erica has written and edited everything from news to B2B journalism to corporate communications in multiple verticals, including manufacturing, logistics, agriculture and automotive parts.
Erica also holds a Master of Fine Arts degree in creative writing from Antioch University-Los Angeles. In her MFA experience, she served in managing editorial roles on Lunch Ticket, a literary journal, and was class commencement speaker in December 2019. Equipment Today readers might notice a storytelling quality in her feature writing.
Based in rural Fond du Lac, Wisconsin, Erica co-owns her family's mid-scale, certified organic mushroom farm. Outside of the Equipment Today office, she manages HR, communications and compliance for the farm. From 2020 through 2022, she and her husband project managed the gut remodel and addition of their home, during which Erica gained experience with construction equipment, knowledge of contractor concerns and priorities, and a deeper understanding of the construction labor market.
Reach Erica at [email protected] or via Equipment Today social media.