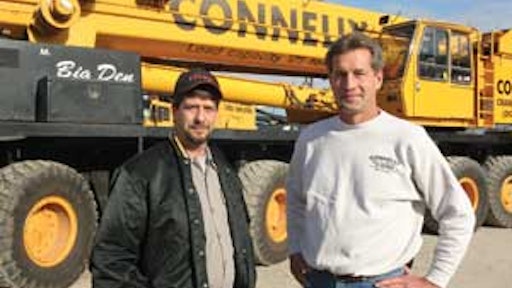 The key to any successful rental business is keeping the customer happy. That's no different when it comes to crane rental. And there's no quicker way for a customer to become dissatisfied than when he experiences downtime, so that's when a well-planned field-service program can make all the difference in the world to the success or failure of a crane rental business. Coincidentally, that often means small cranes will play a crucial role in servicing big cranes.
According to the Associated Equipment Distributors Rental 2006 Study, 68 percent of rental companies perform their own routine maintenance, and 65 percent do their own major repairs. Eighty-three percent of manufacturers that sell directly to rental companies expect that the rental house, not the dealership, will perform their own maintenance. These days, customers fully expect rental operations to do field repairs when equipment breaks down, so that means the remaining 32 percent of rental companies who don't are falling behind the curve.
Connelly Crane Rental Corp. is just one example of a company that has realized the value that field service brings to their customers. Connelly Crane has been a family owned and managed business since 1943, and they've used some form of field service since the beginning.
"The whole key to crane rental is response," says Mike Connelly, president of Connelly Crane. "When our customers rent the crane, they expect it to be running, and our field-service program helps make that happens for them."
Servicing cranes
Connelly Crane, which has grown to about 65 employees and is based in the Detroit area, acted on the recommendation of a fellow Michigan dealership, Wolverine Tractor and Equipment Company, and turned to Iowa Mold Tooling Co. Inc. (IMT) to help develop their field service program. Connelly has two IMT Dominator mechanics trucks, one they purchased used a while back and one they bought new only a few months ago. Meyer says their whole team of mechanics has been very pleased with the new Dominator I mechanics truck with a 3820 telescopic crane mounted to the truck body.
"That Dominator has really helped us so much with our response time and has carved a niche for us," says Chet Meyer, operations manager for Connelly Crane.
Bud Herman, head mechanic with Connelly Crane, says they mostly use the Dominator I to go out in the field and get their rental cranes up and running as quickly as possible. Because of the nature of crane rental, it isn't a viable option to go to the local pickup dealership and throw some tools in the truck bed.
Connelly Crane's mechanics trucks are responsible for maintenance on about 75 cranes, including boom trucks, telescopic forklifts, rough-terrain cranes, tower cranes, all-terrain cranes, conventional and hydraulic truck cranes and conventional crawler cranes ranging from 8- to 365-ton capacities. When one of those cranes goes down and requires some heavy-duty repair work — more than a toolbox could do — that's where the telescopic crane comes in.
The IMT mechanics truck with its 38,000 foot-pound crane does everything from pulling outrigger jacks and beams, transmissions and clutches to removing the crane's engine so the field mechanic can repair it right there on the jobsite. They also use the crane to install new cables on the large cranes as well as to handle routine tire repairs. Connelly Crane's Dominator I mechanics truck is also equipped with an IMT hydraulic air compressor, work decks and tool drawers.
"This has been an excellent truck for us and our customers. It's so versatile," Herman says. "And IMT has made the crane a lot more versatile, too. It operates a lot easier than other cranes we've used in the past, and it's really easy to get it into tight spaces to do repair work. You can slow it right down to do that detail work, so it's really nice."
Why field service?
Having a dedicated field service program isn't just about making customers happy. Such a program makes a rental business more profitable — it's just that simple. This same idea applies not only to rental companies but also to contractors who want to increase profits by keeping their own cranes up and running.
"There are many ways to make your rental equipment profitable, one of the biggest of which is maintaining your customers' uptime," Meyer says. "If the equipment that we rent has stopped running, then it doesn't matter how good it is because it's costing the customer downtime."
And every crane company knows that almost nothing saps profits more than downtime. That's why Connelly Crane believes so strongly in backing its equipment with field service. "Service is the total package," Meyer says. "It's keeping the equipment running, keeping the customer happy and being there when they need us."
Tom Wallace with QT Equipment, the Akron, Ohio-based IMT dealer that helped Connelly Crane make the decision to upgrade to a new Dominator mechanics truck, says customers will believe that field service trucks are a worthwhile purchase as soon as they understand that the trucks aren't really an expense but are instead a component that goes toward improving the bottom line.
"The advantages of mechanics trucks are strongest for customers with large, heavy equipment, which means they are perfect for crane companies," Wallace says. "One of the most valuable things to a customer is uptime, and there's no question you reduce downtime by doing your own field service because you're not losing operation time by transporting the equipment back to the shop or waiting for another dealership to send out their mechanics truck. And when a customer knows that Rental Shop A saved him hours of downtime over Rental Shop B, where do you think he's going to go next time?"
And that's exactly what Connelly Crane has experienced as their field service program has evolved over the years to include mechanics trucks with telescopic cranes: happier customers who become repeat customers.
Bobcat V638 Telescopic Tool Carrier
18,275-lb. tool carrier
Three-stage boom with maximum lift height of 38 ft. 11 in.
6,700-lb. rated lift capacity
26-ft. 11-in. maximum forward reach
100-hp side-mounted engine matched to a heavy-duty industrial-style hydrostatic transmission
JLG Model G12-55A
Uniframe design using high-strength beam running the length of the frame
Maximum lifting capacity of 12,000 lbs.
Capable of lifting 5,000-lb. loads to 55 ft. and extending a 3,000-lb. load to a full reach of 42 ft.
Power is provided by a side-mounted, turbocharged diesel engine
IMT Articulating Cranes
52/380 and 72/516 truck-mounted articulating cranes are recommended for vehicles with a minimum 66,000-lb. GVW chassis
Designed for two to eight hydraulic extensions with a horizontal reach up to 67.6 ft. and a vertical reach up to 77 ft.
26,000- (52/380) and 35,500-lb. (72/516) maximum lifting capacities
360-degree continuous rotation
Optional hydraulic jibs and Electronic Vehicle Stability system
Wireless radio controls standard
SkyTrak Model 8042
8,000-lb. rated capacity with a 6,000-lb. capacity at its 41-ft. 11-in. maximum lift height
1,800-lb. capacity at 26-ft. 7-in. maximum reach
Auxiliary hydraulics for attachment use
Four-wheel drive and steer
Stabil-TRAK rear axle stability system
+/- 10-degree frame leveling
Four-speed modulated powershift transmission
Gehl CT-Series Telescopic Handlers
Maximum capacities from 5,000 to 7,000 lbs.
Maximum lift heights from 16 ft. 2 in. to 22 ft. 7 in.
Rated capacities from 5,000 to 6,000 lbs.
58- to 101-hp turbocharged and naturally aspirated Tier II diesel engines
Pilot-controlled hydraulic system
Gradall Model 544D
10,000-lb. rated lift capacity and a 5,000-lb. capacity at its 55-ft. maximum lift height with stabilizers deployed
90-degree rear-pivot steering
125-hp John Deere engine
Swing carriage rotates 90-degree left or right
60-in. pallet forks
Lull 944E-42
Horizontal load placement system moves a load 80 in. forward from its retracted position, while the boom remains at a fixed angle
9,000-lb. rated capacity with a 42-ft. maximum lift height
Multifunctional joystick controls all boom functions, as well as carriage tilt and frame leveling
Stabil-TRAK rear axle stability system provides four-point stability by positively locking the frame to the rear axle when the system is engaged
Kesmac Truck-Mounted Forklifts
4,500-, 5,000- and 5,500-lb. truck-mounted forklifts incorporate three-wheel-drive posi-traction for greater climbing ability in sloped terrains
Features include three-wheel hydrostatic drive, fingertip controls and inching pedal
Retractable and fixed wheel models
45-in. overhang
AUSA C150H
1,500-Kg-load-capacity rough-terrain forklifts
State-of-the-art power train, new engine and an innovative hydrostatic drive, cabin and counterweight
Unit also creates low exhaust and noise emissions
Total Control system gives the operator full control of all functions through the joystick
Genie Telehandlers
Eight models with lift capacities between 5,500 and 10,000 lbs.
Lift heights from 18 ft. 10 in. to 56 ft.
63- to 125-hp output
Various attachment options
Variable hydrostatic transmission and four-wheel drive
Interchangeable, common components plus easy no-tool access service and test points
Liftking LK-120R
12,000-lb. capacity with a 55-ft. maximum lift height
80-in. transverse action boom moves in horizontal direction up to 80 in. once extended
Four-speed powershift transmission
Manitou Maniscopic Telehandlers
Includes 18 different models of fixed frame and rotating telescopic forklifts
Includes world's smallest telehandler, the SLT 415B "Twisco", up to the largest models
Lift heights range from 13 to 68 ft.
JCB Compact Telescopic Handlers
Can be outfitted with a quick-attach for handling various attachments
520-40 measures 61 in. wide and 78 in. high, yet has a 4,000-lb. rated operating capacity at its 13-ft. 2-in. full lift height
524-50 has a 5,000-lb. maximum lift capacity at its full 16-ft. 5-in. lift height
527-55 delivers a 6,000-lb. maximum lift capacity at 18 ft.
Loader breakout force from 8,157 to 8,993 lbs.
MEC TH60/TH80 Telescopic Handlers
Offer 6,000- and 8,000-lb. lift capacities with lift heights to 41.5 ft.
Three-stage, four-plate, robotically welded boom
Adapter plate allows use of skid-steer attachments
Load-sensing, fully powered orbitol steering with three steer modes
Rear axle lock engages when lifting a load above 40 degrees but remains free when going over rough terrain
100-hp Deutz turbo diesel engine
Haulotte Top Lift
Six models with up to 4-ton lifting capacities and lift heights to 55 ft. 9 in.
Quick couplers enable use of forks, buckets with or without teeth, mixing buckets, a winch, truss jib with or without winch and platforms.
Features include a driver safety system, ergonomic seat with armrests and complete dashboard
Mustang Radio Remote Control for Telehandlers
Allows telehandler boom to be raised and lowered, extended and retracted, all from remote control pendant
Operators can also start up or shut down machine from remote
Available on Mustang telehandler models 742, 944 and 1155
Offered as a separate option, remote control features self-diagnostics and Frequency Hopping Spread Spectrum (FHSS) technology
Harrington ED Electric Chain Hoists
ED single-phase electric chain hoist line includes the single-speed ED1050S and dual-speed ED1050DS 1/2-ton models
Dual-speed model includes a low speed adjustment capability from zero to 100 percent of maximum speed
Features include a double braking system, heavy-duty motor, high-performance friction clutch and corrosion-resistant, nickel-plated load chain
Can be easily installed, transported and stored
Pettibone PrecisionSteer System
Carraro 26.43 step-in axle designed specifically for the demands of telehandler four-wheel steering
Available on all 6,000-, 8,000- and 10,000-lb. models
Step-in axle improves steering geometry by 50 percent, significantly reducing tire wear, rolling resistance and stresses in the wheels, bearings, steering cylinders and other components
Allied Power Products Davit Crane
Model 4FFM material-handling davit crane is equipped with a Columbia HD650 AC electric wire rope hoist
Maximum lifting capacity of 400 lbs.
Hoist comes with 115 ft. of 5/32-in. wire rope and has an average lifting speed of 25 fpm
Upper limit switch and removable remote pendant control standard
My-te Products 100A Winch-Hoist
For pulling jobs with loads up to 8,000 lbs.
1,000-lb. single or 2,000-lb. double line lift
Worm gear reduction for positive load holding
Dynamic braking for instant stopping
115-volt AC power
Low-voltage 10-ft. pendant control
Cable drum holds 250 ft. of 1/4-in. cable
Miniveyor Systems
Portable conveyor systems move 25 to 50 tons per hour
Only 7 in. high
Can excavate below grade, through windows or in other restricted areas
Up to be can be operated from a single 20-amp circuit
Rako Miniveyor
3M49C-1HP Miniveyor is fitted with a high-power 370W single motor running at 0.32 m/s
Advantages over older models include increased power delivery and improved motor design that increases reliability over older generation motors
Unit also operates with 24-volt safety circuit
Michigan Pneumatic Tool NPK NRE-1000 Hoist
Automatic load limiter that prevents lifting of a weight that exceeds the hoist's load rating
Constantly monitors air pressure supplied to the air motor during lifting
Automatically stops the hoist when the load weight exceeds the load rating
Currently available in 1-ton capacity
Beta Max Max Climber 7700
Double-masted Max Climber 7700 work platform can travel up to 400 ft. high at a speed of 35 fpm
Simple installation without requiring a forklift or crane
Triangular mast system
Mast sections break down into 5-ft. sections weighing 110 lbs. each
Measures 90 ft. long and 6.5 ft. wide
Companies in this article