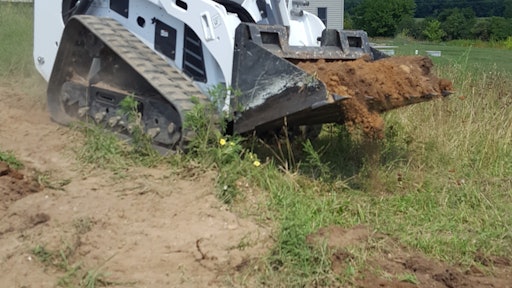 Editor's Note: This is the second installment to our Construction Equipment Closeup series, a new feature on ForConstructionPros.com focused on what happens when editors go out in the field, operate equipment and report on the experience. Look for it also in the March issue of Rental magazine.
Who doesn't like a mini track loader? They offer unsurpassed versatility when paired with a wide array of attachments, they're super productive, easy on turf and are built to be simple to operate. And they're easy for a wide range of operators to use. They give one the sense they could step right up to the controls and get stuff done.
We recently put this idea to the test when we took a deep dive into Bobcat's new MT85 mini track loader. We spent the day with this machine and put it through its paces to find out how some its new features affected performance and feel, and also how it compared to its predecessor, the now discontinued MT52.
[VIDEO] Bobcat Mini Track Loaders Leap 63% in Rated Capacity
[VIDEO] Closeup Operating Impressions: Bobcat MT85 vs MT52 Mini ...
[VIDEO] Novice Orientation to Operating Bobcat's MT85 Mini Track ...
Everybody's got one
Evidence of the growing popularity of mini track loaders can be seen in the way today's manufacturers are expanding their offerings of these machines that are designed to make quick, easy work of tasks that used to involve hours of back-breaking labor.
Bobcat has offered two mini track loader models for a while, but recently upscaled its line dramatically by replacing its MT52, at 520-lbs. rated operating capacity, with the 850-lb. MT85 - a 63% jump in capability - with the goal of offering big-machine productivity in a compact package that can squeeze into tight spaces and is gentle on the landscape.
"Bobcat listened to their customers," explains Casey Funseth, dealer principle at Bobcat of Janesville, who was with us when we tested the MT85. "The MT85 brings to Bobcat an increased rated operating capacity for the MT loaders. Its tipping load is actually 2,400 lbs., even though it's rated at 850 lbs., so that's significant power."
He adds that since the machine only weighs 3,100 lbs., the 2,400-lb. tipping load gives it a tremendous power-to-weight ratio.
In addition to more brawn, the MT85 boosts productivity with a 14-percent increase in lift height. While the MT52 had a 71.2-in. hinge pin height, the MT85's lift height is one of the highest in the industry at 81.6 in., allowing it to easily clear the side of a truck or bin for dumping.
"It also has great reach at its highest lift height," Funseth says. "At 18.6 in., that's nearly 20 in. of reach."
Comfort and stability
According to Funseth, Bobcat customers had been asking for better comfort and stability with their mini track loaders. And while these factors aren't usually top priorities for rental business owners when purchasing equipment, they're pretty close to being game changers when it comes to operating the MT85.
One of the first things you notice about the MT85 is the new integrated stand-on platform. The MT52 offered a detachable ride-on platform in the form of a sulky, very similar to what's used on some big self-propelled mowers. While the sulky got the operator up off the ground for better visibility, it offered little in the way of perceived stability.
"With the integrated platform, you get a higher center of gravity and a higher vantage point to the bucket. You feel one with the machine," Funseth explains. "The previous model, with the sulky, had a tendency to counter balance or swivel with loading, unloading or even just going over hills. With this new platform, it really feels like the machine is an extension of you."
Big-machine controls
Another one of the most notable changes to the MT85 is the new ISO-pattern joystick control for drive functions. Using it is simple; operators use their left hand for drive functions and their right for arm-lift and bucket-tilt functions.
The benefit here is the machine is immediately familiar to operators who are accustomed to bigger machines.
"Bobcat didn't change the lift functions, those remain the same," Funseth says, "but [on the drive functions] the ISO joystick offers greater ergonomics for the operator as well as greater similarity with other machines in the marketplace."
The previous controls consisted of a horizontal handle that required constant down pressure and was steered by rotating left or right while in the gripping position.
"The joystick allows for finer measurements, and less gripping means less fatigue for operators using the machine for longer periods of time," says Funseth.
Competitive landscape
The MT85 is not the biggest mini track loader on the market, as there are competitive models that extend above 1,000 lbs. rated operating capacity, but the new model brings a larger, more stable platform, a wider track, a higher vantage point and significantly increased operating capacity to the Bobcat line.
"It brings improved performance in horsepower, hydraulics, lift height and overall power to be more competitive," Funseth says. "The MT85 is ideal for landscapers, municipalities, grounds maintenance and any application that can benefit from less than 5 psi of pressure on the ground."
Head to head: MT52 vs. MT85
On the day we tested the MT85, we asked Bobcat to bring along its MT52 for perspective. We did some clearing on an undeveloped lot with both the ride-on, 850-lb. rated-operating-capacity machine and the 520-lb. unit it replaced, with the sulky attached and without.
Not surprisingly, the differences were marked.
Larry Stewart, editor of ForConstructionPros.com, appreciated the new ISO ground-drive control on the MT85, and the grab handles that surround it and the loader joystick.
"With a machine like this, when you're standing on it and it's moving around, I want to be holding onto something with both hands," he says. "I found that the grab handles around the joysticks gave me that anchored spot and let me operate the machine at the same time."
The old-style controller on the MT52's ground drive seemed to encourage a change in hand position when shuttling from forward to reverse that, for an inexperienced operator, didn't feel as secure. The controller worked just fine, but the learning curve was just a little steeper.
The ISO pattern joystick's S pattern – which reverses to the right when the joystick is pulled back and to the left, and vice versa – took some getting used to, but making that adjustment shouldn't dampen the new joystick's advantages.
For Jenny Lescohier, editor of Rental, the stand-on platform of the MT85 offered obvious benefits, but didn't completely outshine the walk-behind unit.
"Being on the stand-on platform gives you unbelievable visibility, which is great, especially when you're someone of my height," she says of her 5-ft. 2-in. stature. "It's just a good advantage to be able to see what you're doing. And it really is responsive; you can feel every move that you make."
She adds, "But really, as someone who has zero experience with this type of machine, I have to say I felt most confident when I was walking behind the machine, maybe because you can just walk away from it, no questions asked. But it's completely missing that visibility."
And Lescohier acknowledges that even a novice operator, after a day or so in the field on the MT85, would likely be comfortable enough riding the platform to fully appreciate the advantages of the newer machine's design.
Stewart adds that while walk-behind units typically afford operators an easier brand of confidence, that can change with the terrain.
"When we were down in the weeds, you couldn't see the grade, you couldn't see what was down there… there were holes," he explains. "I could totally see being a lot more productive up here on the [MT85] because I definitely wouldn't want to be down on the ground, walking around in that stuff."
One thing is for sure, Stewart said, and that is he prefers the integrated stand-on platform to the sulky. "I could anticipate where I was going to go when the machine nosed into a hole. With the sulky, sometimes it went one way, sometimes it went another, depending on the underfoot… I felt better on a ride-on machine in that circumstance."
Safety and Power in Knowing Rated Operating Capacity
The rated operating capacity of mini track loaders serves as much of a safety role as it measures capability. Understanding how it is derived will not only make operators safer, but more confident with the machine's capabilities as well.
As with skid steers and compact track loaders, rated operating capacity (ROC) starts by measuring tipping load. This is done in a very controlled environment – level, paved pad; machine static; no wind. Weight is added to the raised bucket until the machine tips forward. That weight is the tipping load.
Rated operating capacity is essential because the loader arms of most of these mighty mites are capable of lifting well more than their tipping load. And since the whole point of a loader is to carry the load around, it would be patently unsafe to rate these machines based on their tipping load. It would be a load that the machine could never effectively work with.
So the International Standards Organization (ISO) adopted a standard (14397-1:2007, if you care to look it up) for determining rated operating capacity to help loader users avoid precarious situations.
It's straightforward: the ROC for skid steers is 50% of tipping load. Because track loaders can pick up more weight, and they can work on soft, uneven terrain, ISO set the ROC for mini and compact track loaders at 35% of tipping load.
So while mini track loaders can pick up, and even carry, more than their ROC, the safe load they can work with falls somewhere far short of their tipping load. Exactly where is determined on each bucket-full or pallet load the machine picks. It's a good idea to impress on users the ROC number. The cowboys will find out how much more the machine can pick up. And the rest will operate a lot safer.
Some insights about tipping and ROC:
-        Adding counterweight increases tipping load and ROC, within limits.
-        Pallet forks move the load farther away from the machine's center of gravity, which reduces tipping load.
-        Carrying a capacity-testing load down a hill? Better back it down, with the loader arms aimed uphill.
-        If the weight of replacement tracks or tires or wheels differs from original equipment, ROC will change.
-        Powered attachments can get heavy. Before you buy one, make sure it's well within your loader's ROC.
Companies in this article