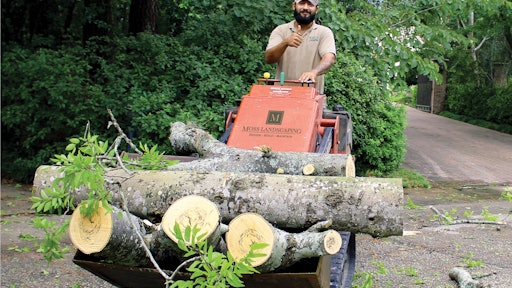 With roots in Texas, Moss Landscaping is a full-service company dedicated to helping residents of the greater Houston area design, enhance and maintain their outdoor spaces, from landscaping to yard cleanup.
In fact, cleanup became one of the company's crucial focuses during September 2017, as one of the costliest tropical storms on record triggered catastrophic flooding in the Houston area. With damages close to $125 billion, Hurricane Harvey flooded many residential homes and yards across the city and surrounding areas.
As cleanup efforts from the storm began, Moss Landscaping utilized its manpower and fleet of equipment to help restore customer landscapes, including removing fallen trees and hauling and installing new pallets of grass. The contractor utilized Ditch Witch mini skid steers for much of the restoration efforts. The company had an SK750 model as part of its fleet, and had most recently purchased a SK1550, the largest Ditch Witch mini skid-steer model.
Designed to conquer a variety of complex landscape jobs, the SK1550 unit can complete many tasks typically suited for traditional skid-steer loaders, including tree handling and sod transfer. It also accepts numerous attachments to complete a wide range of projects. Moss Landscaping utilized bucket, fork and tiller attachments while restoring residential yards following the storm.
"We really appreciate our new SK1550 unit," said Bruce Waddle, installation supervisor, Moss Landscaping. "It's powerful enough to lift a full pallet of grass while maintaining a compact size, and is agile enough to fit through most yard gates. The versatility of this machine helps our projects run more smoothly, and we can easily transport it from job to job, which was key during our storm cleanup."