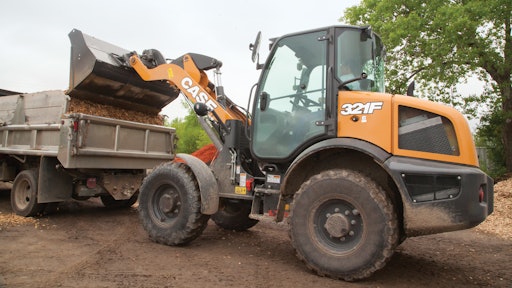 While skid steers and compact track loaders boast tight turning radiuses and impressive maneuverability, compact wheel loaders are taking their rightful place on construction sites and landscaping projects. Their growth in popularity is thanks in large part to operational cost efficiency, new attachment options and optimal size.
For many projects, a full-sized wheel loader may prove too large for the site, whereas a skid steer or compact track loader could be too small to handle the requirements of the job. In these cases, compact wheel loaders offer the perfect combination of power, capabilities and size.
A compact wheel loader can cost more upon initial purchase than a skid steer. But its operating costs may save you money over time. This is due to factors such as lower fuel consumption, fewer maintenance requirements and higher resale values.
So how do you know if a compact wheel loader is the right machine for your job – and how do you select the best one? We spoke with product experts from some of the leading equipment manufacturers about how these machines have evolved over time, what options and features are available and how to choose the right model for your needs.
How Have Compact Wheel Loaders Evolved?
The consensus regarding how compact wheel loaders have changed over time is that they offer better attachment capabilities and more useful features.
"Over the past decade, the growth in attachment offerings has helped make compact wheel loaders more productive and versatile machines," says Grant Van Tine, product marketing manager, compact wheel loaders, John Deere Construction. "Compact wheel loaders are capable of operating so much more than buckets and forks. When equipped with a skid-steer-style coupler, [they] can operate many of the same attachments commonly used by a skid steer or compact track loader, such as pick-up brooms, root rakes, snow blades and snow blowers, just to name a few."
Improvements in visibility, cab comfort and ride quality also make the loaders a preferred tool among operators for running attachments, he adds.
"[Compact wheel loaders] have evolved from a single tool (i.e., bucket only) machine into multi-tool machines. These new machines quickly adapt to augers, forks, multiple-use buckets, blades and many other tools," says Manny Mendez, AMS-Venieri territory manager. A universal skid-steer attachment plate, found on models such as the VF2.63C, further enables the compact machines to take on virtually any job with no customization required.
"With all the new attachments — buckets, snow brooms, brushes and grapples — coming to market, the Hitachi compact loaders have been engineered for flexibility in multiple applications and environments," notes Nathan Little, product specialist, Hitachi Construction Machinery Loaders North America. "One Hitachi loader can utilize dozens of different attachments interchangeably. Without having to get out of the comfort and safety of the cab, these changes can be made with the push of a button." 
Versatility has been aided by advances in the controls, as well. Andrew Dargatz, Case Construction Equipment product marketing manager, says, "Case has recently updated its compact wheel loader lineup with new adjustable electrohydraulic controls. This added functionality allows operators to adjust the responsiveness of the lift and tilt bucket functions for improved control, efficiency and versatility on the jobsite."
What Features and Options Are Available?
Manufacturers of compact wheel loaders continue to add new capabilities to ensure operators have everything they need to get jobs done.
"Lift and tilt settings can now be adjusted with two new three-way rocker switches (high, medium or low) mounted on the side console, allowing operators to adjust the responsiveness of the loader lift arms independently of the attachment tilt functions," says Dargatz. These new programmable settings enable users to program the machine's response based on their personal preferences or job demands.
Options available on Case Construction Equipment's compact models include new electrohydraulic controls and an E-inching pedal. The electrohydraulic controls offer automated bucket metering functionality, providing operators more precise and consistent movement of the bucket edge while metering or sifting material into a truck or feed wagon.
"The E-inching pedal uses an electronically-controlled inching valve to provide greater response and more control in applications where the operator requires precise movements at slow speeds," Dargatz points out. "The pedal has also been ergonomically positioned for improved operator comfort."
"There are numerous options available to tailor compact wheel loaders to meet the needs of specific jobsites or operating conditions," Van Tine comments. "Contractors planning to use hydraulic attachments will appreciate features like creep control, throttle lock and high-flow hydraulics to maximize machine performance and controllability."
Both skid-steer-style and ISO-style couplers are also available based on customer preference and attachment compatibility.
Size to the Job and Site
The size of a compact wheel loader is paramount to performance. "Tight turning circles and visibility must be considered when determining the size of the loader, as well as production requirements," Little states. "Operating safely is priority one."
Selecting a compact wheel loader that is the right combination of size and power for your needs depends on a range of variables. When choosing between available machines, AMS-Venieri's Mendez says it's important to understand the full specs you're comparing.
"There are a lot of factors that go into [choosing a compact wheel loader], and it's important to remember that bigger isn't always better," Mendez says. "For example, hydraulic pressure (gallons per minute flow) will matter greatly depending on the needs of specific attachments that require auxiliary hydraulics. Contractors should also take into consideration the jobsite topography. An articulation-type center joint on a wheel loader will bring better traction in unfavorable conditions." 
"The type of work environment and the ground conditions in the majority of the applications determine what kind of differential gear should be selected — limited slip, locking or torque proportional," Little points out. "This will be a big factor in the wheel loader efficiency depending on the ground conditions, particularly in mud, clay or gravel."
"All applications and jobsites are unique and have their own sets of needs and challenges," Van Tine says. "Jobsite space constraints or limitations may require contractors to choose a compact wheel loader that meets a particular machine height, width, length or turning radius specification. Bucket capacity or lift capacity requirements will also influence machine sizing.
"Knowing the material type and density is essential to determine the appropriate machine and bucket selection," he continues. "Some applications may have specific dumping or lifting height requirements, which may drive the need for a specific machine size or a high lift option."
"When right-sizing a machine, business owners and fleet managers need to know the weight and density of the material being moved," Dargatz agrees. "They need to know what size bucket they plan on using, what size trucks/hoppers they'll be filling, etc."
Factors such as material weights, truck height or hopper height and target bucket size can affect more than size requirements. "These factors will help determine the size of the loader needed," Dargatz says, but adds, "Selecting the various application-specific options such as axles and transmission type will more directly impact cycle times and maximize production."
Other Considerations
Consider all available features and options when choosing a compact wheel loader for your projects. For example, operator comfort can have a big impact on productivity. Climate control, air suspension seats and ride control can help combat operator fatigue, while other features, such as rear view cameras and LED lights, may be needed to help improve visibility for certain jobs, says Dargatz.
"Contractors who perform work early in the morning or late at night (such as snow removal) will especially appreciate LED work light options to brighten their jobsite," Van Tine notes.
Other features to keep in mind include:
High lift options for applications that require additional lift and reach capabilities
Reversing fan options for high debris applications to keep the cooling package clean and maximize machine uptime
Guarding options such as window guards and rear machine guards that help protect the machine in certain applications and environments
A boom-height kick-out option, which can increase productivity and efficiency for machines performing a lot of repeat loader work, such as loading, lifting and dumping or stacking
Dargatz offered a few other considerations to ensure you find the unit best tailored to your needs. They include:
Ground line serviceability to help ensure daily service checks are completed
Tier 4 Final solutions, such as selective catalytic reduction and diesel oxidation catalyst systems, that eliminate the need for regeneration and any downtime associated with the regeneration process
Other features that reduce overall downtime
"It's all about what's easy and what will keep the machine up and not down," says Mendez. This includes ease of operation, access to all the moving parts for maintenance, factory support, operator and technician training and the ability to easily change attachments.
Finally, take transportability into consideration. "If contractors intend to transport their compact wheel loader frequently from jobsite to jobsite, they will also consider machine weight and other key shipping dimensions for trailering purposes," says Van Tine.
Companies in this article