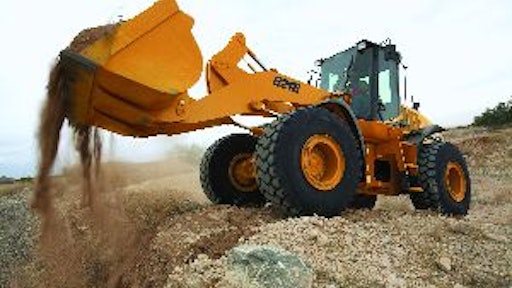 If you've purchased a larger earthmover, or have had to replace the rubber on existing units, you've likely encountered some difficulty in getting the tires you need. There's still a tire shortage, and manufacturers expect the gap between supply and demand for large earthmoving tires to continue through 2009. While the crunch has eased for some of the smaller loader and grader sizes, larger earthmoving tires will continue to be hard to find.
One way you can maintain productivity through the shortage is to consider using retreads. They have been a staple in the commercial trucking arena for years, and have been slowly making their way into the construction industry via some off-road trucks. But the recent big push for retreads has been in earthmoving tires.
"Retreading these products has ebbed and flowed over the years," says Mike Poirier, North American OTR sales manager, continuum brand retread materials, Bandag. "Historically, we will go through major swings of construction growth, which have a tendency to create shortages in new tires. When new tires are in short supply, retreading goes up. That's when contractors really seek the value of retreading. To keep equipment up and running, it may be their only option. As contractors are realizing that, the casing becomes an extremely valuable asset."
"We're about five to 10 years behind the commercial trucking industry," adds Mike Tolman, retread project manager, Michelin. "But retreading in the construction industry is growing, and its viability is becoming more understood and desired from end users who want to recoup their initial tire investment."
Recouping that investment is possible, since the casing from the original tire can be reused in the retreading process as long as it isn't damaged. "A large portion of any tire's cost is in the casing itself," says Tolman. "If you can use a tire, salvage the casing and reuse it, you save dollars by using the tire again. You've renewed the life of that tire by putting a new tread on an old casing."
So how much can you save? Depending on size, a tire can be retread for as little as half the cost of purchasing a new one. Savings continue to add up when you consider a casing can often be retread more than once. "Every time that casing is retread, the cost savings falls to the bottom line," says Harvey Brodsky, managing director, Tire Retread & Repair Information Bureau. "From an economical viewpoint, it makes all the sense in the world."
Maintain inflation pressure
A management program put in place to take advantage of retreads provides cost savings with the original tire, as well. That's because a key ingredient of a retreading program is implementing a tire maintenance program to protect the casing, which extends the life and improves the performance of the original tire.
The foundation of any successful tire maintenance program is maintaining proper inflation pressure. Overloaded and under/overinflated tires are not only more susceptible to damage, they wear unevenly, increasing tire costs due to early removal.
"Managing inflation pressure is the No. 1 most important factor," says Tolman. "It's also one of the more difficult [to control] for this industry. In [off-road] applications, our customers are running different cycles where equipment is loaded and unloaded. We work with them to do weight and cycle studies, and help them determine the actual loads the tire is carrying to give them the exact pressure recommendations they should be running to get the optimum life out of that tire."
Even though it's difficult, it's important to find the right pressure to maintain the integrity of the casing. "If you don't maintain the air pressure, you can damage the casing," says Jack Dutcher, national manager, training, Bridgestone/Firestone. "A tire flexes hundreds of millions of times during its life. The more you flex it, the more fatigue you put into the tire. If you don't maintain the right air pressure, you will overflex it. It's like a coat hanger - if you bend it back and forth enough, it will break. The same thing can happen to a tire. The more you bend it, the quicker it will break."
Protecting that casing is key since it's the foundation for any tire, retread or not. "If you don't have a solid casing to begin with, it doesn't matter how good the retread process is," says Tolman. "If that casing fails, the tire fails."
Maintaining proper inflation pressure also helps a tire retain its proper shape. "It's important for the tire to operate at its right shape," says Dutcher. "The tire has to control and stop/start the vehicle, as well as give a good ride. It can't do that if the tire doesn't have the right shape."
Repair injuries
When injury occurs to a tire, make sure you manage it properly. "If you get a cut in the tire and leave it alone, it will get worse," says Dutcher. "Manage those injuries by having a concise and thorough inspection program. Operators should look at tires multiple times a day. If they see an injury, report it to determine if it needs immediate attention."
Depending on the severity, a tire can still be retread even if damaged. "You can retread a tire that has been punctured," says Chris Hoffman, product manager, global tire products, Bandag. "There are procedures we follow and rules about what punctures can and can't be retread."
Bandag puts all casings through a 14-point visual inspection, as well as an electronic inspection that includes high voltage and shearography, where the casing is put under a vacuum and inspected to measure surface anomalies and expanding pockets of air that may make it a poor candidate for retreading. "We're able to look at the casing from bead to bead and see what may have been missed visually," says Hoffman. "That allows us to make sure that casing will last for [life of] the retread."
A tire should be inspected several times to ensure it is capable of being retread. Many tire manufacturers have field representatives who work with local tire dealers to provide an initial on-site evaluation to determine the retreadability of a tire used in a particular application.
Application is a primary consideration, since tires used in off-road situations can go through a wide variety of operating conditions, even on the same machine. "You have to look at each tire individually," says Tolman. "Consider where the tire has been used and under what conditions it has been operated. Consider if it is operated in extreme cold or heat, which may have caused more stress to the casing. Also consider if it has had more exposure to hitting and maneuvering around objects that may have caused internal damage that isn't easily visible from the outside."
Once application has been considered, and the tire has been through an initial inspection by the manufacturer/dealer, it goes through a second inspection at the retreading facility. In recent years, there have been many enhancements in technology to improve the retreading process. One of the main ones is nondestructive testing to ensure a casing is up to the challenge.
"About 10 to 12 years ago, the best testing procedures retreaders had was an inspector," says Brodsky. "He wore magnifying glasses and had good light, but he couldn't look through the tire and see if there was any damage that wasn't visible to the eye. Now, we have shearography machines, laser devices and x-rays that are being used and are becoming commonplace. We are able to give a worn tire the equivalent of a CAT-scan or MRI. We can look through to see if there are any steel cords that are damaged that would prevent the tire from enjoying the next life trouble-free.
"Because of that," he adds, "we are able to say that retreads have an adjustment rate (tire loss due to manufacturer defects) that is lower than new tires."
Manage the environment
Since application plays a vital role in casing health, it's also important to manage site conditions.
"We find a lot of damage can be done to a tire that renders the original tire out of service, as well as the casing and the ability to retread it," says Tolman. "Keep service roads and working areas clean. If you have areas where you're running over a lot of debris, you can cause unnecessary damage to the tire, the tread and the casing."
Consider haul roads and other jobsite conditions. Haul roads should be of the proper length to allow the tire to cool down as it's designed. When creating turns to navigate sites, make sure you have the appropriate bank so the load weight doesn't shift unexpectedly on the truck, which then shifts weight on the tire and can cause damage.
"If you bank roads properly, and loads stay as they should as they travel throughout the route, the tire and the vehicle are kept in the best condition possible so the casing can be reused," says Tolman.
As more contractors have tried retreading, they have discovered - when done properly and through a qualified retreader - they can have a positive experience with a retread product. "By using a premium, good quality casing, coupled with a good quality retreading process, they can use a retread product with great success in their operation," says Tolman.
"When there's a shortage of OTR (off-road) tires, some people who wouldn't normally consider retreads are forced into them," Hoffman adds. "Then they find it saves them money. So even when the supply comes back, they tend to continue to retread some of their vehicles."
Tips for Finding a Retread Provider
Since tires are the second highest expense after fuel for most contractors, retread tires may be worth considering. But finding a professional retread company that produces quality products can take time and effort. After all, not all retreaders are alike.
If you're considering a retread program to supplement an existing new tire program, take the following steps to choose a high-quality retread vendor:
Check reputation and references - Start by selecting retread companies that have solid reputations for their products and service, advises Pat Demianenko, Goodyear national retread business development manager. Ask the retread companies for names of customers they work with that you could call, then make sure you call them. The Tire Retread & Repair Information Bureau also offers a Retread Tire Buyers Guide that contains a listing of retreaders, visit www.retread.org.
Interview their salespeople - Once you identify potential retread providers, talk with the sales staff. "Are they knowledgeable about their business, their products and the services they offer?" asks Demianenko. "Do they give straightforward answers to your questions regarding turnaround time, retread tire tracking and pricing?"
Visit retread facilities - Look to see if the employees are dressed in uniforms and look neat, says Demianenko. Do they seem enthused about what they're doing and talk about quality? Does the plant manager show you the plant and discuss the facility and the process? Does he have the right attitude and is he eager to show you what they're doing? Does the whole facility look good, including the service department and warehouse?
Evaluate service - Ask about turnaround times to deliver tire retreads. According to Demianenko, acceptable turnaround is no more than seven days.Ask if the retreader offers a mounted wheel program that could save time and increase productivity when replacing tires. Does the facility offer 24-hour service? Is the retreader part of a larger network regionally or nationwide? Does the facility offer emergency road service? By aligning with a major tire maker's retread program, customers receive consistent pricing of retreads at dealer locations and access to retread plants across the country, in addition to access to an emergency services network.
Evaluate the condition of the retreads - Do the tires look brand new and free of chips and flaws? Demianenko suggests asking about rejection rates and the reasons for rejecting the retread. "Plants should have that information and be willing to share it with a potential customer," he says. Does the retread firm have quality casings to sell? What warranties are available for casings and retreads? The warranty should cover the life of the casing and retread, or retread alone if the customer is supplying casings.
Retread process choices - Does the retread facility have a variety of retread processes? How many different treads are available?
Information technology - Inquire about the retread company's information technology. Find out if the facility has computerized information about a customer's tires and whether the customer has access to it, Demianenko advises. "If a fleet does its homework, the chances of finding a quality retread firm increase dramatically," he adds. "The payoff is quality tires available at affordable prices."
Companies in this article