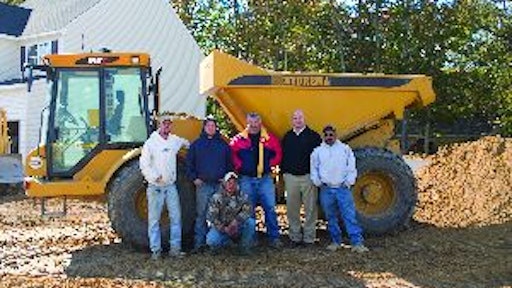 Sunrise Unlimited replaced two tandem dump trucks on a big housing-development project with one fast-and-light 11-ton articulated dump truck.
The Mays Landing, N.J., firm formed in 1982 provides a number of services including land clearing, site work, excavating, trucking, utilities and hydro-seeding. is a full service landscape and construction company. It is currently working on a 50-plus acre residential project, which will consist of 88 homes when completed.
To date, the contractor has cleared the site, stripped and stockpiled thousands of yards of topsoil and completed all sewer and storm pipe work that consisted of over 10,000 linear yds. of pipe. It has also completed a 3-acre infiltration system and detention basin, which will help with drainage throughout the development.
Sunrise Unlimited is now focused on the project's next phase, which is backfilling around the housing unit foundations and starting the initial landscaping by spreading topsoil around the completed homes. In the past, it would use a skid steer, articulated loader and two tandem dump trucks, along with extra labor to complete these projects.
However, in early 2007, Mike Aspinwall, president of Sunrise Unlimited, was developing a 10-year business strategy plan for the company, and sought to migrate away from labor to equipment to meet the needs of the construction and landscaping markets.
"I looked at my equipment costs, equipment lifespan and how I could use the equipment for both landscaping and construction applications down the road," he states. "I needed a fast, light and versatile piece of equipment that could handle light construction and landscaping projects and at the same time be operator friendly."
Small truck with big benefits
After researching light articulated dump trucks, Aspinwall met with JESCO, his local Hydrema dealer, to discuss the 912C Series articulated dump tuck.
"I was looking at another brand and the Hydrema 912C. The 90° swivel dump sold me," says Aspinwall. Within three hours of receiving his call, JESCO had the 912C prepped and in his hands. "JESCO's service is outstanding. Gregg Swartz, my sales rep, understands my projects, their deadlines and equipment needs."
The 912C is designed with a Multi-Tip configuration that allows the 7.6-cu.-yd. dump body to swing 90° left and right to unload material. The wide tipping angle and ground clearance of the body guarantee faster unloading times than traditional dumps. The unit also features high tensile steel with all-welded construction for strength and stability. A 123-hp Perkins 4.4-liter diesel engine provides sufficient power for hauling loads over tough terrain.
Since purchasing the new truck, Sunrise Unlimited no longer requires two tandem dump trucks, extra labor and extra equipment. "The 912C is perfect for my specific construction and landscaping projects," states Aspinwall.
"The housing units in this development are very close together," he points out. "This project requires a piece of equipment that can fit between these houses and has very low ground pressure. Low ground pressure is important because it reduces the chance of cracking curbing and leaving marks on finished concrete driveways."
Sunrise Unlimited is using the truck's swivel dump feature to cover pipe trenches throughout the job. "We can fill the dump with stone, sand or dirt, turn the dump body about 90°, walk it along the trench and cover up our pipe," says Aspinwall. "The 90° dump body and narrow frame make it very versatile."
Its wide tires enable it to operate in challenging conditions, whether the terrain is soft, steep or covered by deep snow. The dump truck is also well-suited for use on golf courses due to its low weight and the geometry of the pivot, which subjects the ground to minimum damage.
A team player
Acquiring the new vehicle has allowed Sunrise Unlimited to form two teams. The heavy team consists of heavy equipment such as excavators, dozers and articulated dumps for their large dirt work projects. The light team consists of the 912C, lighter excavators and dozers for their light construction and landscaping needs.
"This dump truck fits perfectly into my line of work," says Aspinwall. "It's easy to operate, comfortable and can handle landscaping and small construction applications."
Companies in this article