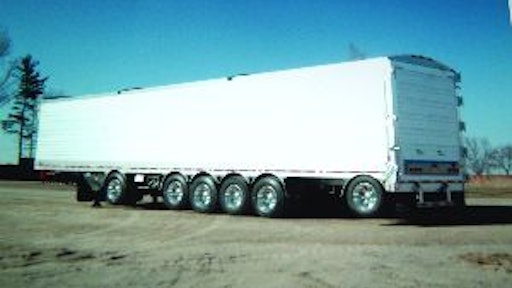 Titan Thinwall Live Floor Trailer
The Titan Thinwall live floor trailer is built for extreme duty loads such as aggregates/ore, C&D/scrap, logs/wood chips, scrap metal, etc.
Solid steel Keith Walking Floor for controlled unloading
Haul one way and get a backhaul load for the trip home
48-ft. trailer offers payloads up to 130 cu. yds.
Trailer maintains firm footing while floor "walks off" the load
Henderson Asphalt-style Munibody
Henderson Mfg. offers an asphalt body style for its Munibody all-purpose municipal dump body/spreader.
Designed to interact with asphalt pavers and other lay-down machines
Provides greater reach into the paver hopper than standard dump bodies/combination bodies
Will not hang up on pavers, even at a 50° dump angle
Sloped tailgate provides additional clearance
Shur-Trak II Front-to-Back Cable Tarp System
The Tarp-over-Rain design fully covers the load, keeping heat in and elements out.
Twist-Lok Bow Shanks replace bows without removing the cable
Rear Bow Stabilizer reduces tarp wear
Integrated Cable Tension Scale
Available with electric motor upgrade
Roll-Rite Expandable Pleated Tarp
These pleated tarps act like a straight tarp, then expand up to 10 ft. along their full length, self-deploying on both sides to easily cover heaped loads.
Expands to secure load by pulling straps from ground level and securing them to the truck body or trailer
Built-in tension helps to refold the tarp as it rolls up
Single-piece construction
Custom manufactured to meet size needs
Wylie Dump Trailer
This dump trailer can carry a skid steer to a jobsite, be loaded with materials, then hydraulically dump the materials where needed.
Can be towed behind any 3/4-ton or larger truck
Heavy-duty frame constructed of 6-in. channel iron
6 1/2' x 12' box made of 10-gauge steel
Height-adjustable 2 5/16-in. ball hitch or 3-in. pintle
Includes tandem 5,200-lb. axles, 7.50 x 16LT highway tires and surge brakes
East Genesis Dump Trailers
East Mfg. maximizes the capacity of its smooth-side aluminum dump trailers by mounting the sidewall panels to a flat outboard position flush with the top and bottom rails.
No dirt-shedder plates or fender flares over the tires needed
Air flow around the sides is virtually unimpeded
Double-wall panel configuration prevents dings on the interior from showing on the exterior
Trail King Ultra Lite Series
The 9,900-lb. Ultra Lite Series bottom-dump trailers feature overall lengths of 36 to 43 ft. with payloads ranging from 22 to 26 cu. yds.
12-ft. gate and 5' x 8' 10" hopper opening
Features include oscillating fifth wheel, telescoping pin-style landing legs, windrow reflector, remote variable control and bolt-on push block
Thurston Circle R Side Dump Trailers
Circle R Side Dump trailers feature drop-bottom or round vee tub designs.
Third pivot added to the center of the body
Garlock bearings in dump pivots
Single Side G-rail and rubber Edge-Flex fenders with bolted fender mounts
800 lbs. lighter than previous models
40-ft. tandem axle with 1/4-in.-thick AR400 tub weighs around 14,000 lbs. or 16,000 lbs. with tri-axle
Warren SFS Dump Trailer
The SFS steel frame-type dump trailer comes in 22- to 38-ft. lengths in 20- to 50-cu.-yd. capacities.
10-gauge steel sides and 8-gauge floors
Rolled steel, wide flange beam or custom-fabricated side rails
Fabricated channels and hat section crossmembers
Dual 50,000-lb.-capacity suspensions and 22,500-lb.-capacity axles
Two-speed landing gear or optional drop leg landing gear
Fabick Poured On Liners
Poured On high-impact liners offer a durable, protective coating for your truck bed or trailer.
"Poured-on" technology offers a mirror smooth finish for cleaner, faster load release
Handle temperatures up to 350° F, including asphalt
Airtight, waterproof and self-leveling
Entirely seamless with no bolts or holes
Bond directly to steel and aluminum
Crysteel Profit Maximizer Super Dump
The Profit Maximizer Super Dump from Crysteel features an air-suspension trailing axle from Silent Drive.
Trailing axle raises and lowers with standard PTO
Optional hydraulic tailgate enhances cleanout
High-lift tailgate extends a normal tailgate 15 in.
Elliptical or square body styles
J&J True Feather Air Hoist Controls
J&J Truck Bodies & Trailers is offering True Feather hoist controls as a standard option on its commercial dump truck bodies.
Provide better control over hoist speed to slow body descent
Reduce impact shock to the hydraulic system, as well as mechanical shock to the hoist, body and chassis
Allow precise control over material flow during the unloading process
Etnyre Falcon Series
The Falcon live bottom trailers and truck-mounted bodies are designed to unload where others cannot go.
Patented conveyor system
For sand, gravel, hot-mix asphalt, recycled materials, low-slump concrete and more
42-in.-wide belt
Strong Superdump Steel Dump Bed
This lightweight, high-strength steel dump bed maximizes the benefits of the Strong Arm trailing axle.
Conical, elliptical shape gradually becomes wider toward the rear of the bed
Extended floor eliminates the need for an asphalt apron
Low tare weight
TruckWeight Smart Sensor
The Smart Sensor extends the wireless range of the Smart Scale onboard weigh scale to as much as 500 ft.
Provides an axle weight and GVW measurement accurate to within 150 lbs., or 0.3% of actual GVW
Uses common AA batteries
Measures temperature and pressure changes in the air suspension system and wirelessly relays this information to a handheld receiver
Clement Bottom Hopper Trailer
This bottom hopper trailer has 30% fewer parts for simpler and less frequent maintenance.
Weighs less than 12,500 lbs.
Front crossmembers and unitized connection between body and suspension eliminate crossmember to subframe connections
25,000-lb., 102-in.-wide track axles