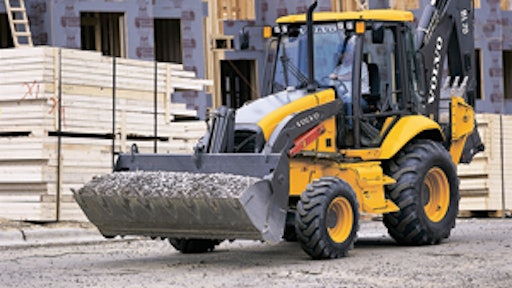 Volvo Backhoe-loaders
The BL60 and BL70 backhoe-loaders are powered by 83- and 90-hp turbocharged diesel engines.
Curved S-style booms provide 14-ft. 9-in. dig depths
5,295- and 7,619-lb. loader lift capacities
16,564- and 17,800-lb. operating weights
BL70 includes backhoe pilot controls, loader MP joystick control with proportional switch and loader tool carrier option with parallel lift and hydraulic quick coupler
Allmand TLB-6235
The four-wheel-drive TLB-6235 features a full-time mechanical four-wheel-drive system.
35-hp liquid-cooled Isuzu diesel engine
65-hp rated servo-controlled hydrostatic transmission
6,000-lb. bucket digging force
9-ft. 10-in. digging depth
Deere G-Series Backhoe-loaders
The G-Series models include the 310G, 310SG, 315SG, 410G and 710G.
73- to 122-hp Deere Tier II-certified engines
Loader breakout force from 8,500 to 14,800 lbs.
14-ft. 3-in. to 17-ft. 10-in. maximum backhoe dig depths with standard stick or 17 ft. 11 in. to 22 ft. 6 in. with extendible stick
Ground level daily service access
Optional Limited Slip front differential
New Holland Loader-backhoes
The B95 and B95TC (tool carrier) models are in the 14-ft. size class, while the B95LR (long reach), B110 and B115 are
in the 15-ft. size class.
New Holland 4.5-liter turbocharged engines
High-capacity, fast response hydraulics for faster cycle times
Straight-arm loader linkage and dual cylinders deliver greater lift capacity, bucket rotation and breakout force
Narrow backhoe boom, slim cab pillars and highly sloped hood maximize visibility
Kubota L39 Tractor-loader-backhoe
The loader on the L39 delivers 3,560 lbs. of breakout force, 2,200 lbs. of lift capacity and 9 ft. 6 in. of lift height.
Curved boom has a maximum 10-ft. digging depth, 5,825-lb. bucket breakout force and a lifting capacity of 1,235 lbs.
Category I three-point hitch and independent PTO capabilities
39-hp Kubota diesel engine
Electronically-controlled, hydraulic Glide Shift Transmission
Yanmar CBL40 Backhoe-loader
The CBL40 compact backhoe-loader is powered by a 37.2-hp Tier II-compliant, three-cylinder turbo diesel engine.
10-ft. backhoe digging depth
5,800-lb. backhoe digging force at the bucket
9-ft. 6-in. loader lift height with a lifting capacity of 2,960 lbs. and breakout force of 4,375 lbs.
Heavy-duty durable frame with heavily reinforced backhoe boom, arm and loader arm
Hydromechanical transmission
Ingersoll Rand BL-570 Backhoe-loader
The BL-570 utilizes an enhanced backhoe work group with a maximum digging depth of 12 ft.
Loader operating capacity rated at 3,406 lbs. with a breakout force of 9,370 lbs.
Standard Bob-Tach attachment mounting system for loader and X-Change system for backhoe with standard two-way flow auxiliary hydraulics on both ends
56-hp Kubota diesel engine, hydrostatic four-wheel drive and all-wheel steering
Terramite T5C
Terramite has added center mount steering to its Model T5C.
Other updates include a sloped hood, redesigned fenders and relocated parking brake handle for better access to the operator's compartment
Heavy-duty plate steel front grill
20-hp Kohler gas engine
100-in. backhoe digging depth
81-in. loader dump height
1,700-lb. loader lift capacity
Landscape-style loader bucket now standard
Terex TX870B Loader-backhoe
The TX870B has a 16,986-lb. operating weight and delivers 12,291 lbs. of bucket breakout force using the standard bucket.
94-hp Perkins 1104C-44TH engine
15-ft. 11-in. to 20-ft. 4-in. digging depth
Four-post, open-ROPS cab
Bucket linkage designed for 45° dump clearance
Flip-over stabilizer foot with rubber pads on one side for street applications and two cleats on the other side for soil use
Case M Series 2 Loader-backhoes
The M Series 2 includes the 580M, 580M Turbo, 580 Super M, 590 Super M and high-flotation 580 Super M+ models.
76- to 98-hp Case Family 3 Tier II engines
Loader capacities from 6,182 to 7,327 lbs.
14-ft. 3-in. to 16-ft. 4-in. maximum backhoe dig depths
Pro Control System
Low-effort Case Pilot Control option with thumb-proportional control for the Extendahoe
In-cab pattern change switch
Caterpillar E-Series
The 416E, 420E and 430E offer an extendible stick with an external slider design that protects the inner slider from damage and debris.
Backhoe digging depths from 14 ft. 4 in. to 15 ft. 5 in. with standard stick or 17 ft. 11 in. to 19 ft. 6 in. with extendible stick
1.0- to 1.31-cu.-yd. loader bucket capacities with 9,014- to 10,225-lb. breakout force
420E and 430E offered in integrated tool-carrier configurations
Optional factory-installed thumbs, AccuGrade BHL site reference system and Product Link tool
Komatsu 15-ft.-class Backhoe-loaders
The WB156-5 and WB156PS-5 feature operating weights from 16,530 to 18,780 lbs. and loader bucket options up to 1.5 cu. yds.
95-net-hp Komatsu turbocharged Tier II engine
HydrauMind load-sensing, closed-center hydraulic system
Spacious operator station in ROPS canopy or enclosed dual entry cab with climate-control
Four-speed synchro-shuttle transmission or full PowerShift transmission (WB156PS-5)
JCB 3CX Backhoe-loader
The 15,439-lb. 3CX is available with the fully adjustable, seat-mounted Precision Controls System, which enables use of the machine from a non-rear-facing position.
14-ft. 7-in. backhoe dig depth standard (Extra Dig) with a 12,023-lb. bucket breakout force
Loader offers a 1.40-cu.-yd. standard bucket and a 12,638-lb. bucket breakout force
90-net-hp JCB Dieselmax engine
Optional heated air suspension seat with air lumbar support
Companies in this article