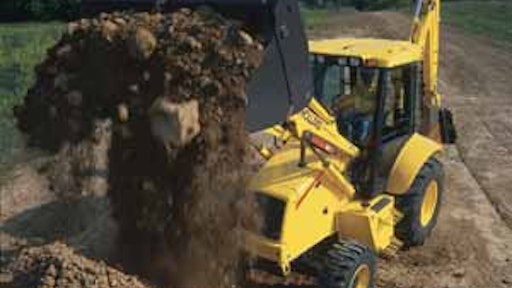 Today's backhoe-loaders come in a variety of sizes and capacities and are offered with numerous options, but before choosing one for your fleet, you need to consider the needs and experience level of your customers. Which machine makes the most sense for which customer? Where do you begin if you're just adding these machines to your fleet?
One of the most commonly offered features on backhoe-loaders today is four-wheel drive. All major manufacturers offer this option.
For example, New Holland offers four different types of loaders, three of which can be ordered as two- or four-wheel drive, and one model with four-wheel drive and four-wheel steer. For its part, Deere has a similar variety, and Bob Tyler, product marketing manager for backhoe-loaders points out that there are also choices in both manual and power shift as well as operator controls (traditional controls and pilot controls, which can be adjusted to the operator's preference).
Eric Winkler, marketing manager for backhoe-loaders at New Holland Construction, notes that his company's Model LB115.B offers four-wheel drive and three different steering options: road, four-wheel and crab. Such a loader might be just the thing for experienced contractors who need to get into tight spots or work on rough terrain. "The LB115.B has tremendous ground clearance and with a 1.5-cubic-yard bucket standard, the front acts like a wheel loader,"says Winkler.
As far as specialized options that appeal to experienced operators, Tyler points to Deere's extendable dippersticks, which allow for more precise positioning of a load. "For greater dig depth and reach, extendable dipsticks are available, adding between 3 feet 6 inches and 5 feet of extension, depending on the model,"he says. "The extendable dippersticks are operated by a foot pedal in the operator station. John Deere uses an 'outer box' extendable design, which means the outer section of the crowd arm goes into the trench, eliminating the problem of sucking dirt and debris back up into the structure when the arm is retracted."
The four-wheel drive question
One question most rental houses find themselves asking is whether four-wheel drive is a good idea or if it just encourages customers to attempt feats best left to stunt drivers.
According to Tyler, four-wheel drive isn't just for stunt driving or ridiculous situations, it actually improves productivity. "In most businesses, time is money. If the job can be accomplished more efficiently and quickly, profits can be maximized,"he says. "Four-wheel drive allows the loader bucket to be filled more quickly for loading operations. This reduces loading cycle times, which means a pile can be moved quicker, a truck can be loaded faster, or a trench can be backfilled in less time."
He adds, "In fact, less skill is needed to fill the bucket with a [mechanical front-wheel drive] machine, since there is now effectively more grip from the tires. It's more likely there will be abuse and tire wear from a less experienced operator spinning the wheels in a two-wheel drive machine while filling the loader bucket, than by having the four-wheel drive option available in the first place."
Winkler takes a more philosophical approach to the question of four-wheel drive versus two-wheel drive. "This really depends on the market and application. Some parts of the country don't care for the four-wheel drive and other parts would not live without it,"he says. "If you get into some sloppy conditions, a two-wheel drive machine would not be the best machine to have. Municipalities most of the time will bid a four-wheel drive machine because they do many different tasks. Someone who is not using the loader bucket much might want a two-wheel drive machine over a four-wheel drive."
Beware of breakers
If you rent breakers, it helps to have a dedicated loader for that application. The reasons are twofold: 1) it makes renting easier because the unit is already set up for the breaker, and 2) it reduces downtime on the rest of the fleet by having one or two machines take the brunt of the abuse. No matter how well a breaker is made, it's hard on the equipment, and there is no need to abuse your entire fleet.
Tyler cautions that not just any machine will do. "Deeper trenches or the use of hydraulic hammers/breakers may warrant a 310 SG (86 hp net), which has more backhoe hydraulic power."While his suggestion is brand specific, there is no doubt as to the message -different jobs require different levels of power, and no one backhoe can do everything.
The basics and beyond
So, when looking to add backhoe-loaders to your rental inventory, which machine should you choose? Winkler suggests, "Start off where the market is right now, and that is the 14-foot class machine."
Tyler agrees, pointing out that a basic 14-foot machine would be a great starting point due to its simplicity and lower initial purchase price. Of course, more options will command a higher resale value when it comes time to replace the machine, but to start building an inventory, a basic 14-foot machine is a logical place to start.
Obviously, even at a base level, a backhoe-loader is a major investment for most rental yards, so care should be taken in their selection. Keep in mind that as your fleet grows, there is a need for more than just one type of machine.
"A less experienced backhoe operator may be better served by a simpler machine -two-wheel drive, standard dipperstick and manual controls -so that he or she needs to spend less time learning how to use all the controls,"notes Tyler. "A large construction company that needs a temporary replacement machine may have more experienced operators that can take advantage of the features available on a higher optioned machine to keep their productivity at the levels they are accustomed to."
In other words, it pays to have a backhoe-loader to suit the needs of each of your customer bases.
Talk to your customers
Qualifying your customer is a must with any bakchoe-loader rental, and with the cost of these machines, it's a good idea to spend a little more time with the customer to determine which backhoe-loader best suits their needs. Breaker attachments, as previously noted, are hard on the backhoe to which they are attached, and have their own maintenance needs as well, so when adding one of these popular attachments to your fleet, be sure to price it accordingly.
Finally, train your employees to listen to the customer. If they are novices and doing a job where they will spend a large amount of time on paved roads, perhaps that basic 14-foot machine is the best choice. If, on the other hand, they are doing work on a muddy jobsite and the operator has 20 years experience, now might be the time to rent your top-of-the-line four-wheel drive model. Matching the right machine to the customer will increase customer satisfaction and reduce maintenance costs, so when the opportunity arises to rent a backhoe-loader, listen to your customer, then "load 'em up"!